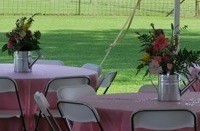 I had an outdoor wedding in June and made these pretty centerpieces. I bought the watering cans at Big Lots and bouquets of flowers at Costco. A good friend arranged the flowers in the cans, using florist clay in the bottom, and filling them half full of water. They really made the reception tables beautiful at our garden wedding.
By Kathy from Indianapolis, IN
You can slash your flower and cake budget with this cool tip. Have your baker make an 8 or 9 inch birthday type cake for each one of your tables. Display them on rented or borrowed cake stands. Wind the base with ivy or other greens, and scatter real or silk rose petals about the table.
Each cake can be decorated differently; Swiss dots, white on white stripes, white icing roses, or accented with more petals or fresh flowers. Do the same for the bridal table.
Not only will you eliminate the need for a big wedding cake and the cost of each centerpiece, but if you have a "designated" cake cutter to serve at each table, dessert will become a real conversation piece.
By Celia from North NJ
For my daughter's wedding centerpieces, we bought Mason jars, plastic flowers, ribbon, and floating candles. She hot glued the purple ribbon on the jars (her colors) and put the plastic flower in the bottom. Then she filled them half full with water, added a floating candle, and we had 15 centerpieces for the reception tables.
By Michele from SW MO
I am getting married in May and was wondering if there were any ideas on cheap, but nice looking centerpieces?

Kathy

August 9, 2007
0

found this helpful
I'm getting married in September and here's how we're doing our centerpieces; We are using tealight candles and putting them in painted baby food jars. Then wrapping copper wire around the jar in order to tie twine (or yarn, string whatever you want) around the jar and hang it from small branches. All of this will be in a small hurricane glass filled with sand to hold up the branches. Maybe hang around 3 jars at each centerpiece. My theme is fall and it goes great with an autumn themed wedding. I've tried it and it looks really great. It sounds complicated but it is so easy and very inexpensive.
October 29, 2007
0

found this helpful
candles at dollar stores after christmas will be marked half price or less.... I bought a huge box of beautiful white candles for my reception last January. The white is fitting.. Not all of them have to be exact, but I sure came close
I also bought lots of ribbon at the same dollar store. Try fabric stores too. You can get Holiday ribbon that can be used all year round. I was able to find some really pretty silver glittery sheer ribbon for about .25 a spool... Great for an evening wedding any time of year.
The major expense for this will be glass to put the candles on as to not have wax on the rented tables at my reception. Again, dollar store.. that way if they come up missing, no big deal!!!
November 11, 2007
0

found this helpful
Buy drink glasses from Wal-Mart of all different sizes and fill them with water. Put floating candles into them. For a special effect put a mirror underneath. Great value and very elegant!
March 13, 2008
0

found this helpful
I have an idea that I think is going to work for a centerpiece. My husband to be is obsessed with home theater/movies/popcorn, etc. So, I thought about filling wine glasses with popcorn, placing a thick black candle in each glass, and surrounding it with (instead of red rose balls) red popcorn balls on flutes. also, a wreath of cranberry and popcorn (stranded) around the bottom. what do you think?
January 26, 2015
0

found this helpful
This is what I did for my sister's re-vow in 2002. The round tables had four chairs so every one had a nice view of the ceremony. I got plain dollar tree bowls, filled each with blue, pink, yellow, or lavender colored water (her theme was four spring colors). On top of that, we poured some vegetable oil just enough to fill the entire top...very important.
Then, we floated a single tea light candle and lit it just before the guests arrived. We made sure they were the 10 hour tea light, as they dissolve and don't melt. You could even do clear water and put in different colored rocks from the dollar tree, too.
For table scatter, we found some spring wall paper samples that were round, and I painstakingly cut them out and put opposite colors on the table clothes. Very cool and about 1.00 per table. I hope that helps. PBP