When planning a wedding there are many ways you can reduce the costs. This guide is about saving money on wedding centerpieces.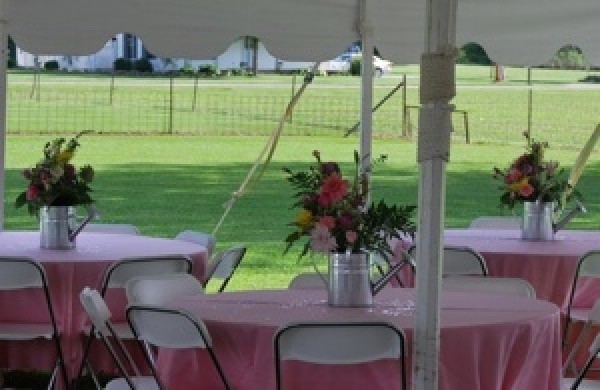 Filter

: All Articles
Sort

: Relevance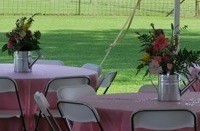 I had an outdoor wedding in June and made these pretty centerpieces. I bought the watering cans at Big Lots and bouquets of flowers at Costco. A good friend arranged the flowers in the cans, using florist clay in the bottom, and filling them half full of water. They really made the reception tables beautiful at our garden wedding.
By Kathy from Indianapolis, IN
You can slash your flower and cake budget with this cool tip. Have your baker make an 8 or 9 inch birthday type cake for each one of your tables. Display them on rented or borrowed cake stands. Wind the base with ivy or other greens, and scatter real or silk rose petals about the table.
Each cake can be decorated differently; Swiss dots, white on white stripes, white icing roses, or accented with more petals or fresh flowers. Do the same for the bridal table.
Not only will you eliminate the need for a big wedding cake and the cost of each centerpiece, but if you have a "designated" cake cutter to serve at each table, dessert will become a real conversation piece.
By Celia from North NJ
I am getting married in May and was wondering if there were any ideas on cheap, but nice looking centerpieces?

Kathy

Answer
Was this helpful?
Helpful?
Yes
This is what I did for my sister's re-vow in 2002. The round tables had four chairs so every one had a nice view of the ceremony. I got plain dollar tree bowls, filled each with blue, pink, yellow, or lavender colored water (her theme was four spring colors). On top of that, we poured some vegetable oil just enough to fill the entire top...very important.
Then, we floated a single tea light candle and lit it just before the guests arrived. We made sure they were the 10 hour tea light, as they dissolve and don't melt. You could even do clear water and put in different colored rocks from the dollar tree, too.
For table scatter, we found some spring wall paper samples that were round, and I painstakingly cut them out and put opposite colors on the table clothes. Very cool and about 1.00 per table. I hope that helps. PBP
Reply
Was this helpful?
Helpful?
Yes
Read More Answers...
For my daughter's wedding centerpieces, we bought Mason jars, plastic flowers, ribbon, and floating candles. She hot glued the purple ribbon on the jars (her colors) and put the plastic flower in the bottom. Then she filled them half full with water, added a floating candle, and we had 15 centerpieces for the reception tables.
By Michele from SW MO
My husband and I did our own wedding, we are fifty-somethings on a budget, and figured we had enough life experience to pull it off.

We did a great job (lot of work), but forgot one very important thing; a stunning centerpiece for the head table! As we were decorating the reception area, my bridesmaid asked for it; I drew a blank!

Both avid crafters, we headed for my house, where I happened to have a very large, thin glass vase, quite round, but also tall; it narrows at the top then flares again. I found this gem at a craft store in Pennsylvania, and it made it to Nova Scotia in one piece. We took a bouquet of silk roses from my craft room, put them into the vase upside down, turned it over, talk about pretty!

Since I made my own wedding cake, I happened to have a set of doves which were too ostentatious for the cake; they looked wonderful on top of the upturned vase! Add white doilies, one under the vase and a small one under the "love birds", sprinkle a little confetti; very different, and cost under five dollars, but would retail for at least thirty.

My hubby and I kept it, he has it on a book shelf, next to some wedding pics. Hope this helps some one, frugal living is simply being rich with little money!

PS: It was about 18 inches tall; just perfect.

Source: Our own creation.

By Debbie from Nova Scotia