Saving One Step at a Time
At this time, my husband and I are down to one check. Since I am no longer working and I don't have any money coming in. We find ourselves looking at a long road until I am able to secure employment. Though we are able to handle most of our bills, we are just skating by. So I have been going over our finances and came up with some solutions to help us through this trying time. How to turn a nickel into dollar. This is going to be a series as to how we are going to back to some stability, one step at a time. I will start with food.
I am thankful for what we do have. I pray and thank God everyday. We could be in a worse situation, homeless, sick or living in a shelter. We still have electric, water and our is rent is paid. If that is not enough to thank God for, then what is.
My husband is disabled. He qualifies for food stamps. We plan our meals and shop for the month. I also use coupons. I can print at home, using gray scale and print on the backs of scratch paper). I only print what we need and use. I have signed up for several coupon sites to stretch our food dollars. I also frequent the local food bank as we only get $125 in food stamps.
We buy freezer bags from the dollar store and freeze a lot of the produce we receive from the food bank. Some of the fruits and vegetables are near expiration dates. Ripe fruits are put into freezer bags and used for smoothies, cakes, and pies, pancakes and waffles. Nothing goes to waste.
We make a lot of soups, stews, salads, chili and spaghetti with a lot of the vegetables. Sunday starts a meal week. Breakfast is cooked everyday, but lunch and dinner is usually a two day affair. We usually cook dinner to last for two days or leftover for lunch the next day.
We are cooking from scratch with some of the foods we receive. I have learned to make biscuits, crust, muffins, cakes. I will either watch YouTube or sign-out books from the library. My husband is the cook and I am the baker. He makes his own sauces whenever possible. At our local St. Vincent's DePaul, they had seeds for herbs, a penny per pack. I was able to get some pots for 10 cents. You can buy dirt at the dollar store.
Since we still have a Sam's Club membership. we buy some of our items in bulk, like pancake mix, sugar, some spices, flour, oils. We also will buy a pork loin. My husband and I will cut it into chops and leave one end for a roast. We can usually get 9 packs of 4 chops each. Chicken(legs, thighs and split breast) is brought in bulk and separated as well. We brought canisters from the dollar store to help house and store the dry goods. They also will let you use your food stamp card, so this is helpful.
I have signed up for several coupons sites like Ibotta, Walmart Saving Catcher, NCP, Key Ring, Coupon Mom, Krazy Coupon Lady, Red Laser. With so many points that can be traded for gift cards and other bonuses.
Since we are eating less, we both have started an exercise program. When we exercise, we record our program in an app and it is connect to Walgreens Balance Rewards. You can earn points for your weight loss and enter fitness challenges to earn more points. Recording your calorie intake and meal preparation garners you extra points as well. The best bonus, you get to interact with others on the same path as you, trying to lose weight. Those points can be used to buy Walgreens merchandise.
We brought new coconut and extra virgin olive oil 6 months ago and we still have a lot left (Sam's Club is the cheapest). I use old jars to house the olive oil and keep the coconut oil in the same container. I also use these items to condition my skin and hair. I will post that recipe in another post.
We are learning how to eat one meatless meal per week. My favorite is tomato soup and grilled cheese. My husband loves broccoli soup with carrots.
The food bank has loaves of bread to pass out. You can make bread crumbs and croutons. Even though I am the baker, my husband loves to make bread pudding.
While I know a lot of these ideas are not new, this is what is helping me and mine stay afloat. Next, bills.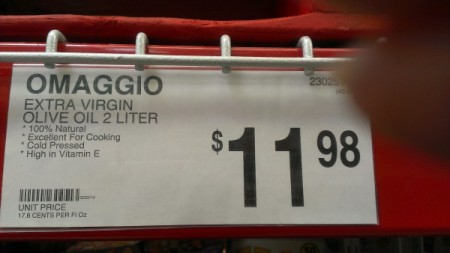 Add your voice! Click below to comment. ThriftyFun is powered by your wisdom!
Add your voice! Click below to comment. ThriftyFun is powered by your wisdom!
Related Content