How much could I get for a copy of Elvis Presley's Golden Hits?
March 10, 2017
0

found this helpful
There are actually several of these and they are still popular but still do not bring a lot of money.
There are several auction sites that list LP's and some dedicated sites for just LP's but these are easy to find if you just Google "where to sell LPs".
eBay is always a good selling site and can usually show you what things are currently selling for. Just type in the name of your item to see what is listed but here is a link to the latest price Elvis Presley Golden Hits sold for:
http://www.ebay d=p2045573.m1684
March 10, 2017
0

found this helpful
I would check on worthpoint.com and eBay. Unless it's a signed copy or very rare, it is probably not worth that much.
March 10, 2017
0

found this helpful
What is the condition? You can see what others are selling theirs for along with condition information here:
March 10, 2017
0

found this helpful
There is a need to go and check the price
March 11, 2017
0

found this helpful
This will depend partly on age and condition.
There are several different records with a similar name. You'll need to know: What label, what year, and what condition grade.
Here's a good place to look it up:
Or: http://www.viny alues/#gsc.tab=0
March 12, 2017
0

found this helpful
There are many sites to research for its worth. You can look it up on eBay to get an idea.
What prices should I sell my 1980s vinyl records for, at a garage sale?
By catpaul from Freeport, NY
June 10, 2009
0

found this helpful
Best Answer
Agree with a few others on here that most of them likely are not going to be worth much more than a dollar or two each; the DH and I have been selling on eBay for five years, and will sell the occasional vinyl album, but here's our suggestion:
It's going to sound time-consuming and very tedious, but you may be better off doing both the garage sale and eBay selling thing.
Go to eBay and search your albums--the "completed" listings. That'll give you some idea as to what the market actually is for them, that is, what people will actually offer for them. Do them one-by-one. There are so many surprises that can pop up for you; an album you think is worthless can sell for a nice price ( and the other way around, ones you think should be priceless are worth next to nothing).
After your search, the ones you see selling for a couple of bucks--or under-- and the ones you have that may have tears or soil on the covers or more than minimal scratching of any kind--save them to put out on your yard sale.
If you think you'll get a dollar for it, it's not worth posting on eBay; after the selling fees, you're making next to nothing.
As for taking them to someone dealing specifically in vinyl--don't know if I'd go that route. Resellers are like antique dealers: you'll get about 25% back on what they'll actually mark it up and sell it for.
Good luck!
June 5, 2009
0

found this helpful
We put some vinyl records in garage sale a few months ago. There was also a turntable/cassette/8 track player, 8 tracks for sale at same time. Guessing there were 20 albums, 50 of 45's. We only got $20.00 for the whole bunch of them. No one was interested. You might get better offer from a business that buys and sells old music of all kinds along with antiques. Unless you find you have a collector near you that might be your best bet. It was easier to sell our Coca-Cola collection.
June 5, 2009
0

found this helpful
I would take your vinyl to a record store in your nearest city or urban area. A lot of DJ's look for popular music from the 70's and 80's to remix and there were often limited releases as CD's started to increase in popularity in the late 80's.
Another idea might be to ebay them individually or look online for a company that specializes in vinyl. You won't make more than a buck or two on them at a garage sale, probably less.
June 5, 2009
0

found this helpful
They're used to be a lot of free sites to go to and see what records were selling for and I can only find this 1, you can try looking them up on eBay to get a fair price. A lot of Collectors will go and buy a whole box for $5 and there may be a record in their worth $300 so be careful and do a little home work. I know of the record collection which I inherited from the 30's '40's and a few from the '50s is worth absolutely nothing, it's the 60s '70s and '80s that have any value now.
June 6, 2009
0

found this helpful
List your collectibles in your add for the sale, i.e. vinyl records, Avon bottles etc. Then the collectors will know you have them. When I go to garage sales I don't go to those sales which don't have my kind of stuff listed in the add.
June 28, 2016
0

found this helpful
How much would a classic Beatles vinyl record course in a good condition
Read More Answers
November 30, 2013
0

found this helpful
I have 448 1980's vinyl records and I'm wondering how much I could get for the lot.
By Michael C.
December 5, 2013
0

found this helpful
You will have to check these out for yourself as one or two may be worth something but most are hard to sell even at yard sales for .50.
Check out Google as there are some sites that may tell you something and eBay has lots of info. As a lot? You may find a record store that sells older records and may give you a few bucks for the lot.
You may be lucky and find a few that are "gold". Good luck.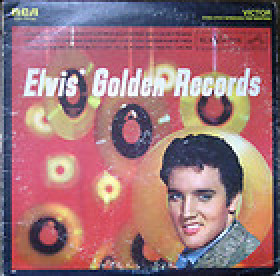 I have a 1958 golden Elvis record I'm selling to an Elvis collector for $800 to 1,000. Is this the right price?
By Windett from Franklin, WV
September 19, 2011
0

found this helpful
This person must want it really bad, because I have never seen any record albums like that, that went for more than just a few dollars. Go to ebay and see if you can find anything like that and what they are selling for.
September 21, 2011
0

found this helpful
Any item such as this is only worth what someone is willing to pay for it. You might find someone who will pay more or you might never find anyone who will pay this much. I think you would go a long way before finding as good a price as this.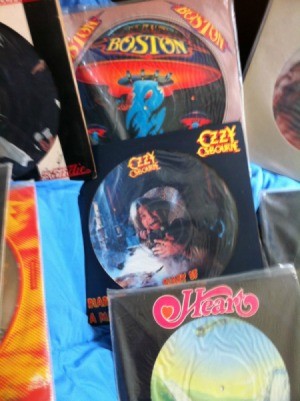 I have several photo LPs of Ozzie, Ted Nugget, Led Zeppelin, David Bowie, The Cars, The Who, Rush, etc. I would like to find out what they are worth. Here are photos of a few of them.
By Sandra
August 5, 2013
0

found this helpful
Hi - these are neat but you may have to do your own research. Check eBay and Google. Research is fun - you have all the info available to find an answer to your question.
Good luck - you may hit the jack-pot with one of these!
December 1, 2011
0

found this helpful
I have about 200 old 78 RPM records of all kinds from the 60s, 70s, and 80s. How much could I possibly get for all of them at one time?
By Randolph
January 9, 2012
0

found this helpful
I would snope around on my local craiglist.org and ebay and see what the various titles are going for. Some sell better individually, and others as a lot.
For example, right now my husband and I are redecorating our basement and are looking for songs of the 60's, 70's and 80's, specifically ones we liked and such as Elvis, Doris Day, Bing Crosby....We wouldn't buy a large lot unless some of these artist were included.