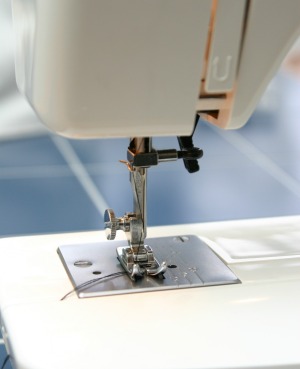 A special needle and setting may be needed on your machine to sew this type of fabric. This guide is about sewing vinyl.
Ad
---
Solutions: Sewing Vinyl
Read and rate the best solutions below by giving them a "thumbs up".
I am a sewing designer by trade. If you have ever sewn vinyl material, you know how difficult it is, because it is very slippery. In the past when I have sewn vinyl, my stitching has looked very unprofessional.
I have just figured out a wonderful trick to sew vinyl with beautiful stitching. Lay a piece of wax paper over your vinyl and stitch your project. When you are finished just tear the wax paper away. Beautiful stitching every time!
By Dee from Dunedin, FL
Give a "thumbs up" to the solution that worked the best! Do you have a better solution? Click here to share it!
Questions
Here are questions related to Sewing Vinyl.
I am trying to sew a piece of vinyl. When I sew on one piece it is okay. When I try to put two pieces together it will not pull up the bottom thread. What do I need to do?
Lou
AnswerWas this interesting? Yes No
Ad
---
---
Most Recent Answer
By Patricia Taylor 50 03/16/20110 people found this helpful
Definitely have the "RIGHT" needle. These days, they make a different needle for every type fabric, and if your sewing machine is fairly new (10yrs old or less) then your machine will need the proper type of needle to sew the vinyl as well as light, medium, or heavy weights, knits (stretchy) or woven fabrics, etc. It's amazing how many types of needles there are now. Also, you may need to adjust the bobbin tension as well as the upper tension. You might try a needle for sewing leather. Hope this is helpful.

Pat T in Ocala, FL
---
Where can I find see-through vinyl for sewing, in different colors? I would like to buy it online if possible.
By Donna from Belleville, IL
AnswerWas this interesting? Yes No
Ad
---
---
Most Recent Answer
By ktvee 1 06/03/20100 people found this helpful
When I was looking for a small amount, I bought a clear vinyl tablecloth from K-Mart. It was much cheaper than buying it by the metre. Hope that helps! Katie.
---
I need to sew a strip of vinyl to a one-stoke brush holder so the brushes will not fall out. I have a Singer sewing machine about 40 years old. I would like to know what size needle and thread I need to use. Any suggestion?
AnswerWas this interesting? Yes No
---
Most Recent Answer
By mazie@isp.com (Guest Post) 02/28/20070 people found this helpful
I also paint and have made my own brush holders. I used a bamboo placemat, sewed a length of elastic midway and attached a pretty silk ribbon to one end and added a pretty button to its end, and just tuck it under the silk ribbon after rolling up. As for dividing the elastic, I hand sewed every 3/4" to the bamboo. After I wash and soap my brushes into shape, I just slip them under the elastic, roll it up and PRESTO! My brushes keep their shape and can easily breathe to dry. my artist friend used canvas to sew elastic in. If you use the vinyl, it won't stretch for various size brushes, or other painting items.

artist AT isp.com
---