Keeping your walks and driveway clear of snow can be an ongoing winter challenge. This guide contains snow removal tips.
Read and rate the best solutions below by giving them a "thumbs up".
We've been getting a bit of snow here in Nebraska, and it just keeps piling on. I've got a tip for quick snow removal from the car. Purchase a $1 broom at a Dollar Tree or at another dollar store location. Use it to brush snow off your car when it piles on. It's quick, and you won't need to leave your car running while you dig it out.
By JenniP from Lincoln, NE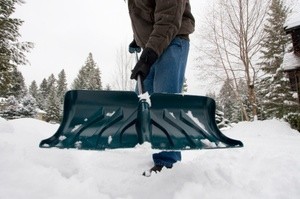 Update: Now is the time to get ready for Winter! We got our first snow today (10-10-09) in MN and are expecting about 6 more inches within the next 48 hours. Just found my bucket with the salt in. Got my stuff in from the garden with 1 day to spare!
Original post is from January 2009.
Grandma J here in MN. Got our share of the white stuff (snow) this winter, more coming. Considering we should prepare in October, it takes the first snow storm for us to do this.
Save your back and maybe your HEART! Investing in good snow removal equipment is essential, even for the basics. I bought a push shovel for about $25. Not a scooper of snow, just push it. Then have another one for scooping. Make sure you try them out in the fashion you will hold it, bend with it, etc. ERGONOMIC tools are there.
For my birthday in December, hubby bought me a new snowblower. Never touched one in my life. Always used the shovel. So when he was in the hospital before Christmas having a total knee, I had to learn to use it. Had to call him for help on the cell phone. Tucked it under my ear, you know how we multi task, and it flew across into a 3 foot snow drift. Me, screaming DON'T HANG UP. DUH! Did not run any trees over, got the property cleaned up nice, I might say.
I also have a scraper blade, looks like a garden hoe on the straight down. A MUST. Pops under the ice chunks, packed snow that you can't shovel off. Use it like a lever.
THEN HIDE your snow tools (but in a handy place for you) so they can't be borrowed by ANYONE! Family forgets where to return things they take "just for a bit".
If you find snow, ice sticking, take an old candle and rub the blade edges. SLICK.
Also, get a couple ice cream buckets and fill with an ice sanding element. Can be sidewalk salt, can be sand (what do you do with the sandbox stuff in the fall? Fill some buckets before dumping the rest into the garden!)
Anything left over can be stored till the next year. DO NOT SET the bag on the basement floor. Salt eats cement in long term position and mega amounts.
Source: Joyce's experiences in life.
By Joyce from Benson MN
Give a "thumbs up" to the solution that worked the best! Do you have a better solution? Click here to share it!
I live in New England. We've had our first snowstorm of the year with more to come (supposedly). Any tips on how to avoid the snowplowed snow from the street from blocking our driveway. Just thought maybe someone had a nifty tip for this.

Marie from MA
AnswerWas this interesting? Yes No
Ad
---
---
Most Recent Answer
By Janice C. 18 710 12/29/2008 Flag
Oh boy. I live on a corner, and every time the plow came around the corner, he filled my driveway with up to 3 feet of snow. I was shoveling up to 5 times a day. I finally asked for a professional opinion and help from the village.

Now the snowplow drivers push the corner snow that is "upstream" from my driveway, into my "upstream" right-of-way. That way, when the plow comes around the corner, there's less snow for him to push into my driveway. I also shovel frequently, of course.

Same idea as Harry's, except the snowplow rather than my shovel does the work. I also have a neighbor with a tractor whom I can call, if necessary.

Ah, sweet spring, where are you?
---