Soap Gift at the Gate (The Garden Gate)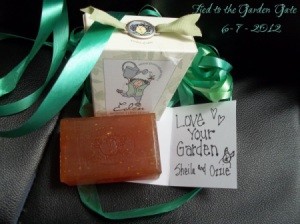 I had another surprise at the Garden Gate last week. Some kind person and her dog left this hand soap and a note tied to the arch over the garden gate. Such a treat for these old hands. And much appreciated. The hand made card was very cute too.
GG Vi
By Great Granny Vi from Moorpark, CA
Feedback
Read feedback for this post below. Click here to post feedback.

By
07/23/2012
Hello Vi...What great pleasure I had reading your post! You are so kind, no wonder someone left you such a lovely gift. I'm not far from you as I live and garden in Santa Monica. I grew up in Los Angeles which makes it extra special for me to know there are still caring people like you living in a time and place where these kind of thoughtful considerations are often forgotten...Sharon

By
06/19/2012
How wonderful! In this day and age it is so nice to know there are good people out there!
Post Feedback
Add your voice to the conversation.
Related Guides
Related Posts