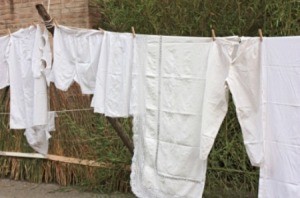 Dingy clothing is a common complaint and one that can often be resolved. This is a guide about solutions for dingy clothing.
Solutions
Share a solution for this guide today!
Questions
Here are questions related to Solutions for Dingy Clothing.
I moved and the washer I am using is leaving my colored clothes dingy, I can't get them clean. I read to use Iron Out on whites. Can you also use it on colored clothes? What would be best for soaking my colored clothes? They are mostly my 4 year old daughter's clothes.

Cass from KS
---
Most Recent Answer

By Louise B.02/12/2009
Since your problem is a washer that is not working properly, I would just try washing as usual when you get a new washer or have this one fixed. It may be that they come clean with a good wash cycle.

If not, try one of the many things suggested until you find one that works. I would start with the baking soda, maybe Borax if that didn't work. good luck.
I washed a yellow t-shirt in cold water with dark colors. It is now looking a little dingy. I was wondering if there is a way to get it back to it's original brighter color.
By Doug from Pompano Beach, FL
---
Most Recent Answer

By Amy3e04/24/2010
Clorox all fabric bleach is another good alternative. Dry in the sun. Should be good as new. Make sure you don't use the regular clorox bleach. Use the one that is safe for colors.
Everything, white sweaters, blouses, etc. becomes dingy.This happens even though I wash whites only loads. What can I do to whiten them again?
By Phyllis from Newark, NJ
I have a Bosch front loader (about 5 years) and recently most of my whites and light colored shirts are coming out dingy and with stains under the arms. I have tried using less detergent, more detergent, pre-wash solutions, baking soda paste, just about everything and they still come out with the stains. Is there a filter or something in this thing? The manual doesn't say anything about it. I do have three dogs that shed a lot and I wash their bedding in it. Possibly something is clogged? Help!
By RKS from Grants Pass, OR
---
Most Recent Answer

By Patt06/05/2011
I had a front loader for years and loved it. The causes of some problems may be
1. Putting too many clothes in at a time. I had a friend with a top loader and wondered why her clothes were grey only to watch her cram it full of clothes. It is like taking something really dirty and trying to wash it in 1 cup of water...
2. You may have a build up of detergent. To check it wash a load of clothes with nothing in the water and check the window for suds.
3. I always use a second rinse and vinegar in the rinse cycle.
4. If you get too many suds generously pour vinegar in to cut the suds. Then rinse again. I never had problems with dingy clothes especially because I use a double rinse and vinegar
I have some off-white hand towels that while they are still in great shape, have gotten dingy looking over time. I was ready to throw them out because even straight bleach (as well as other cleaners) didn't seem to make them look clean again.
However, I decided to try a combination of Soft Scrub with bleach, Clorox bleach pen, and Vivid. I put all three products on the problem area and used a little scrubber brush to work it into the fabric, I let the towel sit overnight and then washed it.
On the worst towel, I had to do this several times but it now looks like new! I love the towels and now I don't have to buy new ones to replace them.
By Carol from Iowa
---
Most Recent Answer

By Laura01/25/2010
Oxyclean is all I use on my dish towels and they are bright white all the time. Even the blue and green ones are bright. Just make sure you use really good hot water and then I let them soak for a while then through in the detergent and the rest of the towels. They all come out beautiful.
I have a man's suit jacket that is now a dingy white (with rhinestones on the collar), and I am wondering what the best approach to whitening it is?
By Heather W.
I noticed after several years our towels and wash cloths are more than dingy. I've washed in hot and cold water, no change. I guess after electric dyer the stains are set in.
Is there a remedy for this?
By Lee M. from Magnolia, AR
Archives
Thrifty Fun has been around so long that many of our pages have been reset several times. Archives are older versions of the page and the feedback that was provided then.
Why do my clothes get dingy-yellow-brown-like after I wash them? Granted, I have washed them many times, but it looks like I have washed some of my clothes in dirt! Even whites. Even though I use tons of bleach. Please help!

Erin in TN
---
RE: Why Is My Laundry Dingy?
Do you have well water? Maybe some harsh stormy weather? Do you live in an area that has red clay? You might want to test your water with a kit. (01/13/2005)
RE: Why Is My Laundry Dingy?
We have something called "iron bacteria" in our water (district water not private well). If I use liquid chlorine bleach it reacts with the iron bacteria and turns my whites beige, sometimes ORANGE! I now use a non-chlorine bleach. Maybe you have a similar situation with your water. The packets of product put out by Rit dye to whiten "dingy" whites did help get my things "white" again. Hope this helps! (01/13/2005)
RE: Why Is My Laundry Dingy?
"Heavy" water or water that is rich in minerals can cause dinginess. Also, using too much bleach can lead to a yellowing or dinging of clothing. (01/13/2005)
By Heather
RE: Why Is My Laundry Dingy?
We had problems with red water in the city where i live and they gave us some kind of powder to get it out. Check with the city, as this seemed to be a well kept secret for us. (01/14/2005)
By Jeanie
RE: Why Is My Laundry Dingy?
I had this same problem and when I started to learn to be Frugal I noticed that many of the lists I joined said to use Borax in the wash as it was inexpensive and did a great job. Well let me tell you I would never ever be without borax again. All my whites are WHITE and I do not use bleach. 20 mule team borax is in a green box in the grocery isle. Wal mart price this week for a good sized box was $2.67. Hope this helps. By the way it also makes a good hand cleaner and is what they use at the garage where my husband works as a mechanic. (01/15/2005)
By Lisa Pfusch
RE: Why Is My Laundry Dingy?
I think my mom told me once that if you use bleach and it doesn't get rinsed out completely, it can leave a yellow stain. Maybe the "tons" of bleach you are using is not getting rinsed out completely. (01/15/2005)
By Allison
RE: Why Is My Laundry Dingy?
You may be using too much bleach which can actually cause yellowing. Your water may have mineral deposits, etc., that contribute. Wash your clothes in as warm water with your usual detergent but add 1 cup borax (I use 20 Mule Team Borax sold at KMart and Kroger). Follow up with 1 cup of vinegar added to the rinse cycle. I also have had extremely good luck with using Simple Green (available at Home Depot). I've used it on every fabric except silk and dry clean only. You will be amazed at the stains it removes. (It's especially good for baby stains and those unidentifabale husband working outside stains.) It may take a few times for the yellowing to go away, but it should eventually.
Also, have your washer checked if it continues. I don't know why or how, but older washers sometimes have rust deposits that come in with the water. I do know that it usually means the washer has to be replaced. (01/15/2005)
By Christine
RE: Why Is My Laundry Dingy?
It's probably not your fault. If you are on a water system the pipes may need to be flushed occasionally. Our township fire department schedules flushing the system numerous time thru out the year, where they come and open the fire hydrants in the area to flush the rust and mineral deposits from the system. Contact your water supplier and see if they do this, maybe they do, but need to do it more often, and if not than a complaint may get them to do it. Good Luck (01/15/2005)
By Ruth Justice
RE: Why Is My Laundry Dingy?
If you are using hot water, your hot water tank may need flushed out. (01/16/2005)
By jeangnome46
RE: Why Is My Laundry Dingy?
Most detergents require warmer water to yield best results. Also, I have a new washer and still get the rust stains so it isn't the washer that causes the problem. It's the water source or something in the pipes as others have suggested.
I often use a product called "Yellow Out". You can get it at Wal-Mart next to the Mr. Plumber-type stuff. I have used it mostly on whites and it will work on some colors. It also gets rid of rust stains.
I have also found the using the "oxygen" stain removers makes this problem worse. Bleach is o.k. but don't use it on every load. Over time it will cause yellowing if you have a hard water problem. (06/19/2005)
By USE WARM WATER!
RE: Why Is My Laundry Dingy?
I added some baking soda to a load of whites and man did they come out bright and white. I used my normal amount of detergent and just shook in some baking soda. I didn't measure it. I had heard the Borax was good and bought a box. Just haven't tried it yet but am planning to. The big box at Wal-Mart was probably 3 bucks or less. I use bleach but do feel that over time it is hard on clothes and they wear out sooner. (02/09/2006)
By Debbie52
RE: Why Is My Laundry Dingy?
At Walmart, they sell Iron-Out. We use it since we are on a well, and you can tell the difference, not just with the clothes but also the washer drum. You can also use this if your tub and area around it also turns orange. Just use ventilation, as this is some strong stuff. (02/10/2006)
By Ashley
RE: Why Is My Laundry Dingy?
As an owner of a laundry service I can tell you that your problem is most likely the bleach. Discontinue it for a bit and only use the borax and vinegar suggestions until your clothes are white again. They may at the point of no return though. (02/11/2006)
By Andre
RE: Why Is My Laundry Dingy?
I have to agree with the "Iron out" solution. I started using it and even my oldest white undershirts look new again. Lowes and Tractor Supply carries it in the section that they keep Drano and liquid Plumber. It is well worth the price and a bottle lasts a long time. (01/23/2007)
By Greg1796
My 10 year old front loading automatic washing machine finally died and I replaced it with a twin tub washer. I make my own laundry powder using baking soda, borax, washing soda and grated laundry soap mixed together in equal quantities. The trouble is, my whites are looking very dingy which never happened with my automatic.

Do I need to change the formula of my detergent or am I doing something wrong? I always wash with very warm water - not too hot - so that the detergent will melt properly. PLEASE HELP! The water here is hard but I've never had problems before. I can't afford to buy another machine so I have to sort something out.

Cettina from Malta, Europe
---
RE: Why Is My Laundry Dingy?
When I made homemade laundry detergent I thought it worked great-at first. Then the same thing happened to my laundry. It started to look gray and dingy. Now I say heck with homemade-I buy the regular detergent at the store and only use 1/3 of what it says to use. No more problems! (04/17/2008)
By Cindy S.
RE: Why Is My Laundry Dingy?
I used to use well water; but found that it made my problem worse. Now I use water from the mains but they are still dingy. I think Cindy has the right idea. It's fun to be frugal, but you want good results. I think for my type of water - hard, with limestone deposits, using store bought detergent and washing soda or bleach or borax to boost it, is the best idea. I can't change my water. It's the same all over the island where I live. Thanks for all your suggestions. Being frugal is good but you have to be sensible and adapt to situations. (04/18/2008)
By cett
RE: Why Is My Laundry Dingy?
I also have to agree that Iron Out works great on whites, but be careful using it on colors. My water is well water and turns everything orange or yellow. (04/19/2008)
By nan80
RE: Why Is My Laundry Dingy?
I have used the homemade laundry detergent recipe for years and it is a lot of fun using it. The problem though that you are having and most all I know who use the homemade laundry detergent is, that Homemade laundry detergent does not contain anuyoptical brighteners like commercial laundry detergent. When you read about optical brighteners, they sound awful really as it is a glowing dye they use on your clothes to make them appear brighter and whiter than they really are. You could add a product to your homemade laundry detergent that has optical brighteners in it, of course that would bring the cost up to making it. You can also try using store bought fabric softener as this has optical brighteners in it. I have tried to find a "natural" product to have this effect without the dye and chemicals, and I myself have not found a solution yet. Many of my friends who use the homemade laundry detergent, will wash their clothes in store bought detergent every now and then to prevent them from looking dingy.
One time I grated an entire bar of Ivory soap and put it in my whites and they looked bright and clean. But using a whole bar of soap on 1 load of laundry is not very cost effective. (08/16/2008)
By Tabby
RE: Why Is My Laundry Dingy?
I never had a problem until I bought a front loading washing machine. So far it seems to be mainly the wash clothes and towels that look dingy. You can easily see it on both colored or light ones, although I do not think that the shirt collars are getting as clean as before. I am afraid to try the above mentioned remedies after all that is said about using special HE detergents only with my machine. Any suggestions, or is someone using the Borax with a front loader? (11/23/2008)
By karla
I recently bought beige towels and wash cloths for my main bathroom. My problem is; after just a few uses and washings the wash cloths are becoming VERY dingy.