This is a home decor and organization tip all in one. If you have lots of blankets taking up space in your linen closet and would like to add a touch of elegance and comfort to your bedroom(s), try this: buy a sturdy coffee table at a yard sale or thrift store whose legs would compliment your decor.
Find a piece of fabric you like, cut it so you have two pieces big enough to cover the top of the coffee table,with several inches hanging over on all sides.
Paint, stain, marbleize, or whatever you would like to do to the table to have it match or compliment the other pieces in the room.
Sew the fabric top and bottoms together, but leave one long side open; on this side seam, sew Velcro or a zipper, or ribbons to be tied, or other method of closure, thereby making a big "sack".
Now take all the extra blankets, fold them to the dimensions of the table top, and place them in the fabric "sack". Fasten sack shut with bows, Velcro, etc., and place it on the coffee table.
You now have a cushioned bench for the foot of your bed, in front of a window, or anyplace you would like, and your blankets are out of the way until needed.
Source: Too many kids, not enough room, love of decorating.
By Dollyslaffn from Darien, GA
October 8, 2009
0

found this helpful
I love this! I have been struggling with where to put all my bedding. Now I have the answer. Thank you.
Read More Comments
To save space I made large cushion covers and folded my extra doonas up in them. Make the covers to match your lounge or sofa, and no one would guess. It's great if you have limited space, especially if you live in a small flat or unit.
By Margaret from New South Wales, Australia
Editor's Note: Wikipedia says: Doona is Australian for a padded blanket. Originally a product name.
March 20, 2006
1

found this helpful
This is a great idea to store all your bedding, clothes the kids have not grown into, teddy bears, material your too busy to sew up, and seasonal clothes. Simply take anything soft you aren't using often, place it into garbage bags, fill them as full as you can but make sure you are still able to gather the top together.
Read More...
I have king-size and a full-size beds. I have read tips about what to do with the sheets and pillowcases, but my comforters are huge! I don't have all that much storage space. Does anyone have any ideas on how to store these using the least amount of space? They are falling all over the place, out of the linen closet and getting dirty and I have to rewash again, and the cycle continues...ugh! Please help! Thanks!
Tammy from Fort Mccoy, FL
September 26, 2008
0

found this helpful
Have you thought about rolling them & tying them with a belt or cord?
If you get help you can get them rolled small & tied & they take up less room!
Same goes for towels or anything you pack for a trip & everything stays neater!
By guest (Guest Post)
September 26, 2008
0

found this helpful
I just fold mine in half and store them between my mattress and box spring. I also take my blankets (used in winter to keep us warm in various places around the house) and fold them up and put them into decorative pillowcases.
September 26, 2008
0

found this helpful
Vacuum bags are the way to go, you can get a lot of things in them and they shrink down really nice and compact.
September 26, 2008
0

found this helpful
You might try this. You can find second hand or inexpensive shower curtains rods. Get some drapery brackets and hang them behind your clothes. Hang the blankets in half in the back. If you have room, that is.
By guest (Guest Post)
September 27, 2008
0

found this helpful
You can buy "bed raisers" at hardware stores. Unless you have a water bed, these 4 legs will raise the height of your bed, giving you more storage underneath. Or if you have a carpenter friend, you can make these. I got a couch FREE off a sidewalk that had no legs, and a friend of mine made 8" legs for it. Now I have a lot more space for storage under there.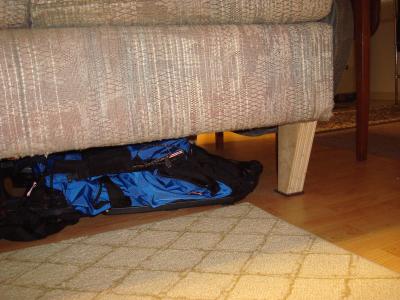 February 21, 2013
0

found this helpful
My comforters are huge, too. Through the years I have accumulated quite a few, and in various colors. I got an idea yesterday on what to do with them to make them handy when I need them. I am going to the dollar store and buy their pretty curtain rods and make a row of them down a wall and hang these comforters from a wall in my home office.
I will work from home soon, so I can have them when I get cold. I have people spending the night all the time, so this way I don't have to dig them out of anywhere either.
Read More Answers