Stuffed Bell Peppers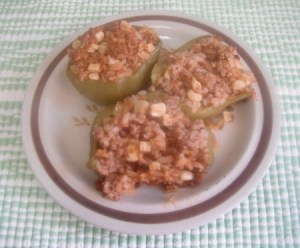 I was never fond of green peppers until last year when a friend gave us some out of her garden. After trying stuffed bell peppers, this recipe became one of my favorites. We planted peppers in our garden this year and now that peppers are coming in, I wanted to share this recipe. Mine are not big and pretty like the ones you buy in the grocery store but you can't beat the taste of home grown vegetables out of the garden. Left over stuffed bell pepper is what I had for lunch today. Picture attached.
Ingredients:
1 lb. ground beef
1/4 cup chopped onion
1 (15.25 oz.) can Del Monte white corn, drained
1 (8 oz.) can tomato sauce
1 cup cooked rice
1/4 cup A-1 steak sauce
1/4 tsp. ground black pepper
6 large green bell peppers (I used 12 small ones out of my garden)
Directions:
Cut off tops of green peppers; remove seeds and membrane. Precook green pepper cups in boiling salted water about 5 minutes. Drain. For crisp peppers, omit precooking
In a skillet over medium heat, brown ground beef and onion until done. Drain. Stir in corn, tomato sauce, rice, steak sauce, and pepper. Spoon mixture into peppers and bake in 9x9x2 inch baking pan at 350 degrees F for 30 to 35 minutes or until done.
Source: A recipe by one my co-workers published in our recipe book "Favorites from our Table to Yours".
By Betty from NC
Feedback
Read feedback for this post below. Click here to post feedback.

By
09/05/2012
I exchange turkey instead of ground meat. Never tried corn in but sounds great. Will do next time. I freeze my, this is something I make a couple times a month. With just me,I can eat them for a couple weeks then make another batch. I don't mind having such a great tasting dish a couple times a week.

Enjoy your peppers, I love mine! Try putting red pepper, Cajun pepper or I use Creole Seasoning for a twist in seasoning.

By
09/05/2012
I am going to start freezing them. How long can I keep the stuffed peppers in the freezer?

By
09/04/2012
This is a great dish to make ahead and freeze. I bake a 9 X 12 cake pan full, have a meal from them, and then wrap each leftover pepper in a separate foil wrapper. Freeze them, then pop them all into a large zip lock bag and store them in the freezer. For a quick meal, just take as many as you need out and thaw them. Then reheat either in the oven or in the microwave. Or leave them in the foil and stick them on the grill. If they need a little moisture, just add a little tomato juice, or tomato sauce to them when you reheat them. Just as good as fresh.
Harlean from Arkansas
Post Feedback
Add your voice to the conversation.