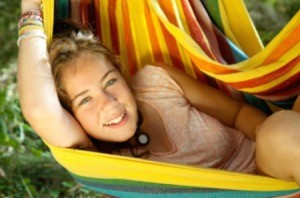 With the end of the school year comes summer and a time when teens have trouble finding activities to keep them engaged and having fun. This is a guide about summer activities for teens.
Ad
---
Questions
Here are questions related to Summer Activities for Teens.
What are some fun ideas and activities for teens to do in the summer? Please keep in mind: I am 15 years old, so there isn't much transportation or money available. My friends and I are trying to think of some different things that would be a load of fun.
By Gabriela from Portland, ME
AnswerWas this interesting? Yes No
Ad
---
---
Most Recent Answer
By Juli Karel 4 06/24/20110 people found this helpful
You and your friends could make some money and have fun at the same time. I used to help mow yards, baby sit, and do oddsy endsy things for people. As far as free stuff and not having to try to find money, well, I used to and still do go to the beach, libraries (some offer free things like live music, movies, etc.), museums at times are free or for a donation, go to various parks that are within walking distance. That's just a few of the things that I used to do and that my kids currently do.
---
I have a teenage son with a disability living in New York. His disability limits the amount of walking he can do. I do drive. I wanted to know what fun activities he can join or do during the summer.
By Milly
AnswerWas this interesting? Yes No
Ad
---
---
Most Recent Answer
By garnet9 1 40 05/17/20130 people found this helpful
How about taking him to a place where he can swim or row a boat? Can he ride a bike or could he get a scooter or "hoveround"-type vehicle to ride on?
---
My friend and I are 15 and 16, we are looking for fun ideas to do during the summer with our friends (boys and girls). We have access to some driving. We would appreciate any ideas! Thank you.
By Anna from Mesa, AZ
AnswerWas this interesting? Yes No
---
Most Recent Answer
By Paulette Gulakowski 7 178 05/22/20120 people found this helpful
Check out opportunities to do fun "work"! Things like helping at Vacation Bible School, community projects like planting flowers and painting curbs can be lots of fun for teenagers (especially if you get to squirt each other with a hose), hold a car wash to raise money for your band/cheerleaders/charity etc, volunteer to read to kids at the local library and put on skits for them with your friends, organize a block party in your neighborhood.

After each one of these activities, have a jammin' picnic in a local park or pool, playing your own music (surely someone has speakers for their i-Pod!) and dancing, shooting hoops etc.

When you do have a car, visit some nearby "tourist" thing, attend fireman's carnivals and community days, go to free movies where you take a blanket and sit on the grass.

Most of these things are very low cost and can be a blast for teens who are good friends and like to hang out. Have a great summer! (and don't forget to spend a little time reading - that's a great get-away!)
---
My friend and I both have two sons ages 13 and 11 and we are looking for some inexpensive ideas to help them enjoy their summer break without breaking our purses. Please help!
By A. Rachel
AnswerWas this interesting? Yes No
---
Most Recent Answer
By maddy:) 1 1 05/21/20130 people found this helpful
Well I know boys tend to love going to the lake and fishing! Poles/rods may be a little spendy but they will last for a long time! Or even getting a few kids from the neighborhood and having a fire or a cook out once in a while is always fun! Or you can just go camping with some friends of theirs! Even the friends parents can come which will fun for all of you! Hope I helped!
My friends and I are 17 (girls) and we're looking for more things to do. We have access to a car.
By Taylor H.
Solutions: Summer Activities for Teens
Do you have knowledge about this guide topic? Feel free to share a solution!
Archives
Thrifty Fun has been around so long that many of our pages have been reset several times. Archives are older versions of the page and the comments that were provided then.
What can a teen without money, transportation, or local friends do for fun during the summer?
By Andand from Marion, IN
Feedback:
RE: Summer Activities for Teens
Check with your parents first; then make yourself a flier to post and offer yourself as a "mother's helper". You can help tend the kids so the mom can get things done, help with light housework, etc. Post them at the library or grocery store. Be sure to have your parents check out the family, too, so you can feel safe. (03/27/2009)

By Jilson