Table Decorating Ideas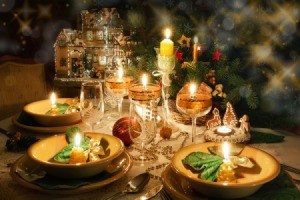 Depending on the season or celebration, there are many ways to decorate a table for all kinds of special occasions. This is a guide about
table decorating ideas
.
Solutions
Share on ThriftyFunThis guide contains the following solutions. Have something to add? Please share your solution!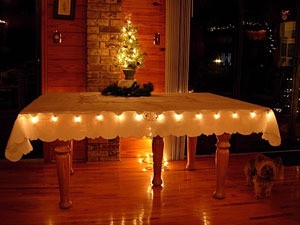 Dress up your buffet table with a simple string of Christmas lights. It's easy to simply tape lights onto the side of your table then place your cloth over. It's very effective and your guests will be really impressed!
By Mitzi from DeLand, FL
A frugal way to decorate an outdoor table is to put a few pieces of colored tissue paper on the tabletop, and then cover with a sheer cloth (a sheer curtain will do). It's amazing how elegant it looks and it will mask dingy outdoor tables very well, too!
By Pamphyila from LA, CA
January 9, 2008
0

found this helpful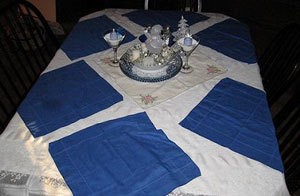 Your home should reflect your personality plus the enjoyment of each season and holiday with "displays" of the season of the year or to reflect the holiday or celebration that your family observes.
After the Christmas holiday season, I pack the decorations up and put out winter decorations.
My dining room table reflects the winter season. I have a lace tablecloth as the base; an embroidered table topper is centered; a round blue glass platter holds a white bowl with gold snowflakes and a gold rim; I filled the bowl with rock salt with an overlay of clear marbles and positioned a crystal ice-skating snowman in the center of the "snow". A floating snowflake candle is positioned on the "snow"; a votive candle is nestled into the "snow" plus a small snowman figurine. Blue frosted clusters of grapes are nestled on each side of the ice-skating snowman bowl. Two champagne glasses filled with salt have blue votive candles in them; these are placed on each side of the blue platter. A white resin fir tree sits near the scene. The salt/pepper shaker and toothpick holder are in a shallow blue oblong bowl. I used large blue napkins set in a triangular fashion as place mats.
My breakfast bar has a winter motif also with a snow man votive candle holder with a snowman shade, snowmen candy dishes; stem glasses with snow scenes on them with salt and votive candles in them.
The blue and white motif brightens the rooms; I use white and blue candles on the mantle and fire place to complete the winter season in the home.
By WandaJo from TN
Questions
Ask a QuestionHere are the questions asked by community members. Read on to see the answers provided by the ThriftyFun community or ask a new question.
I attended a meeting and potluck. The tables were decorated with red and white gingham checked tablecloths, with red napkins and red drinking cups. Small individual dishes of jelly beans were the favors for everyone to take home with them. The biggest hit of the decorations was the plain, white paper placemats with black ants drawn and colored on, along with word "Picnic". Cute! Eye catching!
By Terri H. from NV
Answers
By guest (Guest Post)
August 21, 2007
0

found this helpful
I've taken quart Mason jars and filled halfway with glass gems(craft dept) in whatever color I needed, nestled a glass votive holder down in the middle of the gems with candle inside. On the outside of rim tied raffia and hotglued silk flower. Pretty cheap and looks nice too. Oriental Trader has really cheap tablecloths too in prints and solids.
August 22, 2007
0

found this helpful
Reading one of the previous entries about the placemats being plain white with ants drawn on them made me think of something you might consider doing along that same line. How about a plain white placemat decorated to look like a recipe card? I think it's a cute idea if I do say so myself,LOL
Judy in Alabama
I am in charge of decorating a table for beverages and cookies for a fall meeting, does anyone have ideas for decorations?
By mnvieau from Traverse City, MI
September 13, 2009
0

found this helpful
Definitely! purchase a small pumpkin suitable to the table size and amount of items that will be on the table. Cut out the top as usual like for Halloween but then slip in a 4 inch mum plant in yellow or bronze even rust colored, prop the top on the side of the pumpkin. Gather fall leaves all different shapes and sizes and scatter on the table. If you are wanting to get creative you can use an old table cloth or flat sheet. Lay the sheet out on a surface you can iron on, if on an ironing board use extra padding under the fabric as to not get anything on the cover.
Take the leaves you gathered the fresher the better and placing them vein side up use a fall colored crayola and on the side rub it all over the leaf mixing colors if you desire leaving color on the leaf. If you cant get the color to come off heat it in hot water for a minute or two from a cup then try again. After the leaves are colored place the colored side down on the cloth, overlap them as desired pin with straight pins as needed and cover with a piece of torn open grocery bag. Place the bag over the leaves with the iron on and turned up to med high, no steam, iron the leaves going slow as to get the heat through the paper and the leaves to warm and melt transfer the imprint onto the fabric. Do not put this in the dryer, as the color may come off while laundering and leave residue in the appliance. If you need to launder it hand wash and hang to dry.
Setting the carved pumpkin with a black sharpie to draw the face on it then place it on the table along with your other items and finishing with a few more leaves scattered on the table. Your guests will be amazed at the look it gives and quite easy and VERY inexpensive to make. A great way to use the broken crayola's. Make sure to do a " test piece " to get you comfortable with the craft and to make any adjustments you need IE: iron temp, more crayola on the leaves etc.
Good luck and Happy Fall
I need an affordable idea for decorating nine 6-8 ft long tables for a party. There will be 7 to 9 people per table, I'm thinking of putting them in a u shape. I'd like to have lots of flowers in long, low vases (like a runner down the center of the tables.) Vases are expensive. I was thinking of window boxes and covering them? Any ideas?

Windella from Pasadena, CA
By guest (Guest Post)
April 29, 2008
0

found this helpful
You didn't state what type of party or for what age group or where it would be held, but...
You could decorate long tables by putting bowls or trays of water w/ a floating candle if you're permitted to light them & some "flower heads", just the flower part, not the stems, floating in the water.
You can spray paint the flower boxes in the colors of the party if you have chosen colors. Fill w/ dirt & some pretty annual flowers or even fake flowers. Maybe add some pieces of fake ivy or leaf garland. To look their best real flowers should be planted at least a week before the party.
You could set potted flowers / plants down the center of the tables & use them as "door prizes", "favors" or plant them in your garden. Sometimes this could be cheaper than other ideas if you find a potted flower you like at a good price.
Not knowing the budget ... you can buy some nice vases in different styles at Dollar Stores for $1.
You could get fake flower bunches & lay them down the center of the tables along w/ ivy or leaf garland, like a table runner. You can cut the flower bunches apart some to stretch them or cut the bunch apart & just scatter the individual flowers down the table w/ the ivy garlands. All supplies could be purchased at a Dollar Store. The flowers don't have to be continuous & thick on the table as long as it's continuous. It should look nice.
By guest (Guest Post)
April 30, 2008
0

found this helpful
Go to the 1dollar store and buy the window boxes. Then if the colors don,t work for your theme, either decoupage some fabric on them or some material of your choice...its a cheaper way to do your table. Hope this helps, bonnie
ps Also you could spray paint them the color you need.
January 12, 2015
0

found this helpful
We are having a souper-bowl soup supper for the senior adult class called the Rockers and I need some ideas on decorating long tables.
By Madge G.
Related Content