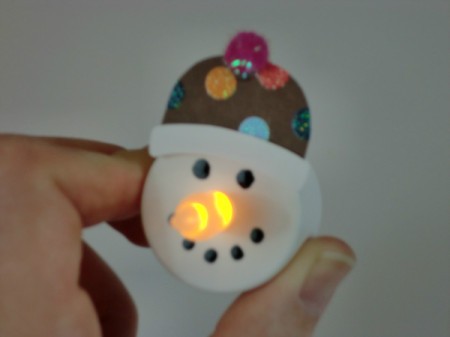 The flame of the battery operated tea lights make a perfect carrot nose for a snowman. With a few supplies you can make an adorable ornament!
Approximate Time: 30 minutes
Yield: 1 snowman
Supplies:
battery operated tea light
scrapbook paper, print and white
black paint pen
pom pom
ribbon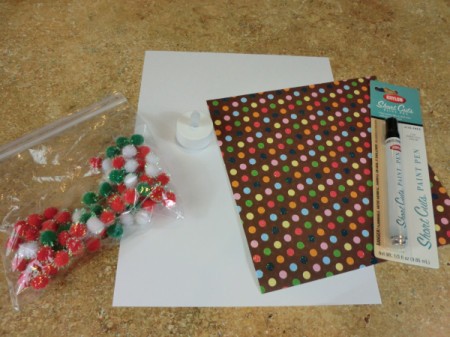 Ad
---
Steps:
First I traced the tea light so that I could sketch out the hat to fit the snowman. Once I had a good outline for a hat, I cut out the brim and hat top to use as templates.
Trace your hat templates onto the papers you selected for your hat. Cut them out.
Glue the brim to the hat and glue a pom pom on top.
Using the paint pen, draw the mouth and eyes into the front of the tea light. Be sure to leave room to glue the hat onto the top.
If you want to make the snowman into an ornament, glue a loop of ribbon onto the back. You can also set it on a table top as a decoration.
Ad
---
By Ginnee 2 186 12/21/20120 people found this helpful
So cute! I have a couple extra tea lights, I'm going to make snowmen. Thank you for the great idea ;-)
By Sandi/Poor But Proud 449 2,078 12/30/20120 people found this helpful
This is too cute! You could also put a magnet on the back and hang it on the door (providing it's metal like mine) or the fridge. Now that you can get them 3/1.00 that would be a very cute thing to make with the kids. Kudos!
By magdab 1 01/16/20130 people found this helpful
Adorable! Now I have to find those tea lights.
By lstanhope63 5 58 12/08/20140 people found this helpful
How cute is this! Thank you so much for sharing your awesome project.