Teaching a Child Their Left From Right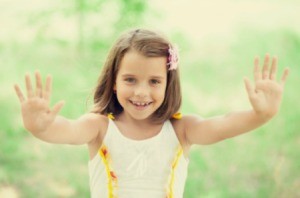 Learning what's your left and your right hand side can sometimes be a challenge. This guide is about
teaching a child their left from their right
.
Solutions
Share on ThriftyFunThis guide contains the following solutions. Have something to add? Please share your solution!
March 10, 2006
1

found this helpful
An easy way to teach a child their left from right is to tell them to put both hands in front of them with their thumbs extended and other four fingers together. The hand that forms an "L" is their left hand. Works for adults too!
By guest (Guest Post)
June 30, 2008
0

found this helpful
This works only if the child is NOT dyslexic or they are able to read fluently. If they are in a pre-reading stage pre-K to first grade than they are still learning which way an L faces. Most of my Kindergarten students are still learning which direction their letters face.
I usually tell them their right hand is the one we hold our pencil or scissors with. Unless they are left handed which I know to tell them, this works for all my students.
We do play lots of games to demonstrate with is the Right and Left hand.
By guest (Guest Post)
June 30, 2008
0

found this helpful
i taught my 4 year old how to put his shoes on the right feet by putting them together if it makes "a big V" its the wrong way and "a littl v" is the right way!! It works for me now when he comes to me and says is this the right foot all I have to say is it a BIG V or a little v .........
By guest (Guest Post)
June 30, 2008
0

found this helpful
You know I am 56 yrs old and never knew this till a couple of years ago. What an easy thing to know. Guess I didn't have good teachers when I was in Kindergarten lol.
May 28, 2011
0

found this helpful
I am 58 years old and never realized this till about 10 years ago. Something so simple but yet something I never knew. Not to old to learn things that's for sure, lol.
Read More Comments
Related Content