Teaching a Dog to Come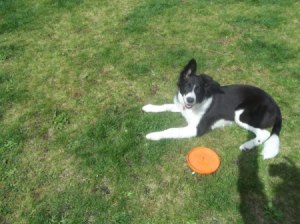 I have a very smart 7 month old Border Collie. I can get her to do all kinds of tricks and commands, but she refuses to come when called. She is in her own little world with nose to the ground and it seems like she does not hear me, but I know her hearing is fine. Any helpful advice would be greatly appreciated.
By Dianne D.
Answers: Teaching a Dog to Come
Read answers for this question below.
Those cattle dogs are extremely smart dogs & sometimes they know what you want them to do but they just ignore you too! Our little dog, Lightning, is a Queensland Healer & Corgi mix(looks like a short-legged queenie) & she's always learned everything very fast - if she wants to! She will always come when I tell her to because she knows I mean business (she's even trained not to look at us when we're eating) & she'd do anything for my youngest - but she will ignore everyone else in the family because she knows she can get away with it! LOL!

I think the best thing for you to do is not to try to get her to come when she's outside checking everything out. Wait till she's inside, calm & ready to listen. Get her attention & ask her to "come" in a firm voice, or a tone you don't use in normal conversation or play(then she'll recognize that tone when you use it in commands). Sometimes it helps to pat the floor when you tell her to come. When she does come to you, tell her she's a good girl,praise her & pet her.

It does help to use treats at 1st, but you don't want to train her to expect a treat every time, or she won't come if you don't have one. You can move away from her, or wait til she oves away, then issue the command again. It might take her a few times to figure it out, but I bet it won't be long. Once she understands & obeys the commands, you can try it outside, but wait until she has a chance to explore outside & run off her energy before you start, or she'll ignore you again.

One thing I've been very firm on with Lightning is that she is not allowed out the front door unless I give her permission & then she'd better come when I tell her to because if she doesn't, she has time-out in her bed(this is for her own safety because we live on a busy street with stray dogs). But then if my husband lets her out, she runs all over our yard & the neighbors before coming back! These dogs are so smart, I think my son could train our dog to do anything! I think I've seen training books on how to work with this type of dog, you might look for them if you need more help.
Judy=Oklahoma
I have found that dogs respond well to two things. Praise and Treats. Good boy/girl and a treat, the treat can be something so simple - a Cherrio or a small piece of cheese. Keep a plastic bag in your pocket with these little treats while training. Shepherds are really smart dogs, your dog will learn quickly. But of course they will continue to "round up" whatever they deem in need of rounding up.
Answer This Question
Add your voice to the conversation. Click here to answer this question.