Threading a sewing needle can be a very frustrating or time consuming experience, especially when working on a large project. There are, however, a number of tips that can help make this task easier. This is a guide about threading sewing needles.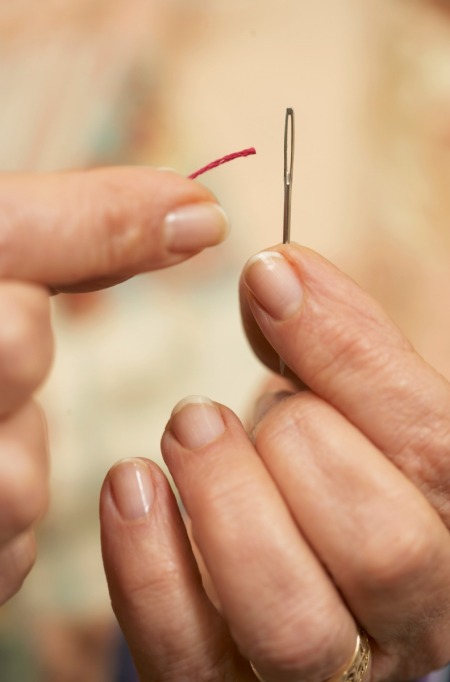 My dentist gave us these floss threaders that help in threading dental floss under bridges, etc.
I found that, by sticking the straight floss portion into the eye of a needle and placing my thread in the looped portion of the floss threader, I can easily thread any needle!
The floss threaders are firm plastic, so they enter the eye of the needle easier.
Just a little hint I thought might help others with the 10 minute needle threading frustration one may encounter when our eyes start to fail us! :)

By Sharon Hooley 1 1
If you cannot see well enough to thread your yarn directly into a big eye needle, and have a hard time pinching the end to make it fit into the eye, you can make simple needle threaders using a piece of thin but stiff plastic, such as those that come in product packaging.

Just cut it into strips, up to two inches long, and up to one inch wide. Fold each strip in half, as you would a hot dog bun, making a permanent crease. Sandwich the end of the yarn into the strip, as you would put a hot dog into the bun, making sure the tip of the yarn does not go beyond the tip of the threader. Slide the strip-encased yarn through the eye of your needle until you are certain the yarn is threaded through, then pull the strip free. Alternatively, you can first slide the empty folded strip part way through the eye, unfold the other end, clasp the yarn inside it, then slide it through.

By Sharon from Nampa, ID
By mia 1
If you love to sew, but your eyesight makes threading a needle, put a piece of white paper behind the needle. The contrast will make it much easier to thread the needle. On a sewing machine, slide the paper between the needle and the presserfoot
Source: An article on how to live with diminished vision (common problem among the mature).
By MargaretGadd from El Paso, TX
When hand sewing, I am partial to quilting, I like to thread several needles to be ready when I have finished with one length of thread. To be even more organized, I prefer to use a magnet to keep the needles and threads straight so I don't have to stop what I am doing just to thread another needle. Saves me so very much time and I don't have to search for where I left off anymore.

When I have gone through all my needles, it's time to get up and move around anyway so I am pleased with this arrangement. :)

By kittyhassparkle
My grandmother couldn't see too well, but she was always hand sewing something. I suggest that when you visit a legally blind person who likes to sew, help them out by putting several needles on a spool of thread. They can take off one at a time with more needles to use as they need without having to thread them.

By Ardis
You can use dental floss to thread needles. Put a loop of it through the needle and use it as a threader to pull the thread through the sewing needle. Those cheaply made metal ones always break.
By nancy nunez 12 7
If you're having trouble threading needles, buy some with slots at the top. Just insert thread from the top. The thread won't come out unless you tug on it.
By nancyintx
By lnygaard 104
Cut your sewing thread at an angle to thread it through the hole easier.
When threading the needle, where you will hold the needle in front of you:
above eye level
at eye level
below eye level
above the shoulder?
And why?
By Mariah
---
Most Recent Answer
January 2, 2015
For hand sewing needles I hold it below eye level and use my Dritz needle threader. I make no apology for this. One important thing I learned from my mama. Natural sunlight is better than electric lighting when your eyes go haywire in middle age. She always did her hand sewing at a window on a sunny day or on our big front porch, weather permitting.
---
I found a Singer 6235 by the dumpster. It runs. I can adjust tension, only if I knew how to thread the dang bobbin. I have the manual but still think I am threading it wrong or the winder reverse might be on. Don't know by the manual how to thread it. It is different from the many other types I have sewn with.
By Grace Thomason
---
Most Recent Answer
March 24, 2015
Great advice! At last I can comfortably keep my mouth shut! Good job!
---
By Brenda J J. 1 3
I have struggled with using regular threaders and thin wire that I have bent in the middle to use as a threader, but I think I have found an ideal threader. I am able to thread 4-ply yarn, crochet thread, and I recently used it to thread my sewing machine.
It is a floss threader for my bridge work. It is called GUM Eez-Thru Floss Threader. There are probably other brands out there. These are made in the USA! They even thread seed beads on elastic thread. The other beads are small also!
I posted about this with pictures on my website, Brenda's Bric-a-Brac.
Link: http://brendasbric-a-brac.blogspot.com/search?q=threader
One way to easily thread a darning needle with a large eye is to fold a thin, rectangular sliver of paper in half the long way, sandwich the end of the thread into it as you would a hot dog in a bun, then slide paper and thread through the eye of the needle.

By Sharon
When starting a large hand sewing or needlework project, thread several needles when you begin. Then you won't have to stop and keep threading needles as you work.