Tilted Pot Planter for Strawberries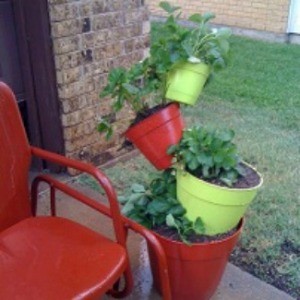 My strawberry plants needed more room to run and I found this planter project. Since the first one was made, I've made several more as birthday gifts for my gardening friends. You can use any assortment of pot sizes, just stair step them up a metal rod or piece of rebar. Spray paint or decorate the pots as your creativity moves you and have fun planning and building one. Enjoy...they're so easy to make!
Approximate Time: Two evenings (one for painting and one for assembling)
Supplies:
plastic or clay pots
spray paint
river rocks
metal rod/rebar
potting soil
plants
Instructions:
Select 4-5 assorted size pots. Begin with the largest for your base and get progressively smaller going up.
Drill a hole off-center on the base of your pot. This should be large enough in diameter for your metal rod to slide through.
On your base pot, stand your rod in the center and surround it with pond rocks or slightly larger ones to help support the rod.
Then place your potting soil in the pot and wet it down thoroughly to give your rod a good support base.
Begin staggering your pots one by one on the metal rod. You'll want to tilt the pots as you go to provide a firm support for each level.
Before adding potting soil and plants to your pots, add a small amount of river rocks. This will help give your plant proper drainage when you begin planting.
By Nelda from Dallas, TX
Feedback
Post Feedback
Add your voice to the conversation.
Related Guides
Related Posts