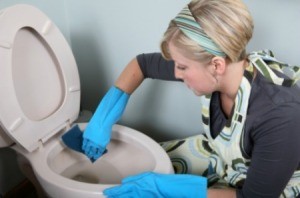 Finding the most effective cleaner makes this job easier. This guide is about toilet bowl cleaners.
Ad
---
Solutions: Toilet Bowl Cleaners
Read and rate the best solutions below by giving them a "thumbs up".
To clean stains from the toilet bowl, drop 1 or 2 denture cleaners in and allow to sit overnight.
By fossil1955 from Cortez, CO
I had really bad vertical rust stains in my bathroom sink from the top opening. I searched for answers online and came across one on this website and was about to try it when when a friend suggested I use Lysol in the 'bottle neck' blue/white toilet bowl cleaner. I knew I had this., so I grabbed it and sure enough it says right on there Disinfectant, Power Toilet Bowl Cleaner, Kills Germs, Removes Tough Rust and Mineral Stains. I poured it on and waited 10 minutes. It worked like a charm and having the product on hand made it even nicer.
Source: my friend Stacei, Lysol Disinfectant Power Toilet Bowl Cleaner
By FrugalbyChoice5 from Grove City, OH
Since I didn't have toilet bowl cleaner today, I used tub and shower cleaner with great result! I suspect it is like many other things that are sold under different brand names, but are made by the same manufacturer.
By desertgal from Phoemix, AZ
Give a "thumbs up" to the solution that worked the best! Do you have a better solution? Click here to share it!
Questions
Here are questions related to Toilet Bowl Cleaners.
I have a porcelain toilet bowl and we have well water. I read the replies on here about pumice stones but won't they hurt the porcelain bowl? My bowl has a light stain to it. What about Bon Ami or Comet?

Matt from PA
AnswerWas this interesting? Yes No
Ad
---
---
Most Recent Answer
Personally speaking, I would not use anything with chemicals in it to clean a toilet, clothing or a sink if the house is on a well system because it goes into the septic tank and will contaminate the land filtering the water as well as insects and other wildlife. Good old fashioned vinegar and baking soda work very well after it is let to sit for a while, then use a toilet bowl brush. There are many gentle cleansers that will do the trick of cleaning anything if we want to take the time to discover what they are. There are many enviromentally friendly cleansers on the market these days and many recipes online to make ourselves which saves money as well.( no pun intended :))

Sincerely
Mee
---
What "in the bowl" cleaner is really good with less elbow grease? You know the type, "just drop in in".
Thanks.
By Sandy from New Orleans, LA
What is a good toilet bowl cleaner to just leave in the tank?
By Nolasandy
Archives
Thrifty Fun has been around so long that many of our pages have been reset several times. Archives are older versions of the page and the comments that were provided then.
As Seen on TV - I watched a home cleaning show where they used denture tablets to clean a really filthy toilet. One day at a yard sale I saw a new box of denture cleaning tablets for 50 cents and thought, why not buy them to try in my toilets, though mine are never as bad as the one on the show. I dropped a couple of them into the toilets at home, waited for them to dissolve, and was pleasantly surprised to find out how easily the toilet cleaned - almost no elbow grease. I probably wouldn't buy the tablets at the drug store, but for a yard sale find, they were a great purchase.

By Marie from West Dundee, IL
Feedback:
RE: Denture Tablets for Toilet Cleaning
Also good to clean out vases which are too small to get into otherwise. (09/26/2008)

By
RE: Denture Tablets for Toilet Cleaning
Many dollar stores sell denture tablets. (09/26/2008)

By momma30
RE: Denture Tablets for Toilet Cleaning
They work well on coffee or tea stained mugs, too. (09/27/2008)

By sbaum
RE: Denture Tablets for Toilet Cleaning
Also work in coffee pots and thermoses (09/28/2008)

By wvrdnkwmn
RE: Denture Tablets for Toilet Cleaning
Great ideas! Thanks! (09/28/2008)

By Susan