Tool for Removing Old Caulking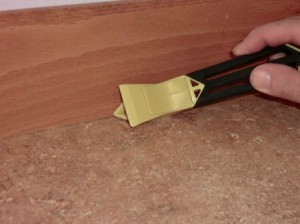 I needed to remove the old caulking between the backsplash and the counter. I found a really neat tool at Lowe's that made this task very quick and easy! Originally I had tried a razor blade, but without much success. All you do is slide the tool along the surface and it scrapes up the caulking without damaging the surfaces.
By Laurel...
Feedback
Read feedback for this post below. Click here to post feedback.

By
01/31/2013
Tool works fine for latex caulk but silicone is another story. Even a tool like this took me forever and didn't get it off in a nice strip, but left lots behind which even with the liquid remover specifically for silicone it did not completely come off!

By
01/30/2013
There is also a tool that is used to smooth down the bead of caulk that you just applied to replace what you scraped off.
Post Feedback
Add your voice to the conversation.