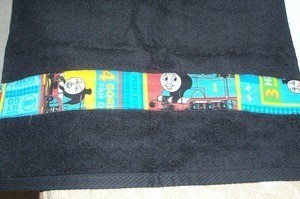 Cheap and easy Christmas gift. Take a new hand towel and some scrap fabric. Sew the scrap fabric to the hand towel and you have a personalized gift. This came about because I was too cheap to buy a Thomas the Train towel for my son. Now I can make one for everyone on my list using hand towels and bath towels and personalizing them to whatever "theme" each person is into or things they collect. Great for when you find towels on sale and only have a little bit of that special fabric.
By Jennifer from Riverview, FL
December 19, 2008
0

found this helpful
I really like this idea. but I don't have a sewing machine.. any suggestions on making it with out sewing ??

November 5, 2009
0

found this helpful
If you know they are not going to be used and only for show, you could try the glues that say they are okay to wash and won't wash out; I would try one before I gave it away though. You could just as well hand sew the fabric on. Just press the edges under and make small stitches using thread matching the towel.
If you check at garage sales lots of times there are used sewing machines, try to find a Singer, Viking or Husqvarna. They are good machines and can be worked on by most any sewing machine shop. A good cleaning is all most of them need. In Nebraska one can be bought for $25 or less. You might be able to barter with the owner, maybe offer to do something you are good at, or mending once you get the machine. Make sure she is willing to let you see it run. Avoid newer ones with lots of computer chips if they are cheap, most likely they have major problems. Have fun.
A good craft for kids gifts. You can also make wedding presents, housewarming presents, etc.

An idea I came up with several years ago was to take a regular bath towel (the real nice thick ones are harder to use unless you have a heavy-duty sewing machine) and sew fabric along one end of it and make a matching hand towel and washrag to go with it.

I use piping, eyelet lace, etc. around the edges, but here recently I saw a lady at a craft fair that just folded the rough edges under, ironed them, and sewed over the top and left it at that. She explained that it kept her cost down for her to make more money from her crafts, but it sure makes a difference in how it looks if you do use the edging materials.
This is quick and easy to do and I usually find a fabric that matches the personality of the person I am making it for. If they love horses, I find horse material, etc. This is a unique gift that nobody else can get them.
Depending on how much time I have I take the leftover material and make a matching drawstring bag they can use for overnights with friends, etc.
For my nephew I made him a matching pocket first-aid kit and filled it with band-aids and also a small drawstring bag that I filled with marbles.
I have also bought solid colored kitchen tea-towels and sewn a band on the end to match peoples' kitchen decoration for a kitchen towel, too.
By Tawnda
March 9, 2005
0

found this helpful
cool idea thanks! got anymore ideas?