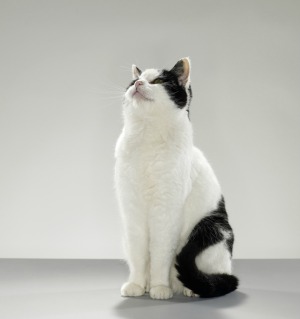 Although it may seem daunting, it is possible to train your cat to stay off of the furniture. This is a guide about training cats to stay off furniture.
Ad
---
Questions
Here are questions related to Training Cats to Stay Off Furniture.
I have cats that keep getting my kitchen table and chairs. I have used a bottle of water to spray them and they have not learned yet. Any ideas for this? I can't afford to spend a lot! Thanks.

Rose Anne from Crystal, Michigan
Ad
---
---
Most Recent Answer

By Carol in PA (Guest Post)12/03/2007
My indoor cat is trained to go outside with me on the deck. I didnt start to train her until she was about 10 yr old. She responds will to my voice and scolding. I threaten with the hose, but have never actually sprayed her. lol When I ask he to come inside and she obeys, I give her a treat.

So what I am saying is that cats (like people and dogs) respond well to rewards for good behavior. I'd continue to use the spray of water from the spray bottle as its non toxic. I wouldnt use glade or another air freshener because the smell is harmful to your pets. They have very sensitive noses.
What can I do to keep the cats from sitting in my rocking chairs? They leave their hair on the chair pads.
By Johnsons from Spartanburg, SC
Ad
---
---
Most Recent Answer

By Tonya07/23/2009
Easy! I have two very good suggestions. I have two 9 week old kittens that decided they loved my coffee table. No more. $1 spray bottle with water. Wonderful! Now all I have to do is aim and they run from it. Two is "sticky paws". It's two sided tape that doesn't damage your furniture. They don't like the stickiness. You get I think 24 strips for $14.99.
I have a kitten and mama cat that are really good pets. If they scratch the furniture or rugs, I can stop them by spraying water from a spray bottle. They've just started getting on the kitchen table and if I'm sitting in a recliner in the living room, the spray bottle doesn't shoot far enough to hit them. If I get up, they jump down and run, but I want to get their attention faster than that. Surely someone has a solution. Thanks!

By DKG
---
Most Recent Answer

By Vicki H.01/03/2013
Soda can with few pennies. Throw it in the area, not hitting them but it makes such a clatter they will be startled. Throw it and act like you haven't a clue where that came from.
How can my daughter keep her white cat off of her furniture, counter tops, stove, couch, and chairs, even the stairway. She has tried spraying him with a squirt bottle, didn't work, now she has to put Reynolds wrap around all the counter tops, stove, tables, everything.
By Katie
Solutions: Training Cats to Stay Off Furniture
Do you have knowledge about this guide topic? Feel free to share a solution!