Lilacs are a lovely, scented, flowering garden shrub. On occasion we need to relocate a bush or transplant some of those free little suckers growing in the shade of the parent plant. This is a guide about transplanting lilac bushes.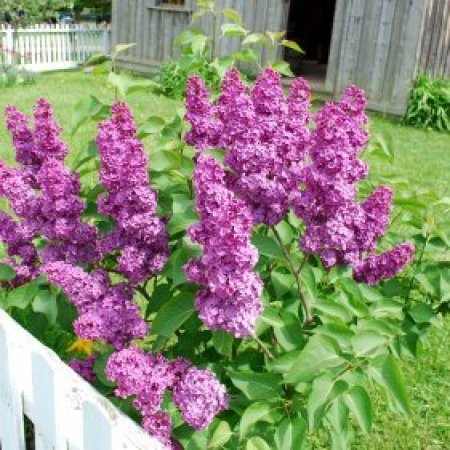 By elena sipkins 8 2
I transplanted three lilac saplings recently to a location in my front yard. I gave them a good dose of Miracle-Gro and set them into holes filled with top soil. They are spindly, about 4-5 inches high. Should I trim them down? Did I replant at the wrong time? It is now one week after and they do not seem vibrant. What to do if anything?
Hardiness Zone: 6a
By Elena from White Plains, NY
---
Most Recent Answer
May 4, 2011
They are probably a little shocked. Just make sure you water them every couple days. If the drainage in good and wait for them to grow 'feet'. I think they'll be fine. Don't expect much this year.
---
When is the best time to transplant Lilac Bushes? These are young small bushes.

Hardiness Zone: 5a
---
Most Recent Answer
By guest (Guest Post) Flag
May 25, 2007
Hi Doris-
I'm in WI too You've actually missed the prime time for moving lilacs this spring. Oct. would be the next time for 'by-the-book' transplanting. But, nothing ventured, nothing gained! You may wish to try what the previous poster recommended. Good luck with your lilacs!
C~
---
I am taking down an old house and putting up a manufactured home. I have a span of lilac trees as tall as the house and 8' wide and about 40' long. There are a few short spaces in between them here and there, but for the most part they seem to be solid. I do not want to ruin these trees, I would rather remove them and put them out to my friend's farm. It is late October 2014, and starting to sleet a little tonight, I plan to put up the new place next springish time, April or May. Is it possible to up root these without ruining them? When would it be a better time to do it? Maybe a little info on how I would go about this also, a pay loader is about the thought or maybe a bobcat if it is not too small. I am a zone 3. 6 miles from the Canadian border.
By Anna H
---
Most Recent Answer
October 27, 2014
Have you directed your question to someone who works at a nursery? They would probably be able to tell you how to uplift adult shrubbery. I've always lifted starters in the Springtime to replant just because they will get the spring rain to help roots seal in the soil and they won't bloom until much taller. You might try doing this too just to make sure you have surviving plants.
Course, if you get a big piece of equipment to lift shrub from earth so it has more soil around root system, so it isn't damaged you should be able to drop into another large hole elsewhere.
When is the best time to transplant a small lilac bush that has not bloomed yet? It has four separate shoots about three feet tall.
By Melinda from Jackson, MN
---
Most Recent Answer
By nonniebeth 11 23 Flag
September 12, 2011
In zone 7 where I live I usually transplant in very early Spring.
I am transplanting a small lilac bush. Would it improve the chances of it growing if I used rooting hormone? I am transplanting the lilac into gardening soil and compost mix, around the root ball. The hole is twice as wide and twice as deep as the root ball. Any help would be appreciated. Thank for your time and trouble!
By Monte
---
Most Recent Answer
July 19, 2011
Rule of thumb is what blooms in the Spring, plant in the Fall and what blooms in the Fall, plant in the Spring. I have had luck in transplanting bushes outside the rule of thumb as long as a lot of the dirt was left around the root system and watered well after planting. If your lilac start is tiny and no soil around the root, I'd dip it in root hormone, plant in a pot, set it outdoors and bring indoors over the winter and plant next Spring.
When is the best time to transplant a lilac bush or get starts from it?
Hardiness Zone: 6a
By Karen from Reynoldsville, PA
---
Most Recent Answer
By Ginny 1
I want to move a lilac bush because it is too close to the house and is causing a problem. How can I do this? When is the best time to move this lilac without losing it? It is kind of big, maybe 5 to 6 years old. Thank you.
Hardiness Zone: 6a
By Ginny from PA
---
Most Recent Answer
April 22, 2010
Is it the roots causing problems or is rubbing against the side of the house? If it is just rubbing against the house I would trim the branches instead of moving it. You would probably take an awful lot of digging to move it without damaging the roots.
By Terry 1
I have a two year old Lilac bush. Last year it developed white mold. I sprayed it with mold killer from the store. This year not a leaf or a bloom, but I broke a thin branch and it still looks like it has some life. What should I do? Any help?

Thanks,
Mom1
---
Most Recent Answer
When we moved here a year ago, a structural engineer said the 4 large old lilac bushes are too close to the foundation of the house and are causing problems. All are at least 10 ft high. One has so many shoots it is about 4 ft wide at ground level. We cut it back severely (to about 3 ft) a year ago and it shot up like mad all summer, but no blooms of course. Two are very scraggly and only had a few purple blooms. I pruned them this fall. The 4th one bloomed a little better, but is much taller, reaching over the eaves and is a lot less scraggly, but also didn't bloom much.
Can we transplant any of them with success? I hate to sacrifice these mature bushes, but wonder if any of them actually have a chance at relocation? Please help.
By Wilson
By Erin H. 1
How deep and wide does my container need to be when planting 2 baby lilac bushes? Can they be planted in containers to start with? I have no knowledge. So any answers will help I hope.
By Erin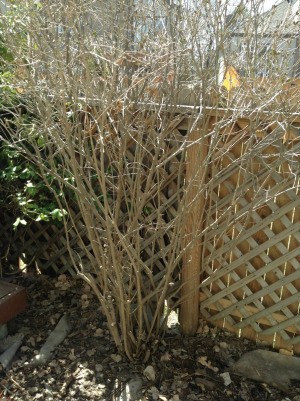 I have two 8ft tall light purple lilac bushes I'd like to transplant from the southern side of my house to the northern. I was wondering if they will do as well, and when is the best time to move them? We are having 70 degree weather right now and there are tiny green sprouts on the branches. Should I move right away or wait till fall?
By Steph
By elena sipkins 8 2
I have three 4 foot high lilac trees saplings which I want to move into my front yard. They have already started to bud. When is it safe to transplant them? I would also like instructions on how.
Hardiness Zone: 7a
By Elena from White Plains, NY
I have a small Lilac bush growing near a large well-established one. I'd like to know how deep I need to dig and when to transplant it? Should I start it in a bucket for awhile first? I live in the Midwest near Chicago.

Sharon from Hickory Hills, IL
Feedback:
RE: Transplanting a Lilac Bush
I had a neighbour that had to get a ditch dug right through his lilac bushes. His bushes were dug up, then replaced in the same place once the work was completed. They all grew back beautifully. Just make sure they are given enough water and they will be fine.

As for me, there were a number of Lilac bushes cut down and leaned up against my fence. They were to be removed, yet by the time my neighbour got around to hauling them away, they had already rooted. Now I have his beautiful lilac bushes all along my fence. (01/07/2009)

By Karyn01
RE: Transplanting a Lilac Bush
Lilacs are so easy. I transplant them all the time, in fact all the lilacs in the area are from my "mother" lilac. I like doing it in the spring when the ground is wet and muddy. Preferably later afternoon, cloudy weather is OK too. If the next day is going to be yucky even better.

Use a regular shovel and dig it out (its not deep, purples tend to send out shoots and that's the babies). I have been known to have 2-3, 5 gallons of roots and wait to transplant (just have water and keep in shade or inside).

Decide where you want to transplant it, remember lilacs spread. Stick shovel straight up and down and push and wiggle it back and forth. You should have a slit. Make the slit as big as the root system, drop in the lilac root and stomp it closed. Water and leave it alone.

Whites are bigger babies about transplanting. They also don't spread as much. Definitely do it when you have poor weather scheduled. (01/10/2009)

By HSLINKS
I have lilac bushes along the property line at a rental home and want to transplant some to our home. Can it be done in early fall? Can we transplant the whole bush, not just shoots?
Hardiness Zone: 3a
By Mary from Far Northern WI
Feedback:
RE: Transplanting a Lilac Bush
I would wait until it's at least below 70 degrees and is not really sunny, but before October so it has time for the roots to settle in. We transplanted a lilac in late July because we were adding a deck and needed to move it and, although we did it on a cooler day, it is still suffering a little. (09/03/2010)

By Allison5
Is it OK to transplant 3 year old lilac bushes in the winter (January)? They need to be in full sun and I want to be sure it's OK to transplant now?
Hardiness Zone: 8b
By Patsy from central TX
Feedback:
RE: Transplanting a Lilac Bush
I would check with a local nursery, but my thought is that if the ground is not frozen it might be OK. You will probably lose this year's buds, however, as it sets them right after blooming in the spring. Just make sure to use some root stimulator and don't do regular fertilizer for 6 months or so until the roots get established again. (01/28/2011)

By Allison5
RE: Transplanting a Lilac Bush
I have been told that you do it in the spring/summer, as they have a dormant cycle. If you want a bushier plant cut the branches the following fall, back to 1 foot high and shape the branches at the same time. Protect the following winter with mulch. (01/30/2011)

By sweetsoo