Treating a Dog's Eyes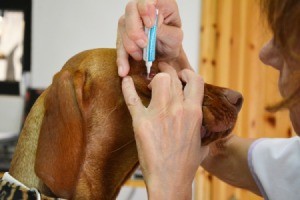 Some of your pet's eye issues can be safely treated at home either at the instruction of your vet or because they are recurring conditions or minor injuries. This is a guide about
treating a dog's eyes.
Questions
Ask a QuestionHere are the questions asked by community members. Read on to see the answers provided by the ThriftyFun community or ask a new question.
My Boston Terrier just got a bunch of dirt blown into her (bulgy) eyes. Is it safe to use Systane gel drops for her?
January 22, 2017
0

found this helpful
this how to clean stuff tutorial seems to indicate that using for-human products on an eye can potentially be harmful: "If there is dirt or debris directly inside your dogs eye and not just in the corners, you will need to flush it out with an eyewash. Dont go up to the bathroom and grab the Visine; be sure to consider your dogs safety and comfort by purchasing an eyewash just for him. Canine-friendly solutions, such as EyeClens are available at most any pet supply store. They may also be found at your vets office." http://www.howt -your-dogs-eyes/
If you are worried about how these drops will affect your dog, you can think of purchasing special eye drop formula for dogs here:
"Clean Eyes Soothing Eye Solution by Cardinal Labs for dogs and cats is a sterile, isotonic solution for cleaning debris and matter from irritated eyes or flushing the eye in case of irritation. This mild irrigating solution gently flushes away foreign matter and relieves eye irritation caused by wind, dust, dirt, sun, air pollution, pollen, ragweed and other irritants." http://bit.ly/2jOEq3b
January 22, 2017
0

found this helpful
The vet on www.justanswer.com says that the ingredients seem safe so yes you can.
January 22, 2017
0

found this helpful
Yes, our vet has told us to use it before.
January 23, 2017
0

found this helpful
IF the dogs eyes are from JUST dry eyes. you can use OTC liquid tears. but do NOT use anything for allergies etc. that are other types . that could irritate the anmals eyes worse. the best thing to do it call a vet... the dog might have an infection and an antibiotic eye drop might be needed.. It is ALWAY best policy to check with the professional first ..
Read More Answers
My Jack Russell keeps getting stye-like spots on and around her eye lid. The vet has been giving her antibiotic tablets and cream for in her eye. After the course has finished she goes about 2weeks then it seems to flare up again. Anyone else's dog had this?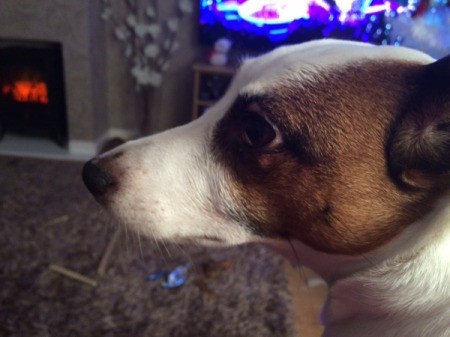 February 14, 2016
0

found this helpful
Has your vet checked her teeth? Years ago our doxie had a small open sore under her eye that turned out to be caused by a bad tooth. The tooth was pulled and the sore healed up and never came back. Seemed weird to me that a bad tooth could cause that sore. Not quite the same thing as your dog but wouldn't hurt to check. Hope you find the answer soon! Good luck!
I adopted a 5 year old male Chihuahua from a shelter, I've had him for 10 days he has had 3 vet visits. He started getting small red boils around his stomach and the top of body, he was treated with a antibiotic and a steroid shot. The sores are healing but now his right eye is weepy and sagging with yellow discharge. He rubs it, yelps and keeps licking his feet and paws. None of these vets seem to know anything because he has no history. Any advice will be helpful.
Rachel from Nevada
By guest (Guest Post)
February 13, 2006
0

found this helpful
When my dog had yellow discharge from her eyes recently we took her to the vet. She was very sick (with Lyme's disease) and I think the eye discharge is a symptom of a hard pressed immune system.
By guest (Guest Post)
February 13, 2006
0

found this helpful
3 strikes with the same vet & they're history. You need to find a good vet.
I would ask people who have success with their vets.
By guest (Guest Post)
February 13, 2006
0

found this helpful
Sounds like allergies or a relergic reaction to maybe one of the meds. The vet can give you eye drops for a dog. I had a St. Bernard with all those symptoms..he had allergies really bad. We were constantly giving him eye drops and allergy medicine. Hope it turns out well for you and your dog dont give up on him..ok?
February 13, 2006
0

found this helpful
Sounds like your dog is having allergic reaction to something he has come in contact with, the dog needs a complete check up by a vet blood count and x-rays too. Good luck, I love chihuahuas!
Read More Answers
March 23, 2014
0

found this helpful
I need something for my dog's eyes. There is runny stuff like she has a cold or something. What can I do? I am disabled and can't afford a vet. Please help, I don't have photo.
By Elaine from Greer, SC
March 23, 2014
0

found this helpful
Here is an excellent product for mucous in the eyes.
March 25, 2014
0

found this helpful
At this time of year, it is probably allergies. My vet told me to buy a bottle of saline nasal spray at Walgreens or CVS, very inexpensive, about $4. Put your dogs name on it so you don't use it yourself by mistake. Once a day, let a drop or two drop into your dogs eyes. She also said you should never use eye drops meant for humans on a dog or cat.
I have a seven pound Poodle who is 17 years old. She is almost blind, does not hear much, and has kidney disease. She has a discharge from her eyes that cakes up underneath. How can I remove this stuff without any pain to her? She does not like the washclothe method!
By Elayne
September 6, 2014
0

found this helpful
I found with my wee dog, which had a very weepy eye for weeks that after gently pouring warm water over her eye to soften the gunk , then gently removing it all with a soft cloth , I then opened up her eye & added a few drops of human eye drops - I have found that this has helped her a lot & her eye weeping has settled down.
The product I used was Systane which I bought from the chemist & is ok for the dog.
I woke up this morning and my dog's left eye was swollen and droopy. I went to the vet and she said that she thinks it is an ulcer. I have been treating it with the antibiotic cream she gave me. He also had a Benadryl shot, but it is swelling up again. What can I do before I go back to the vet tomorrow?
By Matthew from Fairmont, WV
March 8, 2010
0

found this helpful
Call the vet's office today. Since you just took the dog in today, they really shouldn't have any problem with answering some questions for you.
Best of luck. I hope your dog's eye starts to improve soon. To me, one of the worst things is having a sick pet. They can't tell us what's wrong, so we just have to do our best. Wishing you (your dog) a speedy recovery!
March 9, 2010
0

found this helpful
Just like humans, eye problems are red and painful, and taking a hot towel and placing it over the eye for a few minutes helps reduce swelling.
The health food store NOW brand has a product called "D-FLAME." It is a cox 2 inhibitor and is better than what the vet gives for pain and doesn't make them sleepy either. I have an old dog dying of cancer and she gets 1 in morning and 1 in the evening and that keeps her free of pain. I also use this and find it very good for my arthritis pain. (Yes it is for humans, but the vet says it's safe for dogs as well.)
March 10, 2010
0

found this helpful
Hello,
Please DO NOT treat you baby with anything from your local pet store. I have worked for a Veterinarian for over 27 years and your baby needs to see an animal eye doctor ASAP!. Your veterinarian can refer you, so please call his office and make an appt. Good luck Eye problems can be very serious.
March 10, 2010
0

found this helpful
Oh boy! K9Cats is right, ulcerated eyes are a big deal and need to be treated right away by a canine eye doctor. We had a black lab that developed ulcers in his eyes and needed several surgeries. This condition is very painful for your dog and needs attention right away. Please, make an appt at an animal eye specialist as soon as possible, the longer you wait, the worse things can get. Ask your regular vet for a reference. Please don't wait!
I have a Maltese with a severe eye infection I am assuming as her left eye was totally closed yesterday afternoon. I took warm compresses to loosen gook around her eye. It was quite an effort to clean the area around her eye, but I finally removed enough hair and gook to see her eyeball.
Nonetheless I have NeoPolyBac Ophth ointment I used last night on the eye and according to directions it says not to use it more than every 12 hours. This morning I was able to see her eye, but over the day (even after her morning dose of drops) it seems to run and start gooing up again.
Her vet isn't in until Tuesday and I am hoping warm compresses are OK to apply to her eye throughout the day. She is cooperative yet I don't want to risk eye damage. Is it okay to keep applying warm compresses to the eye area throughout the day and will it effect the strength of the eye drops? Please advise.
By Joni from Tarpon Springs, FL
May 30, 2010
0

found this helpful
Your dog may have something in her eye. Can you call the vet and get advice over the phone? If it looks really bad I'd take her to an emergency animal hospital or clinic. Hope the eye gets better.
May 30, 2010
0

found this helpful
The warm compresses shouldn't hurt the dog providing they are just warm, not hot, especially is there is swelling. They probably feel good to her. She definitely needs to see the vet. Sounds like she is a brave little trooper. I hope the vet can fix her eye quickly. Good luck!
May 31, 2010
0

found this helpful
Check earthclinic.com out and see if there are any remedies that will help before you can get her to the vet..,I might give her a dose of benadryl, here is the dosage. I am not sure about this, call the vet and ask if you should.
Please can anyone help me? I have a 10yr old terrier mix and just lately her eyes have been watering quite frequently. She doesn't have any crust, nor are her eyes red. Occasionally she will lick her paws and rub her eyes with them, but other than that, she is absolutely normal. Sometimes I use a cotton wool pad, a clean one for each eye, and warm water to wipe away the tears because she looks like a panda! It doesn't happen all the time. Should I be worried and call the vet?
By cettina from Malta, Europe
September 2, 2010
0

found this helpful
It sounds to me like your terrier has allergies. I have a little Japanese Chin mix who has watery eyes all the time. My vet said it's allergies. I use a cotton ball moistened with warm water to wipe her eyes.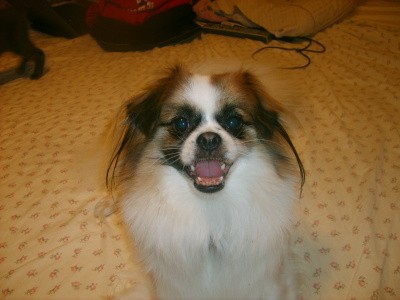 September 2, 2010
0

found this helpful
rsrandr, I think you may be right but I'm really surprised since she has never had an allergy in her life! I've done nor given her nothing different from usual. The only thing I can think of is that the air outside is getting so polluted that its affecting her when I take her out for her walks. how sad that life has come to this.
December 2, 2013
0

found this helpful
My friend recently acquired pink eye and was prescribed Moxeza for it. We think the dog has it now, which is a weiner dog. We are wondering is it safe to use on her?
By Nick D.
My Maltese left eye has become infected over the last 2 to 3 days. He's keeping it shut but opens more when excited about getting his treat. He seems to be sleeping more and shivering more than normal. What do you think? If he just has pink eye, is there a home solution I can use or something over the counter I can buy?

Thanks for any helpful feedback.
LHWNetwork
April 12, 2011
0

found this helpful
I have a maltese, Disney. She will be 6 years old in June 25, 2011. I have to wash her eyes almost all the time. She gets gunk in them. She has lately been getting a yellow discharge. I usually just wipe her eyes with a wet cloth and put drops called Opticlear - these are the best eye drops I've found(can buy online or at PetSmart for about $8). I also was wondering if I could use similasan for pink eye on her. They are all natural eye drops. Also, go to a website called petalive.com and they sell natural products for pets for almost everything.
Archives
ThriftyFun is one of the longest running frugal living communities on the Internet. These are archives of older discussions.
January 16, 2011
0

found this helpful
My Maltese left eye has become infected over the last 2 to 3 days. He's keeping it shut but opens more when excited about getting his treat. He seems to be sleeping more and shivering more than normal. What do you think?
Read More...
Related Content