Trooper (Grey Tabby Cat)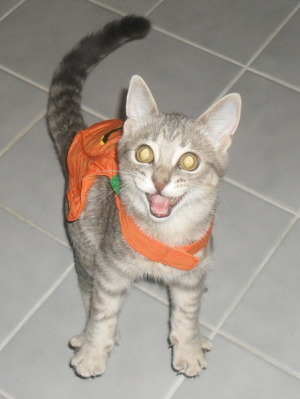 Trooper is 5 month old grey tabby cat. I adopted him through a local agency in July. Trooper loves to have conversations with you. He enjoys riding in the car, climbing up anything he can, jumping on every surface, begging for human food, waking you up at 6am, playing fetch with his favorite toy, running away from the the vacuum, purring at your feet, and loving you unconditionally.
I could not picture my life without Trooper. He brings a lot of laughs, fun, joy, and happiness into my life by just being himself. He has changed my life for the better and teaches how to love unconditionally.
By Rachael from Grand Rapids, MI
Feedback
Read feedback for this post below. Click here to post feedback.

By
10/13/2012
Oh my goodness, he's so cute! What a bundle of joy he must be! This is one of the cutest cats (and one of the best cat photos) I've ever seen. Best wishes to you both! Please keep sending cute photos of Trooper from time to time. You should submit this one for inclusion on a cat calendar!
Post Feedback
Add your voice to the conversation.
Related Guides
Related Posts