Troubleshooting Computer Problems
Solutions
Share on ThriftyFunThis guide contains the following solutions. Have something to add? Please share your solution!
I love my computer but must admit that I'm not savvy on it at all. I am forever coming across a problem that I don't know how to fix and having to call HP, AOL, or somebody to help me. I found I was calling lots of times over and over for the same problems. Finally I came up with an idea and it's saved me countless phone calls.
Now when I have a problem and have to call, while I'm on the phone I take detailed notes. Then when I'm done I immediately write up the problem and everything that was done to fix the problem on the computer (or hand write it, either way). I keep a notebook binder on the desk now with lots of page protectors in it. Into each page protector goes the problem and fix. Then I stick a tab on the edge with a short "label" of what the problem was.
This has saved me a lot of headaches and a lot of time. It's so much faster and easier than trying to call these companies!
By Cricketnc from Parkton, NC
February 10, 2013
0

found this helpful
Also something that is helpful is to ask the expert you have called for help to send you an e-mail containing the steps or process they recommend to fix your problem. Then you can simply print it our or save it in your docuements (label the folder(> computer things)in your computer. Anne in Bailey, NC
Read More Comments
April 9, 2008
0

found this helpful
Just to keep my computer maintained I downloaded AOL Computer Check Up. It's free from AOL and it takes about 2 minutes when I'm turning off the computer to clean the hard drive, cache, and all temporary internet files and cookies. This helps my computer run quicker and it also has a built in spyware/adware program in it to zap these things before they do any damage to you files. So all in all it works great and it's free!
By Denise from McRae, GA
April 11, 2008
0

found this helpful
I also use their Active Security Monitor each time I sign on, just to make sure my security systems are working. AOL is not my internet provider, but that's ok with them.
Questions
Ask a QuestionHere are the questions asked by community members. Read on to see the answers provided by the ThriftyFun community or ask a new question.
My computer has become more and more unresponsive. When I open up IE, it is slow and sometimes will sorta freeze up. I can unfreeze it if I open up another page of IE and click somewhere on that page when it loads. For some reason, when I go back to the first page I was trying to get to cooperate, it will start working again.
Sometimes when I "x out" or try to close a page it is totally unresponsive. I will do control Alt delete and it still won't close out. Most times I just have to hit the power button and shut the whole computer down and I don't mean going to the start menu and shutting it off like you are supposed to, that process is unresponsive also.
I have run anit spyware and Microsoft updates and AVG antivirus software. It just seems to be getting worse and worse.
Any ideas?
Paula Scott from GA
By guest (Guest Post)
May 24, 2007
0

found this helpful
You could have some malicious tags or software that are acting like a parasite to IE. effectively hijacking it. try running a program called Hijack This, it is a free ware program that can be downloaded on Google and has worked for me many times before. if you can not get it up and running, you can call me at 770-573-0741 and i may have some other suggestions. My company's name is Atlanta Technical Solutions, we serve Metro Atlanta and surrounding areas.
By guest (Guest Post)
May 26, 2007
0

found this helpful
My guess is it has malware (Spyware)
Download Ad-Aware Personal SE and run it couple of times.
It is a free program.
Look on Google for URL.........jr
February 11, 2016
0

found this helpful
Have you checked to make sure remote access is turned off? write down the complete address your experiencing trouble with. open tools from the top right, select internet options, on the general tab compare the web addresses. If it is identical , open a second tab type in your home pages basic address. Wait for page to finish opening then right hand click, select copy .on general tab erase the address then right hand click, paste and select use current hit apply. This is just basic things to try and regain your speed.
Read More Answers
For several months I have been trying to get my computer to do updates. It is set for auto update. I have turned off my firewall (and on w/anti-virus stuff off) and antivirus stuff, etc. and even though my security settings say Norton AV is off, once in a while a message pops up saying Norton is scanning or updating. And my other updates won't update.
I have had Norton AV for a while so I don't think that is what is causing it. I keep getting the error message "80072 EFD". I have followed the advice on the help menu, I have contacted the company and I just get emails saying I should get an email in 24 hours, yet I never do. It is so aggravating. My computer is less than two years old, it shouldn't be doing this.
By Tatorbug from AL
November 23, 2009
0

found this helpful
Everyone, thanks for the advice. I am wondering though...my husband set up the Norton on my computer and paid in advance for like a year. Do they do refunds or will that be a total loss if I take Norton completely off? Also, I found McAfee also on my computer in addition to Norton AV and thought it was because both were on there. But that didn't help my problem when I disabled them.
November 24, 2009
0

found this helpful
I don't remember if I did or didn't get a partial refund from Norton but my way of thinking is it was worth the loss to get out from under such a bad program so I probably didn't even bother asking them. You can contact their customer service and see what they say though :-)
I am definitely not a computer guru but it seems to me that having both Norton and McAfee on your machine is wreaking havoc too :-o Disabling is not enough, one or the other needs to be completely uninstalled. If it's Norton you choose to uninstall then you will need to use the Webby link I mentioned in my previous post after uninstallation to completely remove components that still remain because, with Norton, uninstall alone doesn't remove all their components.
If you would like more information then click on that Webby link and somewhere on the page there will be a contact link to ask him his opinion. If anyone knows for sure, it's him ;-)
December 11, 2009
0

found this helpful
First of all, you never should have more then one Firewall and one Anti-Virus software program on your computer. The reason is the fact, they will conflict with each other, then you will have no coverage at all.
Norton's has a removal tool on their website to remove all of there software from your computer and it works very well.
I was a Norton's user for many years, but I had a terrible time with them and got myself two Great Free Software Programs. Firewall - Zone Alarm. Anti-Virus - Avast. Never looked back. Have been using these two programs for 6 years now. Excellent Free Programs. Have any questions, Please post back.
Read More Answers
I have a Dell laptop Inspirion, and I'm on AOL 9.6 which is compatible with my system. As I type I am accidentally hitting possibly the space bar and or other keys and my cursor jumps to some previous place in my email, though it also happens in Word Perfect. I've never had this problem before with other computers.
Is this what "sticky keys" are? Is this just a glitch in the system? It's so frustrating since I write a lot while reading from my notebook. I have to keep looking at the computer to make sure the cursor didn't jump back and mess everything up. Any suggestions? Or is it just this computer?
Thanks for any help or suggestions.
Patti
By Patti from Ewing, NJ
May 1, 2011
0

found this helpful
I have a Compaq laptop and I could never figure out what was going on. This makes sense- brushing up against the touch-pad. I use a mouse but when I'm replying to email or posting on a forum my cursor will skip back through what I've already typed. I'll have to try putting tape over it and see if that helps. Thanks for that suggestion!
May 1, 2011
0

found this helpful
I have the same problem, but I am NOT hitting my touchpad. I also have a Dell. Another things that I don't like: when I hit my Caps Lock, it loses it's place! Very frustrating.
May 5, 2011
0

found this helpful
Thank you Tapestry Lady, for that tip. It sounds better than anything else I've tried or heard. And thanks for the solidarity from everyone else. It IS frustrating isn't it?
smiles.
Read More Answers
My computer keeps jumping around. I can't write a complete sentence. What could be the problem?
By Gerry
October 17, 2011
0

found this helpful
Without more information I can only make a guess. Check that everything is plugged in tightly. Plugs, esp. for keyboards and mice, will work loose if moved around very much. Hope this helps.
October 17, 2011
0

found this helpful
If this is a laptop with a touch pad the palms of your hands could be making the cursor move.
If this is a desktop borrow a keyboard and mouse and see if it does the same erratic movement with the new devises. Be sure to get the same type of devises. If you have PS2 don't replace them with USB and vice versa. If the same results occur borrow a different plug in type. If you have PS2 replace them with USB.
Also... it is unlikely but try replacing one devise at a time, There could be a conflict in the devises. This would eliminate that. If it only turns out your mouse is causing all the problems then just replace it.
Worse case scenario you may have to reinstall windows. If there is a conflict in the IRQ ports changing the devises might not fix it.
Good luck.
October 18, 2011
0

found this helpful
Have you recently updated or upgraded your browser or OS (operating system), and are you on Internet Explorer with a Windows operating system?
If yes, go up in the tool bar and hover the curser over the icons until you find the one that says something about compatibility-I think you may be having 'compatibility' problems since the update/upgrade.
I'm on a Mac now, but when I was on a Windows OS and did updates or upgrades I would have to adjust the compatibility because I would have the same problem you are describing.
Read More Answers
July 13, 2011
0

found this helpful
I can open my emails, but as of yesterday I can not delete, forward, reply, or send. Those options are not loaded; even the update option won't work.
By Chris
July 13, 2011
0

found this helpful
What email software are you using? Is your email service on a website like hotmail or yahoo mail? What operating system are you using if you use email software? If you use a web based email what browser do you use and what version is it?
July 13, 2011
0

found this helpful
What email software are you using? Is your email service on a website like hotmail or yahoo mail? What operating system are you using if you use email software? If you use a web based email what browser do you use and what version is it?
July 17, 2011
0

found this helpful
E-mail your server and ask this question. They will have a better answer on how to solve your dilemma.
Read More Answers
My computer is low on memory and is very slow. Can anyone tell me how to clean it off? There are a lot of things on here I don't use. Thank you.

Peggy from Canastota, NY
November 6, 2008
0

found this helpful
My computer recommends C Cleaner.
By guest (Guest Post)
November 7, 2008
0

found this helpful
Your problem is not your "computer's memory".
I'm not being a smart aleck here, just bare with me.
Your computers memory (or RAM) is wiped clean everytime you turn off your computer. Your problem is probably two fold:
1. Your hard drive is full, one of the other posters is correct in that you need to go to the control panel and use the add/remove programs menu to remove anything you don't use often. This will not speed up your computer though, it will just give you more hard drive space, it could give windows more room for a swap space but that probably won't result in blazing fast speed.
2. What I really recommend here is that you re-install windows. What happens is after using your computer for a year or so you install programs that write to the registry etc. The longer you use your computer the more registry entries (even after using the un-install features) and the slower your machine will run.
If you re-install windows (and make sure you do a destructive re-install where it erases your hard drive and then install windows, this will require that you back up all of your data before you begin) it will be as if you just got your computer "brand new". It will probably run much faster, as fast as the day your bought it. You CAN NOT speed up your computer through the use of memory managers or other software, the only options are to add more memory (and don't go to bestbuy etc. find someone local, maybe on craigslist to do it for very cheap) and/or do the windows re-installation routine.
Good luck
Editor's note: Make sure you have a good back up of all essential files before doing anything.
By guest (Guest Post)
November 7, 2008
0

found this helpful
Check you history settings if it is not set to automatically do it every so often you have a TON of past sites visited.
Read More Answers
For some reason my computer won't let me load any software. I can't retrieve pictures from a disk, I can't load Digital Image (which worked fine on my other computer), nothing loads from my CD reader.
When I try setup.exe I get a "not found" message, and I don't seem to have Setup Wizard at all, even when the disc I try to run has it. What's going on, and how do I get my computer to read things?
By Chiismychi from Tucson, AZ
August 6, 2009
0

found this helpful
To address a computer issue, you need to specify crapple or windows based. But, it seems you can't get anything to be read in your disc drive, so the drive might be bad. If it is just a cd drive, they are pretty cheap and easy to replace. DVD drives cost a bit more but are also easy to replace.
August 7, 2009
0

found this helpful
Search "Device Manager" and check the cd component from there.
If that doesn't work, then do a recovery but back up your stuff on a flash drive first.
If that doesn't work.....take it to a repair shop.
August 12, 2009
0

found this helpful
THe CD/DVD drive may be toast. If the device is not found, think about how old the drive is. It may be as easy as spending a few bucks to get a new one.
Read More Answers
August 17, 2014
0

found this helpful
How can I find what Windows has done with my desktop gadget clock? After an update the whole thing disappeared and seems to be nowhere on my computer. The gadget app was my clock.
By Anne S from Bradford UK
August 17, 2014
0

found this helpful
Go to START, type in Desktop Gadgets and it should appear above. Click on it, then right click on the clock you want and choose ADD. (Or if that does not work, choose Restore Desktop Gadgets and do the Add process) Hope this helps.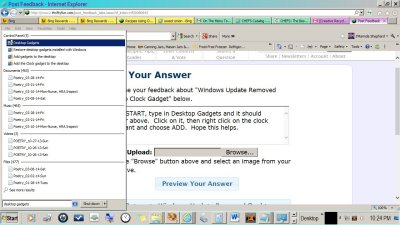 My computer freezes up no matter what I am doing on it. I have tried everything and it still freezes. Help.

LaVerne from Louisville, KY
By guest (Guest Post)
September 18, 2008
0

found this helpful
More than likely it's from excess heat, bad memory (RAM) or hardware component like a video card or motherboard that's overheating. If there were a short circuit, the computer would turn off. The only way to test this is by swapping your components with good/trusted components. If you don't have spares you can ask friends or go to computer repair/geeksquad type place. Also make sure that your fans are still running- heat will lock up a computer fast.
I'm assuming you haven't deleted system files, I'm sure it's hardware then. But if you think it's a system file / software thing, then (in windows), there is a program called SFC system file checker in windows or windows/system32. run that from command line (start->run->'cmd', then cd c:\windows\system32, then sfc /? to get the options. You want to check all. It may ask you to restart..
Defragging doesn't really do anything but make some file run faster. It's better to run a system scan on the files first then defrag as others have suggested.
My credentials are I was an IT desktop tech for 10 yrs, 8 yrs ago and now I'm a programmer, not some bum off the street about computers.
By guest (Guest Post)
December 5, 2008
0

found this helpful
I have had this same problem for a while and there are a couple of different things you can do to fix it. First, make sure you don't do a lot of clicking with the mouse. If you click once, be patient because the more you click the slower your computer will proccess information. Also make sure you keep your computer healthy by deleting cookies, clearing history, ect. Just go to the "tools" bar when you open up internet explorer, then go to "internet options" and you should see it there. Another thing you can do is go to "start", then "all programs", then "accessories", then "system tools", then "disk clean up" and "disk defragmenter". Defragmenter should run automatically but if it doesn't make sure you set it up so it does. Disk Clean up you have to do automatically and it just clears up stored stuff on your computer that is not needed and taking up space. The last thing I know of is make sure you don't have 2 anti-virus programs working at the same time. This is a sure way to get your computer to freeze up a lot, so close one if you do. Anyways, hope I helped out!
December 6, 2008
0

found this helpful
This may not solve the situation, but I thought you might want to know about Spyware Terminator. It's free and seems to be a very good program. Was recommended to me by someone who knows computers. I originally got it at Web Crawler.
www.spywareterminator.com
Read More Answers
I have a 2 1/2 year old Gateway computer and as of late, the computer starts to hum after about 45 minutes. I assumed it is the fan and that it needs cleaning. Now the technician said, it might be something else. I do not know his reputation and I had some bad luck the last time. Has anybody had the some problem and can give me some advice?

Related Content