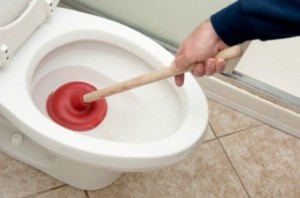 When this fixture gets blocked, it's important to determine the cause. This guide is about unclogging a toilet.
Solutions: Unclogging a Toilet
Read and rate the best solutions below by giving them a "thumbs up".
If the Closet Auger, Plunger and Dish Detergent Failed to unclog your toilet, try this!

I used the auger, plunger, and the dish soap resulting in a number of failed attempts. As I read several home improvement books online, the note that stuck in my head was entitled, "how to check if the upper flush holes are not clogged, by using a mirror". These holes are located out of sight, in the upper portion (underside) of the bowl. Anyway, if the goal is to maintain a good seal so that you can obtain the force needed to unclog the toilet, I suddenly realized that every time I thrust the plunger, more air was being directed from the upper flush holes, than the lower portion of the bowl. This decreased the force going into the desired location (lower portion of the bowl).

Solution: I took a clear plastic bag, cut a hole in the top, placed the handle of the plunger through the hole, to help prevent anything from splashing from the bowl, and I tucked the remainder of the plastic bag under the underside of the toilet to block some of the upper flush holes.

Despite not being able to block all of the upper flush holes, the few I did effectively block were enough to strengthened and re-direct the force of air going into the lower portion of the bowl, where the plunger was placed. Instantly my toilet was unclogged!

By majorshadow from San Diego, CA
Give a "thumbs up" to the solution that worked the best! Do you have a better solution? Click here to share it!
Questions
Here are questions related to Unclogging a Toilet.
How do I unclog a toilet?
By Tisha from Stockbridge, GA
---
Most Recent Answer

By Avie04/14/2011
I thought this sounded logical and would work. It did but not the first time. I carefully followed the instructions and was upset when it didn't work. Several times I used the plunger after the Dawn and hot water treatment. I waited and tried again the next day and after several plunges it worked!
This saved me so much! Thank you!
My son flushed 5 thick baby wipes down the toilet. They went down, but now the toilet water pressure is slow and when it flushes you can hear that something is stuck. I put my hand in there and can't find where it is stuck. Should I pour something in there to eat or disintegrate the wipes? Please help it's a one year old toilet.
By Fina
---
Most Recent Answer

By Frugal Sunnie [11]05/13/2013
Have you tried running a plumbing snake down there to dislodge the wipes? You may even be able to 'snag' them and pull them out of the line.

You can find a snake at any big-box or hardware store for under $20USD. A 5-6 foot plumbing snake is a wonderful thing to have tucked into the tool box especially in a home with smaller children (ask me how I know this:). It's a very easy to use tool and stores compactly:

http://www.walmart.com/ip/Cobra-Pro ... Auger-Each/21910136?findingMethod=rr

For tips on using one of these tools:

http://www.familyhandyman.com/DIY-P ... how-to-fix-a-clogged-toilet/View-All


I did a dumb thing. I didn't realize that it was bad to flush cat poop down the toilet. I would scoop his litter box and flush the feces down the toilet. The litter was just regular clay litter, and I would shake all access litter off, but there was still pieces stuck to the feces.

It didn't cause damage at first so I didn't see a problem, but one day it backed up. Ever since, it has been semi clogged and will clog up easily. We have tried plunging but it is not helping. What should I do?

Lacy
---
Most Recent Answer

By KATHRYN06/30/2010
How about quit putting cat litter down the toilet, OK.
Archives
Thrifty Fun has been around so long that many of our pages have been reset several times. Archives are older versions of the page and the feedback that was provided then.
Tips to help you unclog a stuck toilet.
Tips to help you unclog a stuck toilet. How can I unclog my toilet?
Toni from Windsor Locks, CT
---
RE: Unclogging a Toilet
Dish detergent and hot water & plunging works great! Thanks! (03/07/2007)
By Jim A
RE: Unclogging a Toilet
Thank you! I put in the dishing washing liquid, waited 5 minutes and added the boiling water. I was very skeptical, but it worked! We haven't used the downstairs bathroom in weeks! (03/03/2007)
By Cyndy
RE: Unclogging a Toilet
I own a motel and I have a lot of clogged toilet issues. I had one toilet that I plunged for seven days straight and didn't think it would ever work right again. I used the squirt of Dawn dishsoap and the pot of boiling water poured in the bowl, and it worked! I won't bother buying all of the expensive products any more, this simple technique really works. (03/03/2007)
RE: Unclogging a Toilet
Fortunately the toilet was clean, I bailed out all the water except for a cup or two, filled it with a cup of Dawn soap. I poured in a large pan filled with boiling water from some height so as to force the water down the toilet and push the soap as far down as possible. I plunged for about 30 seconds and left it sit for 15 minutes. I returned and plunged for about 2 minutes and it broke free. I hoped, but didn't think this would work. I'm convinced. (03/06/2007)
By kcuhC
Tips to help you unclog a stuck toilet. How can I unclog my toilet?
Do you have any ideas on how to unclog a toilet without calling a plumber?
How do I repair a clogged toilet?
Glenda
---
RE: Unclogging a Toilet
Unbelievable! My young daughter clogged our only toilet the same day we were having visitors. My husband and I took turns plunging the toilet for almost 3 hours. I was crying in frustration. We did not want to call a plumber at first, but just when we were ready to give up and ready to call a plumber; I decided to check how to! I tried this S&W method and it worked! I would've never imagined. 3/4 cup of dish detergent and a big pot of really hot water, not even boiling. I thought it was a joke but I didn't care to try it. Thanks to whoever came up with this and the tons of positive feedback. So try this, you may have to repeat or plunge again but it's worth trying and lots cheaper and less embarrassing than calling a plumber. (12/06/2008)
By Mikonoz
RE: Unclogging a Toilet
I've been plunging for 3 days now. I just found this sight, and thought there was no way this would work. I put a 1/2 cup of liquid dish soap in the bowl and went down stairs and boiled a pot of water. I put the boiling water in about 15 min. after putting in the soap. I gave it 5 or 6 good reps with the plunger and flushed the toilet. To my surprise it went straight down. This was an awesome remedy. THANKS! (12/07/2008)
RE: Unclogging a Toilet
Thought maybe the lines were frozen on a sub-zero temperature night. I then tried pouring in castile soap and my wife's homemade laundry soap mixture of borax and washing soda powder, two huge pots of boiling water, and still stuck. I waited about 15 minutes then plunged again and what do you know, it works. So maybe you can try powdered laundry soap and hot water also. (12/08/2008)
By NYC Guy
RE: Unclogging a Toilet
It works! Did not expect it to at all, but it was literally like magic. It saved me from embarrassment with mom. Thank you whoever came up with this. All I had to do was add laundry detergent with dish soap and a nice gallon of hot water. I let it sit for about 10 min. and worked great! Thank you. (12/08/2008)
By miller
RE: Unclogging a Toilet
I love it! Dish soap solved my problem. I've tried plunging the toilet since yesterday morning and it was only getting worse, I was ready to call the plumbers. I figured the soap can't hurt and, low and behold, the toilet was clean in 5 minutes! Whoever came up with this is my idol! (12/08/2008)
By Yay!
RE: Unclogging a Toilet
It really works, but I was skeptical. I thought, if bleach, a plunger, and a pipe snake didn't fix it, then how will dish soap and hot water do any good? I don't know, but I am a true believer now. Never spend money on Drano again. It really works. (12/09/2008)
RE: Unclogging a Toilet
I could cry! My toilet has been clogged for 2 days and I was at my wits end, plunging, wire coat hanger and tears. Dawn dish washing detergent and hot water? Impossible I thought, you have saved my life and toilet, it worked in less than 15 minutes! I love you and am now crying tears of joy. (12/11/2008)
By JANE
How can I find ideas to unclog a toilet?
I have a plugged toilet and the plunger doesn't help. Any suggestions?
Neliamaytime from Cortland, NY
---
RE: Unclogging a Toilet
I was ready to bite the bullet and call the Roto man. I even tried a power snake a sympathizing friend lent me. Then with the yellow book page turned to plumbers and prepared to flush $$ down the drain, I tried this method. I dumped in a pot of boiled water and added some dish soap. After a few strokes of the plunger the miracle began to happen. I did it a few more times and I'm back to an unclogged, happy flush. (01/05/2009)
By Clear Flow
How do I unclog a toilet?
I need advice! I have two toilets (back to back) that are clogged. The last guy snaked it all the way to the septic. He recommends I replace the toilets. Can you please give me suggestions?
How do I unplug a toilet?