Use Cooler Racks to Organize Jewelry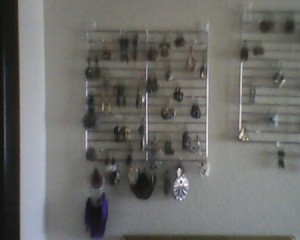 I was looking for a way of keeping earrings and necklaces un-cluttered when not having an earring stand. I took two metal cooler racks (the kind you use in the kitchen) hung them on the wall with Command Hooks (one in each corner at the top) and hung my earrings on them in staggered rows. To hang necklaces use S hooks and hang along the bottom to hang your necklaces from.
Don't hang too many on each hook so the rack won't come down. If you need to, use a separate rack for necklaces alone and stagger the hooks. If you can't find "s" hooks use large paper clips bent into an S shape. These you can even get in other colors.
By Melody C. from Medford, OR
Feedback
Post Feedback
Add your voice to the conversation.
Related Guides
Related Posts