If you are like me and have literally hundreds of recipes, I would suggest that you purchase several photo albums and place your loose recipes in there. That way they are organized and easy to find.
By Robin from Washington, IA
Editors Note: Robin is our #1 contributor of recipes for ThriftyFun. If you get our daily Recipe Newsletter, you have definitely seen some of her hundreds of recipes. Thanks, Robin!
August 25, 2006
0

found this helpful
Way to go Allison, I totally agree. I probably just made someone made a few minutes ago but I think if someone asks a question, answer it, dont break down what they said and give them advice they didnt ask for. Ok shutting up now, except to say I clicked on here to give a big HURRAH to Robin, I always know I will see her name on the recipe postings somewhere and I have downloaded a many of them. So Thanks ROBIN and thanks everyone who gives there time to make this a wonderful newsletter.
Read More Comments
July 30, 2010
0

found this helpful
I use inexpensive (dollar store) 4 x 6 photo albums to store all my favorite recipes. Works equally well for neatly typed recipes, or those recipes hastily copied from the TV screen.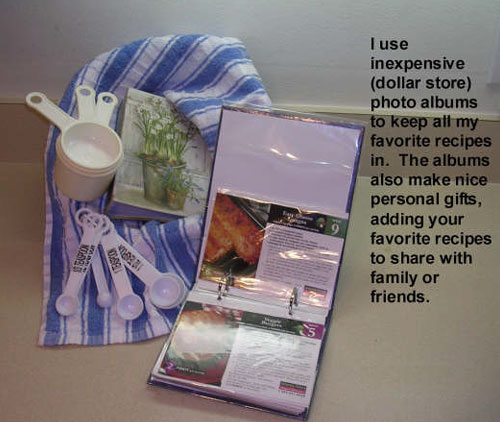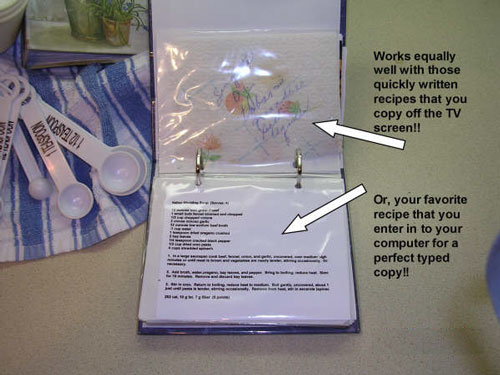 By Barb
Answers:
Dollar Store Photo Album For Recipes
I use photo albums as well. They work great. They keep the recipes clean, allowing you to wipe the plastic cover if anything spills, plus if you decide you no longer wish to make it, it is easily pulled and tossed. Great idea!
Laura (03/14/2005)

By DDSS2000
Dollar Store Photo Album For Recipes
I use ones that I got like from Wal Mart. They are the kind that hold three 4x6 inch pictures on a page. I have been doing this for years and have 2 or 3 of these albums with my recipes in them, plus all the ones i have categorized in MS Word. (03/14/2005)

By Linda
Dollar Store Photo Album For Recipes
I do this too!! I have the 4x6 lined index cards for handwritten recipes.

This makes a great gift for someone starting out too! (03/16/2005)

By beanygurl
Dollar Store Photo Album For Recipes
Thanks for the wonderful job you did on this Barb. We sure appreciate your hard work.
(03/16/2005)

Little Recipe Books
I went to the 99 cent store and bought 4 small 4x6 photo albums with plastic pockets. Then I bought 4x6 index cards and made recipe books out of them. I labeled one "main dishes", one "side dishes", one "desserts", and one "soups". I stood them up on end and each binder is labeled with which book it is and they look nice on my counter and are handy. The plastic inserts also keep my pages clean.
By Linda Jonson
(09/30/2005)

By ThriftyFun
Dollar Store Photo Album For Recipes
I think it's a great idea, my friend does this and it works great. I loved the one she has.
(09/30/2005)

By PeggyGV
Dollar Store Photo Album For Recipes
Thanks so much, this is a great idea, I have friends that are all having grandchildren, lots and lots??!!
I have a $ store, Big Lots and K-Mart all in the same "block", I'll be going tomorrow! Bless you!
Thanks again. (09/30/2005)

By Sally
Dollar Store Photo Album For Recipes
I have been making these albums for recipes for years. I give them as gifts for wedding showers. I have recipes saved in MS Word and I print them out on card stock and cut them to fit with a paper cutter to make the job easier. I even made Printed section dividers between the different categories like Appetizers, beverages, etc. I print pictures of real food on these dividers and it makes it look more professional. These make great gifts, and I feel that this gift is a part of myself given to each bride and give them many of my own Tried and True recipes I have used over the years, as well as ones I have wanted to try.

The pictures of the cook book shown looks so much like mine, it is amazing. I got my photo albums from The Dollar Tree. They are in Loose Leaf Notebook style just like these. It is a really thrifty gift.
(09/30/2005)

Dollar Store Photo Album For Recipes
Wow, what a great idea. Thanx for sharing apparently I'm the only that hasn't heard or done this, LOL Have a good day all, (09/30/2005)

By grammar
Dollar Store Photo Album For Recipes
This would make a great bridal shower gift, or for a new grad off to college (or even a bachelor) (10/01/2005)

By Debbie
Dollar Store Photo Album For Recipes
What a great idea! I have been wanting to give my only daughter a recipe book of simple recipes for Christmas and I think this would be a great way to do it (10/01/2005)

By Betts
Dollar Store Photo Album For Recipes
WOW! I must have been under a rock, this is a new idea for me. I think this is a grand idea. thanks a lot. I am trying to make presents for Christmas and this is sooo good for me. Keep passing on your ideas! (10/14/2006)

By wichypoo