I don't know about you, but I never have any luck with those no-cook and freezer jam recipes. For me they always turn out runny.
Today I was in the dairy section of the grocery store. Those fruit-on-the-bottom yogurts and tiny servings of cottage cheese with dabs of jam are so expensive, yet so tempting. Well, I remembered the jars of peach jam in my freezer. The jam is delicious, and tastes like a sunny summer day, but is too thin to put on toast. I have used it on vanilla ice cream, and it makes a wonderful topping. Today I realized it would also be really good mixed in with yogurt or cottage cheese - and a lot cheaper than store bought.
I like this idea so much, I am planning on making some batches of low-sugar, runny jams just to have on hand for a quick treat.
By Copasetic1 from North Royalton, OH
July 3, 2011
0

found this helpful
Barb, you actually have a gold mine just waiting to be taken advantage of. Anytime, you have jam, jelly or preserves that turn out to be more like syrup than what you intended them to be, use them in muffins, cakes and the frostings, quick or tea breads, and as you mentioned, mixed in with yogurt, cottage cheese, and don't forget on pancakes and waffles. Don't forget to adjust the amount of sugar in batters by just a little or add a little extra flour. When I do that, I always use Self-Rising Flour for the extra little bit.
People go to the grocery stores and hunt for different-flavored syrups for pancakes and waffles and are willing to pay ridiculous prices to get it too.
Lest I forget, be sure to mix some of your favorite in with butter and cream cheese and keep it refrigerated for the best toast or bagel spread you ever ate. How did I learn? How about "Been there and done that"?
Thank you for a great question. I've just been waiting to share that with someone.
Pookarina / Julia
July 5, 2011
0

found this helpful
I think using it in yogurt is a wonderful Idea!
July 5, 2011
0

found this helpful
Copasetic1, Pookarina has some very good suggestions. I think I've used them all at one time or another. But please don't give up. I've used the following instructions for about 20 years and it has never failed me. About five years ago we discovered a "pick your own" blackberry farm. I've used these instructions for blackberry jam, mulberry jam, strawberry jam, and blackberry/strawberry combo jam. YUM! Along with what hubby and I use, I always make an extra 40 or 50 jars (they're small). I give them to family, friends and co-workers of both of us. They all start asking in May when they'll get some jam. We pick the blackberries and make the jam in June. I'm sorry this post is so long but I wanted to make sure it was very detailed. I got the instructions from a college website but I can't remember which one. If you have any questions or other suggestions you can e-mail me using the regular e-mail format, margarett at juno dot com. Good luck.
Margaret from Denton, Texas
Here are directions and information on making freezer jam:
You need to get the small jars especially for freezer jam because the jam needs to be eaten pretty quickly after it's taken out of the freezer. You can get the jars at Wal Mart or even the grocery store. What is so nice about freezer jam is that you don't have to worry about the jars sealing. And since you don't cook the fruit, I think you get more of a fresh fruit flavor.
Making Freezer Jam
Blackberries, strawberries, and raspberries work well in uncooked freezer jam recipes. You must store uncooked jams in the refrigerator or freezer. You can hold them for several weeks in a refrigerator, and up to a year in the freezer. If you keep them at room temperature they will mold or ferment in a short time. Once you open the container, keep refrigerated and use the jam within a few days, no longer than three weeks.
Sort and wash fully ripe fruit. Drain. Remove caps and stems from berries and crush.
The basic recipe for uncooked jam is:
Ingredients:
3 cups crushed berries (about one and 1/2 quarts of berries)
5 cups sugar
1 package powdered pectin (Sure Jell) Get the regular, for some reason the one specifically for freezer jam doesn't work as well. Go figure!
1 cup cold water
To Make the Jam
Measure three cups of prepared fruit into a large mixing bowl. Add the sugar, mix well, and let stand for 20 minutes. Stir occasionally.
Dissolve the Sure Jell in one cup cold water in a saucepan and bring to a boil. Boil for one minute. Add pectin solution to the fruit and sugar mixture. Stir vigorously for two minutes.
Pour the jam into clean freezer containers or canning jars, leaving one-half inch head space. Cover the containers and let stand for 24 hours, or until the jam has set and become firm. This quantity makes about seven or eight half-pint jars or freezer containers. When jam comes out of the freezer, thaw overnight in the refrigerator. Enjoy!!
***Do not puree the berries. They need to be crushed or they will be too "juicy".***
July 5, 2011
0

found this helpful
I often buy plain yogurt or make my own yogurt, and then stir in jam. It's much cheaper than buying flavored yogurts. Runny jam is basically flavored syrup so it's also great to use with milk or even ice water. Just use a blender or hand blender to break up the pieces. soiled bra. Or put the jam into hot tea where it should melt.
July 5, 2011
0

found this helpful
Runny jam is good on pancakes, waffles, and French toast.
I stumbled on this site because it offered several remedies to fix my too thin jellies/jams. I am not a big recipe follower; always "knowing" that something else would taste great in the recipe. 95% of the trials turn out and I end up divulging my "secret" to a number of others.
To fix my too thin jellies/jams, the "air-dry method" is great. In the event one ends up with still too thin preserves label the mistakes "Glaze/Topping" and use for cheese cakes, thumbprint cookies, drizzle for cakes, baked cookies, syrups for waffles/pancakes, and french toast even a sweetener for teas.
Remember there are few real bad "mistakes" and lots of NEW uses/ideas.
By frys2go from Muncy Valley, PA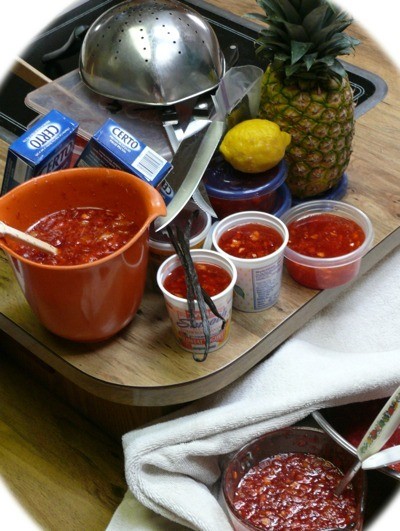 July 15, 2010
0

found this helpful
I like to use runny jam stirred into vanilla yoghurt. I even make extra batches of 'odds and sods jam stuff', when I don't have enough to make a whole batch, purely for this purpose. Yesterday I made Tayberry, Gooseberry and Rhubarb - yummo!
Yum, this is a very moist spice cake. You can use any variety of jam you wish or that you screwed up. Another name for this recipe can be "How to Use the Jam that Didn't Set Up Well Besides Pretending that it is Syrup".
Ingredients:
3 cups sifted flour
1 tsp. soda
1/4 tsp. salt
1 tsp. ground allspice
1/2 tsp. ground cloves
1 tsp. ground cinnamon
1 tsp. ground nutmeg or mace
1 cup chopped pecans or walnuts or a mix of both
1 cup raisins or chopped dates or Craisins or whatever dried fruit, optional
1 cup butter
1 1/2 cups sugar
3 eggs, beaten
1 cup blackberry jam, seedless (you can use any variety of jam)
1 cup buttermilk or do the milk and vinegar thing.
Directions:
Into a medium bowl, sift together flour, soda, salt, and spices. Sift a little of the flour mixture over the nuts and raisins or dates or whatever dried fruit you're using.
In a mixing bowl, cream butter; gradually add sugar and beat until light and fluffy. Beat in eggs and jam. Add flour mixture alternately with buttermilk. Beat until smooth after each addition. Fold in nuts and raisins or dates or whatever dried fruit you're using.
Pour into three 9-inch layer cake pans and bake at 350 degrees F for 20 to 25 minutes. Spread cream cheese frosting or your own favorite icing between layers and over cake.
Cream Cheese Frosting
Ingredients
1/4 cup butter
1 package (8 oz.) cream cheese, room temperature
2 tsp. vanilla extract
1 lb. confectioners' sugar, sifted
Directions
Using an electric mixer or really big muscles, mix the butter and cream cheese and vanilla, then add in the confectioner's sugar. Mix until smooth. Spread on cake. Will cover a 2-layer cake. Be sure to lick the bowl. Yum.
Source: Base recipe found at southernfood.about.com
By Stephanie from Anchorage, AK
July 24, 2009
0

found this helpful
I don't "jam", but I have a couple of cans of blackberries in syrup that were given to me. Could I drain them and smash the berries? Would the recipe work with crushed pineapple instead?
July 25, 2009
0

found this helpful
Hi Frazzled Leslie! I'm sure your berries in syrup would work. The recipe is incredibly forgiving; you might just need to bake it a little longer. The crushed pineapple would probably work too, but I'd drain the juice on that one (and drink it)! Have fun!