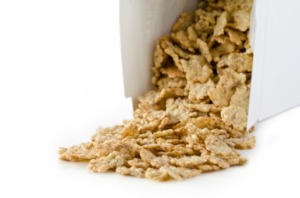 Have just a little bit of leftover cereal that might even be getting stale, there are lots of ways to use it in cooking and snacks. This is a guide about uses for leftover cereal.
Ad
---
Solutions: Uses for Leftover Cereal
Read and rate the best solutions below by giving them a "thumbs up".
When you cook, you need to be spontaneous. It may sound strange, but cooking is a little like trial-and-error. I was once making a banana milkshake when my sister suggested I put Coco Puffs in it. This came out delicious. So if you see a spice just lying around try putting it into your dish; you never know!
By fenben from Totowa, NJ
Tired of throwing out cereal when there's not enough for a bowlful? Make "mystery cereal". Get a nice large plastic container with a lid and just pour those odd bits of cereal into it. You can mix any kind - cornflakes, puffed cereal, peanut butter crunch, fruit loops. Just keep adding until your container is full, and when the boxed cereal is all gone - tada! Mystery cereal to the rescue. We all love it!
By mrs.flowerpot from Shelbyville, IN
I am a child caregiver. I end up with lots of small amounts of dry cereal every week. I take the extra cereal and crush them.
Then I melt some white coating bark, pour it over the cereal and mix. When it is cool I cut it in squares, and you have a treat that kids love.
Jane from KY
Use leftover or stale cereal as a casserole topper. Just crumble it up and use in place of or in addition to crackers. Not all types of cereal work well for this. For example, Fruit Loops (or other sweetened cereal) probably wouldn't work well as a casserole topper, but cheerios and corn flakes can taste fantastic.

By Fisher
Whenever the last bowl of cereal is emptied from a cereal container, there is a powder remnant. Instead of throwing it away or eating a really soggy last bowl of cereal, I save it for powdering raisins which I pack daily in my office lunch. The powder is usually just enough to take the sticky off and makes hand snacks neater, too.
By Nancy Coleman
Ideas and tips for leftover or stale cereal. Post your ideas below!
Give a "thumbs up" to the solution that worked the best! Do you have a better solution? Click here to share it!
Questions
Here are questions related to Uses for Leftover Cereal.
I have been searching for ideas for using WIC cereal. I receive 48 ounces every month but we only go through about half of it. I can choose between Kix, Cheerios, Honey Bunches of Oats, and corn flakes. Does anyone have any great recipes or new uses for one of these cereals?

scruggle from Dublin, GA
AnswerWas this interesting? Yes No
Ad
---
---
Most Recent Answer
By Mfox (Guest Post) 12/05/20070 people found this helpful
I found some great recipes on Kraftfoods.com that use cereal. Just put into the search POST and you'll get a bunch of recipes. There are a lot for Honey Bunches of Oats.
---
Some time ago, I saw a recipe for muffins which uses the leftover crumbly stuff that is at the bottom of every cereal box. I can't remember where I saw it, but if anyone knows, I would love to have it again. Thanks,

NC Mom
AnswerWas this interesting? Yes No
Ad
---
---
Most Recent Answer
By (Guest Post) 10/17/20040 people found this helpful
I know this is 2 years late but if you ever check your post again - here's a recipe I found online.

KATIE'S LEFTOVER CEREAL MUFFINS
This next one is a genuine original and has come in handy many times.
Combine:


2 cups unsweetened leftover cereal or granola (this works with those sample packages that arrive in the mail no one will try)
2 1/2 cups flour
2 T baking powder
1/2 cup sugar
1 T cinnamon
Combine:


2 cups milk
1/2 cup oil
3 eggs
Add to dry ingredients, stirring just until moist. Fill greased muffin tins (paper wrappers don't work with these).

Sprinkle tops with a combo of 1 T cinnamon and 3 T sugar (can be raw or granulated) and bake at 400 for 15-20 minutes. Makes 24.

Katie Watts