After being married for 54 years, I finally decided I needed some "store bought" liquid soap dispensers. I found some attractive ones for my master bath at Target. I have several of the store brand bottles which I am way too stingy to throw away, so I am going to use them for shower gel and shampoo. This will eliminate over use and spilling thereby making the bottles last longer. I am really frugal in my heart, even though I get nutty at times.
By MartyD from Houston, TX
May 16, 2010
0

found this helpful
It sounds like there are a lot of us that think alike. I also don't like to throw out those nice soap dispensers. I decorate mine with seashells and put them in my bathroom. (I sent one in awhile ago.) Actually, you can decorate them with any type of theme to match. I also buy in bulk and put in my showers and label them with big letters so I can read it. I have a decorative one on my kitchen sink that looks nice but is very convenient. I also make them for little gifts and fill with hand soap. Everyone seems to like them. Thanks for your post.
Read More Comments
I get a really big bottle of hand soap out of Dollar General bubble bath, by using a Germ X large size bottle squirt top on the bubble bath bottle.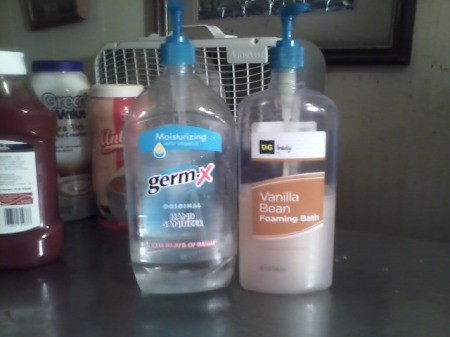 Directions:
January 27, 2013
0

found this helpful
I like to use the bubble bath for hand soap and also I like to have a dispenser for it in the bathtub, since it is easier to get out!
I like to use them for different things, I have one bottle of liquid dish detergent on the kitchen sink and then another one of these bottles full of vinegar on the kitchen sink also.
I also use bubble bath that smells good as hand soap and also as a hand washing soap for delicate clothing. It is just nice to be able to put a pump dispenser on a bottle that did not come with it in the first place.
Blessings to you,
Robyn
Read More Comments
Does anyone have ideas for reusing ceramic soap dispensers that cannot be used because the pump no longer works?

CS7 from Salem, OR
By guest (Guest Post)
February 6, 2009
0

found this helpful
How about a vase for one beautiful flower to go on your kitchen window sill, end table or wherever?
February 6, 2009
0

found this helpful
I found another pump that worked. I just bought a bottle of liquid soap and used the soap and pump, the plastic bottle went into the recycling.
February 6, 2009
0

found this helpful
I bought two ceramic elephants that had a cap in the middle of the back. I have no idea what was in them originally but I took a pump from an empty lotion bottle, cut the tube to fit in my elephant and set the pump cap on the threaded part. (pump does not have to screw on or fit tightly) They have been my kitchen handsoap dispensers for years.
Note: the tube should be cut on a slight slant to draw the soap.
My husband collects elephants and we have hundreds all over the house.
February 6, 2009
0

found this helpful
I hot glued raffia that I tied around the top to cover the threaded part where you screw it on--and now I use it as a vase. You could also use ribbon. The mouth of the bottles are fairly standard sizes so you may want to get a bottle of hand soap from the dollar store and see if it fits.
February 7, 2009
0

found this helpful
You can often find other used ones and exchange the pumps. I sometimes find that dollar tree one's have the same type of pump, and even if it just sits over the hole without screwing down, it still works.
February 7, 2009
0

found this helpful
If you can clean it out good, you could hide your mouth wash in it.
February 8, 2009
0

found this helpful
I'd seal the tops with a cork and hot glue and scatter them in my garden as ornaments. Or try drilling a hole in the bottom (after thoroughly cleaning and drying of course)add soil and say an ivy plant and put it outside as a mini planter.