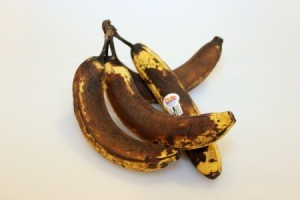 Even when they get too ripe to eat there are still many recipes that call for overripe bananas. This is a guide about using overripe bananas.
Ad
---
Solutions: Using Overripe Bananas
Read and rate the best solutions below by giving them a "thumbs up".
Do you sometime buy too many bananas? When the outside peel turns dark, don't throw them away. Take off the peel, put in zip lock bags, and freeze until you get ready to bake something. Use them in banana bread or any kind of baking that calls for mashed bananas. I bake with all my left over bananas. This was taught to me by my mother.
By Queen BEE from TN
I use to throw over ripe bananas in the freezer to be used in the future for baking. Now I put the peeled bananas in a covered baking dish and cook them for 4 to 5 minutes in the microwave. The pulp will separate from the water. Transfer the banana pulp and liquid to a sauce pan and slowly cook on low heat, careful to not burn. The liquid will turn into a thick sweet liquid. Cool the bananas mixture and measure out into one cup measurements and freeze for later use.
Note: 1 cup cooked bananas equal 2 uncooked bananas.
The results will be a more flavorful banana recipe.
By Elaine from Monmouth Junction, NJ
Give a "thumbs up" to the solution that worked the best! Do you have a better solution? Click here to share it!
Questions
Here are questions related to Using Overripe Bananas.
How can I use over ripe bananas?
By Marla from Jenison, MI
AnswerWas this interesting? Yes No
Ad
---
---
Best Answers
By Georgieanna Cooke 2 6 12/28/20090 people found this helpful
Cut in half, sprinkle with sugar and cinnamon and saute in a pan with a little butter till softened.....delicious!
---
By Namratha 1 2 12/29/20090 people found this helpful
You can make a banana milk shake. Cut these bananas into pieces depending upon the size of the banana and grind them (don't need a juicer for this as banana's very soft). Add milk, then add yogurt (only a couple of tablespoons. Yogurt should be put in to remove the milk smell while drinking. If you are OK with the smell, don't have to add yogurt).

Add sugar (ripe banana's are generally sweet, so sugar may not be necessary). You may add honey instead of sugar to make it healthy and fat free). You can make it thick by adding less milk and eat it or add more milk (little milk and little water can be used) to make it watery and drink it as a banana milk shake. It hardly takes any making time and is also healthy as it contains banana and milk. can be had at room temperature or cold. Tastes good in any way.
---
By Namratha 1 2 12/29/20090 people found this helpful
You can also make banana crunches. Take besan flour, add water to make a semi solid, add required salt. Cut the banana's into 4 inch pieces. Dip these bananas into the mixture and deep fry. You can spice it up with chillies by adding chili paste in besan. Kids will like it.
---
12/29/20090 people found this helpful
Polynesian Deep Fried Sweet Puffs

These puffs are yummy plain, but also taste good sprinkled with powdered sugar or gently spread with your favorite jam or jelly.

1 3/4 cups all-purpose flour
2/3 cup sugar
1 tsp baking powder
1 very ripe banana, mashed
1 1/2 teaspoons vanilla extract
3/4 cup water
3 cups vegetable oil for frying

Combine the flour, sugar, and baking powder in a bowl until thoroughly mixed.
Stir in the bananas, vanilla extract, and water to make smooth sticky dough.
Heat the oil in a deep fryer or large saucepan to 350 degrees.
Scoop up about 1/4 cup of batter with a large spoon and use another spoon to push it off into the oil.
Fry in small batches of 4 or 5 until they float to the top and turn golden brown, about 3 minutes.
Flip them over to fry the other side.
Remove from the fryer and let drain on paper towels.

Submitted by Deeli, Richland, WA

________________________________________

You can also mash some up and add it to whipped cream.

________________________________________

As a whipped cream substitution:

2 large ripe bananas, sliced
3 tsp sugar
2 egg whites

Whip all of the ingredients together :-)
---
How long are extra ripe bananas good to use? I have some very black ones and want to use them in banana bread.

By Carol from Dyer, IN
AnswerWas this interesting? Yes No
Ad
---
---
Best Answer
By Heather Krucker [10] 07/07/20100 people found this helpful
If my bananas are "too ripe" to eat. I put them whole in a freezer bag and thaw as needed. The only way I would throw away a banana is if I forget to freeze them and they are oozing out of their skin. I've also never had a problem using them once they are frozen, banana bread, banana oatmeal pancakes, cookies.
---