Using Pillow Shams to Recover Throw Pillows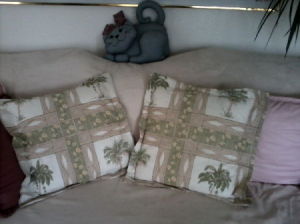 I had two pillows that were used a lot! I had washed them several times and finally the covering just almost disintegrated. The inside pillow was still good so I decided to recover them (since new pillows are $15.00 and up when you buy them). I found some pillow shams that I never used in my closet. I cut them to fit the pillow stuffing, sewed up the sides, stuffed the pillows in and sewed up the remaining side. I now have two brand new pillows. Cost was nothing to me.
By Rita from University Place, WA
Feedback
Post Feedback
Add your voice to the conversation.