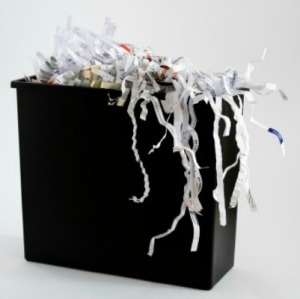 Use your recyclable paper in the garden. This is a guide about using shredded paper in the garden.
Ad
---
Solutions: Using Shredded Paper in the Garden
Read and rate the best solutions below by giving them a "thumbs up".
To stop the birds eating my newly sown seeds, I cover them with a small amount of paper from my shredder. I also use this shredded paper in the strawberry patch to keep them off the ground and as mulch where ever it is needed.
By Gwen from Tasmania, Australia
Give a "thumbs up" to the solution that worked the best! Do you have a better solution? Click here to share it!
Questions
Here are questions related to Using Shredded Paper in the Garden.
Will using shredded paper in your garden cause the plants to absorb lead?
Hardiness Zone: 8b
By Dianne from GA
AnswerWas this interesting? Yes No
Ad
---
---
Most Recent Answer
By Eileen M. [56] 01/11/20110 people found this helpful
Nowadays the newspaper is not printed with leaded ink. I like to put a nice layer of shreds down under the compost I add to my raised beds each winter/spring. Adds more organic material to the soil, takes care of a disposal problem for me, and gives the earthwormies some more to munch on.
---
Is there an eco safe way to dye shredded paper the color of dirt to use as mulch in flower beds?
By Miri from KY
AnswerWas this interesting? Yes No
Ad
---
---
Most Recent Answer
By Miri [1] 05/09/20100 people found this helpful
Thanks, I'll give it a try.
---
I love to shred personal documents and have seen many people using that around their garden plants and flowers. Is it really OK and will it benefit my plants and dirt?
By Kathe C. from Redford, MI
AnswerWas this interesting? Yes No
---
Most Recent Answer
By cybergrannie [32] 06/11/20120 people found this helpful
Hi - this sounds like a good idea but I wonder if this will mildew? I have tried it in potted plants and it seems to "clump" and get messy but it may be okay for outside. I hope someone will answer that has tried it and can give us pros and cons.
---
Archives
Thrifty Fun has been around so long that many of our pages have been reset several times. Archives are older versions of the page and the comments that were provided then.
While reading uses for newspaper, I thought I would share an idea given to me by a friend a couple of years ago. Putting shredded paper around your tomato plants helps keep tomatoes off the ground so they don't rot. Works really well and shredded paper just gets tilled into ground every year and decomposes in time.
By Lisa from Waynesville, NC
---
RE: Use Shredded Paper Under Tomato Plants
If you have red paper to use, all the better. Red reflects upwards and promotes the tomatoes' growth. (05/29/2008)
By Nance
RE: Use Shredded Paper Under Tomato Plants
Also, newspaper placed around plants in garden deters weeds. (05/30/2008)
By Donna

Here's an idea for what to do with all those papers you have with sensitive information on them that you don't want to put in the trash for fear of identity theft. If possible, shred the papers first. But this will work even without shredding.
Fill a sink up with water and place all the papers in there. Wait a few hours and they will turn to mush. Stir them around and squeeze them out with your hands. I take those soaked and shredded papers, and mix them in with my garden or potting soil. It really helps to keep the soil light and airy thereby promoting better plant growth and over time the papers disintegrate.
This takes care of two problems. It is an effective way to get rid of papers that you don't want to go into the trash, but it also helps your plants and gardens to keep the dirt from compacting and becoming hard.
By Cricketnc from Parkton, NC
---
RE: Use Shredded Paper in the Garden
Better yet, start off with plantable, seeded paper. You can purchase plantable, seeded note cards and stationery at http://www.greenproductsgallery.com (06/29/2010)
By miketheb
RE: Use Shredded Paper in the Garden
Please be aware! Not all newspaper ink is soy based, especially colored inks. To keep heavy metals out of your garden avoid reusing the colored pages and where all else fails: ask your newspaper publisher what kind of ink is used. (07/23/2010)
By Beccaj23