Many kinds of fruits and vegetables can be preserved by drying. This guide is about using a dehydrator.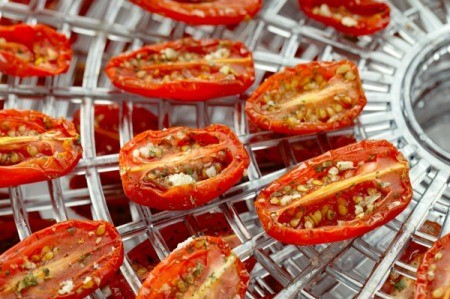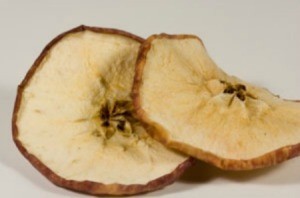 The next time you go to the grocery store and they are having a great sale or your garden is overproducing, try my friend Amy's trick for easy winter soups. It seems like every time lately that I wanted to make a soup or stew, I was out of two very important soup ingredients, carrots and celery. Either they had gone bad or the grandsons had eaten them or I just plain forgot to buy them. My friend Amy told me that I should try her trick of dehydrating my vegetables. Amy loves the farmers market and when she finds fruits or vegetables on sale, she always buys more than her family needs so that she can dry some to fill the canisters on her kitchen counter and also she makes fruit roll ups for her two vegetarian teenagers.

I was kind of skeptical if I was going to be able to do this but she taught me some neat tricks that made it a breeze. First I went to Walmart and checked out dehydrators and found that they run around $20.00. My husband found one at the Harbor Freight Company for $15.00. Harbor Freight is a tool outlet that sells all kinds of tools. They also have a website where you could order a dehydrator and E-bay has these for sale all the time.

Once I had bought my dehydrator, I really needed to decide what I was going to dehydrate. I decided I would start with celery and carrots and onions, I figured I could not mess these up too bad. Getting started was pretty easy. I washed all of them really well and then cut them into bite size pieces. The onions I cut into slices. I just laid them out on the trays and turned the dehydrator on and before I knew it (in about 12 hours) my vegetables were dry.

Now I am a jar saver. I save jars from salsa and from Miracle Whip all the time. I have even been known to buy a product just because it came in a cool jar but that is another story. One dehydrator full of carrots about half filled a Sam's brand salsa jar. Hey, I was on a roll so I finished up the carrots and moved on to the celery, Amy taught me that you can dry more than one vegetable in the dehydrator at a time so I was off and running. I learned that you need to dry vegetables that have just about the same moisture content if you are going to mix them up so carrots and celery worked great together.

I love this method of preservation because they last longer than if I had frozen them and I can keep them handy right next to my stove and I find myself throwing in a handful of these in a lot things I would normally not thought of adding it to, like spaghetti sauce or a casserole. As long as it is a wet concoction like spaghetti sauce or soup, these vegetables plump right back up and look just like fresh and taste like it too.

On the Internet you can find many charts for approximate drying times. You can dry lots of vegetables and when the price goes sky high in the off season, you can have a supply always at hand. I now dry mushrooms as well because I love to buy fresh sliced mushrooms but I never can use the whole container before it goes bad. Now I use what I need in a salad or dish and dry the rest. No more waste and I always have them on hand.

Amy dries apples and makes banana chips for her family, Here is her quick method for making dried apples slices. She cores the apples first with a handy apple corer that you can buy at Walmart. It looks like a pie with the slices cut and a hole in the middle. You just set this down on top of the apple and push down and it cores the apple and gives you quartered apples. Now she takes the quarters and makes them into slices. Then she dips them into lemon juice to keep them a light color. If they are tart apples, she drizzles them with a little honey and pops them in to her dehydrator. You can use the same method for banana slices. She can not keep enough of these in the house, her kids and husband barely let these get done before they want to eat them.

You can also dry herbs in your dehydrator. Amy suggests using the fruit roll up tray that comes with most dehydrators only because it makes for a less messy job. But you can still use the regular trays too. She also says "Share the Wealth", dried vegetables, some beans and a vegetable bullion cube packaged in a pretty jar makes a great gift.

Happy Dehydrating!
By Leila B. 11 5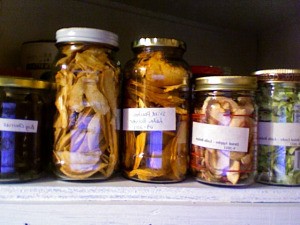 I have always had a problem with throwing food away. I also like to prepare for the rainy day. We live 20 minutes from any shopping facility and we grow some of our own food. I have learned that the most economical way to preserve food is to dry it. It takes up less space, uses no sugar, and lasts up to two years. I do not do a lot to the food other than wash it, slice it, and prepare it for use. I do scald green beans, however.
Any time I bring food into the house either through harvesting, gleaning, or shopping, I sort out what we can eat immediately between now and my next town trip, and I preserve the rest. Green onions, celery, carrots, beans, peppers, and fruit dry very nicely. I have a large food dryer with 7 trays. To preserve electricity I fill all the trays up with sliced fruit, sliced mushrooms, chopped onions, sliced peppers, chopped celery, parsley, herbs, zucchini, beans, carrots, and whatever other veggies I am choosing to dry.
I have found storing dried foods in plastic bags to be a bad idea as moths can chew through and destroy the food. Freezing the plastic encased dried food takes up freezer space needed for freezing eggs and meat. A tight sealing glass jar is the best method of storing the dried food. Another plus for drying over canning or even freezing is that the dried food is alive with all the enzymes still present in the food.
My vitamins and supplements come with a small packet of silica gel for keeping things dry and fresh. When I am through with them I put that packet in a jar of dried food. I find that keeps things fresh longer. I store these glass jars (recycled from jars of jam and other items purchased at the grocery store) on a shelf in alphabetical order of what is in them and labeled with the date of processing. When I am in a hurry, making a soup or stew is very simple with tossing the dry ingredients into the crock pot with the meat and water and seasonings without messing up my kitchen.
By Leila B.
I have a dehydrator that I haven't really figured out yet. Does anyone have any tried and true recipes they wouldn't mind sharing? I would love to get snack type recipes to make for our 5 kids and anything else you'd care to share.

Thank you,
Betty from VA
---
Best Answers
By guest (Guest Post) Flag
October 7, 2006
Hi. I have used my dehydrator for years. I always made apples rolled in dry Jello. My boys loved the different flavors. We would roll them and then put them in the dehydrator overnight and when they got up they had a good snack to put in their lunches for school. The only problem they disappear really fast. Have fun and experiment with everything. Jerky is really good.
Barb from MI
---
By guest (Guest Post) Flag
December 2, 2008
Use Mott's natural applesauce to make super easy fruit roll-ups. I especially like the strawberry and mixed berry flavors. Spread evenly onto plastic dehydrator sheets and dehydrate until dry to the touch. Peel roll-up off plastic dehydrator sheets and turn over and dry some more, until desired firmness. When dry, roll up and cut into 1-inch pieces for easy munching.
Tip: When spreading applesauce onto sheets, leave edges a little thicker.
---
By Babette 36 233 Flag
February 1, 2009
Sour Cream & Onion Potato Chips
4 cups potatoes, peeled, boiled and mashed
1 cup plain yogurt
1/4 cup onion, chopped
1/2 teaspoon salt
Put all ingredients in a blender or food processor and mix at high speed. Thinly spread onto solid fruit roll sheets. Place on dehydrator trays and dry at 145º F. for 4 hours or until dry on one side. With a clean butter knife, lift entire ring off sheet, turn over and dry 1 hour longer, or until it is dry enough to break into pieces.
Taco Chips
1 7-ounce can whole kernel corn
1 cup sharp cheddar cheese, grated
1/2 cup tomatoes, diced
1 tablespoon onion, chopped
1/4 teaspoon salt
1/8 teaspoon cayenne pepper
Dash garlic powder
Blend all ingredients at high speed in a blender or food processor. Spread mixture thinly onto solid fruit roll sheets. Place sheets on dehydrator trays. Dry at 145º F. for 6 to 8 hours, or until dry on one side. With a clean butter knife, lift entire ring off sheet, turn over and dry for 1 to 2 hours longer, or until crisp. Break into chips.
Zucchini Pineapple Chips
4 cups peeled zucchini (1/4-inch slices)
12-ounces pineapple juice (two 6-ounce cans)
3/4 cup sugar
1/4 lemon juice
Place pineapple juice, sugar and lemon juice in 2-quart saucepan. Stir and bring to full boil on high heat. Reduce heat, heat to medium-high and add fresh, sliced zucchini pieces. Press all slices into liquid. Boil lightly for 10 to 15 minutes or until slices turn an olive green color. Gently pour into large strainer and drain. Allow to cool. Place slices on NESCO® American Harvest® dehyrator trays lined with Clean-A-Screen® sheet and dry at 135º F. for 3 to 5 hours. Dry until crisp.
Yield: 1 cup dried chips
Note: Foods feel softer when warm. To test for dryness, remove a few pieces and allow to cool before testing for crispness.
To intensify flavor, leave cooked zucchini marinate in liquid for a few days. The dried product tastes like a sweet, zucchini pickle. The tender peels may be left on smaller zucchini, if desired. For larger zucchini, remove seeds before using.
---
September 29, 2011
When I make my dried apples I sprinkle cinnamon and sugar on them before drying for a wonderful added flavor. They sure don't last long when I make them this way for the grandkids!
---
A year ago or so I bought a fairly simple food dehydrator with six shelves. It has sat for awhile, but this year I decided to put it to work. Work indeed; it has been going almost non-stop since the tomatoes, peppers, and grapes have began producing here in sunny CA. Now there is no such thing as too many tomatoes. And the yellow raisins I have made from our green grapes are delicious.

To make a very delicious harvest of dried tomatoes, just slice any or all of your tomatoes 1/2 to 3/4 inch thick and lie them flat on your dehydrator shelves. Dry until completely dry (check them every few hours) and enjoy either plain, in salads, ground into a powder, or drenched in olive oil with basil or rosemary packed in beautiful jars. This makes a delightful gift too. The dried tomatoes have a very rich flavor, so much more enhanced somehow than regular tomatoes.

I also used my dehydrator to dry all those extra soft plums from our plum tree. The results I got were delicious and tasty prunes. Even with the seeds still inside, they are magnificent. My next plan is to use more apple slices and banana slices to dry. Am I glad my dehydrator is off the shelf and in good use daily and so is everyone else who samples the harvest.

By Karen from Davis, CA
By Gail 1
People always ask how come I buy very little at the grocery store. I own a Rival Seal A Meal- vacuum storage unit and a Excalibur dehydrator.
I never have left overs, I use my dehydrator to make powders of leftover sauces, dry veggies and fruits, refresh stale crackers and chips, and make my own cheeses, yogurt and grain products. I buy staples: salt, powdered milk, and rennets.
All foods are stored in sealed packages with my Rival, I can make my own bags at whatever size I need, just open and reseal. I buy fruits and veggies in season. I also watch prices at grocery stores.
When I get my home I will again have a garden and compost to save myself money. I learned old school and passed it on to my kids.
Source: Preserve It Naturally - The Complete Guide to Food Dehydration
By Chargail from South Beloit, Illinois
By Elaine M P. 2 15
I just purchased a dehydrator and have been successful with the few items I have dehydrated except bananas. This is the 2nd time and each time, they never got to the "chip" consistency. The first time, I did nothing special to them except slice and dehydrate, 2nd time, I used a preservative and still after 13 hrs, they have never gotten to that "chip" consistency. What am I doing wrong? I have dehydrated at 135 and 145 degrees and still did not get there. Anyone have suggestions? I would very much appreciate as I love banana chips.
TIA.
By Elaine M P.
---
Most Recent Answer
August 24, 2015
I love dehydrated bananas in a bowl of cooked old fashion oatmeal. They don't get crisp but you do want them to be dry. Store them in a zip lock freezer bag. They don't last long with me because I eat a lot of bananas.
---
By Elaine M P. 2 15
I just purchased a dehydrator and have been successful with the few items I have dehydrated except bananas. This is the 2nd time and each time, they never got to the "chip" consistency. First time, I did nothing special to them except slice and dehydrate, 2nd time, I used a preservative and still after 13 hrs, they have never gotten to that "chip" consistency. What am I doing wrong? I have dehydrated at 135 and 145 degrees and still did not get there. Anyone have suggestions? I would very much appreciate as I love banana chips.
TIA.
By Elaine M P.
What about dehydrating fruits, veggies, and herbs? Anyone have any tips? I have just finished doing mushrooms and zucchini. I must say that I am very impressed with the results and it takes up so much less space, too. These mushrooms were about 2 lbs originally.
By Elayne
Do you have any recipes or suggestions on using a dehydrator?
Elayne
"Have a grape day."