One getaway I would highly recommend is a weekend visit to a state park! I live in Indiana, and you can reserve a cabin for $25 to $35 per night. The cabins are furnished, have electricity, private bathroom and shower, and kitchen. You bring your own linens, dishes, etc. There is no television, which I personally felt was an advantage. We brought cards and board games for entertainment, but you could bring a TV if you really needed one. We stayed for a long weekend and went hiking, explored a cave and a waterfall, went horseback riding and swimming. It was wonderful!
Check with your state's Department of Natural Resources or your local Chamber of Commerce or Parks Department for information in your area.
By Becki from Logansport, Indiana
March 18, 2007
0

found this helpful
Becki, you're right, McCormick's Creek is a very nice state park indeed. I have fond memories of staying there as a kid and my husband & I have stayed in the Inn and camped. I believe that it is the oldest state park in IN and the Inn once was a Sanitorium for people with TB. Another nice park in IN is Brown County State Park. Usually the parks feature an Inn where you can take meals at a reasonable price. I grew up in IN by the way....now in IL.
Debbie52 from IL
Read More Comments
This is a picture taken at Berkeley Springs State Park, while on a vacation with several ladies in my family. We have been on two ladies-only vacations. Berkeley Springs was a nice place for us to go. Many people believe that the spring water flowing through the park has minerals in it that are helpful with health problems.
We sat in the tub George Washington bathed in. Several presidents have enjoyed the springs, and stayed in the inn. The picture of the hotel is the Berkeley Springs Inn where the presidents also stayed, and ate. It's a great place to visit, with lots of history.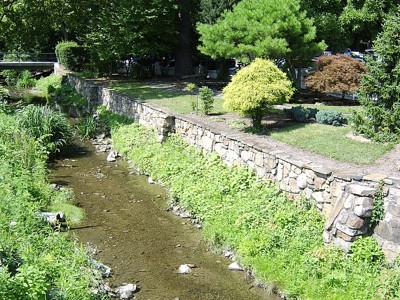 By Dorothy
March 29, 2011
0

found this helpful
Dorothy, I like the pictures and information. It sounds like it would be very interesting to go and visit. I think I will discuss this with my husband. Thanks for the idea!