Any ideas for a rehearsal dinner for 50? The bride's parents are having a $20 a plate wedding for 300 people. I hate to look too cheap, but I am on a budget! (It is a summer wedding.)
By Jilly from WI
November 4, 2011
0

found this helpful
We did mostly finger foods at my daughter's August wedding. We had a large (20.00) shrimp cocktail, ham and cheese rolls, turkey rolls, veggie platter, fruit platter, chips and dips and assorted canned drinks. Everyone found something they liked and it was inexpensive.
Good luck to you and the future "Mr".
October 28, 2015
0

found this helpful
Threw 50th anniversary pig picking. Purchased a roll of red & white check thick paper cloth, cutting each to table & taped edges & corners to fit neatly. You can get buy using 3 red & white cloths then purchase red & white solid paper clothes(make certain to tape all sides & corners. Take a hike into to the woods. Cut the ends of pine branches. Size depends on size of table. Creates a circular "spray". Place small to medium pinecones on top of the pine spray. Smells nicely as well. To step it up, use Elmer's glue on inside & out on pinecones & sprinkle red, or silver glitter. Silver will match you eating utensils if you don't use plastic. If you do use plastic, place red forks on white tables & white on the red. Cover the "serving" table with the red & white tablecloth to keep the theme & make food presentation a step up. Red plastic plates with red Solo cups will match theme perfectly. Back to pine needles, cut the branch as short as possible keeping the circular spray, but just strip needles to fill in gaps. Per table spray depends on table size. Use a large one on round tables or two on long tables. If alcohol is served(beer, b/c cheaper). Use an oblong galvanized or plastic tub filled with ice, placing beer in ice with just tops showing. Cool affect. Anything from nature will work. Smooth stones scattered around the pines or "other display tables". Depending on budget you can purchase bags of "sea glass from TJ Maxx or craft store, scattering down long tables or near the ends of pine needles here & there. Remember, when decorating always use odd numbers...3 pine comes or 5,7 if a larger table...Good luck...Only persons noticing a "problem" will be YOU, guests don't know what to expect & think it part of the plan.
October 28, 2015
0

found this helpful
If your location is near a body of water...place sand where you may place a jar of pretty shells & round sea glass from TJ Maxx or craft shop. Use sea glass matching wedding if available, if not, use clear & a nautical blue. You can also purchase or use your & your friends vases or Mason jars filled almost to top of jar. Place a pretty shell or star fish on top...if you have access to many shells, use less sand & more shells, keeping a medium size shell in the center & scatter smaller/pretty broken shell pieces around the shell in center. I hosted a wedding, propped up wooden "boat paddles" here & there. Gathered beach grass or any khaki colored grass (or drying weed grass in large clear bowls or vases & if you spread sand down a long table...about 3 feet from end, place a good amount of sand(can't see table cloth) down the entire table, scattering small sea grass...sea glass & any broken shell pieces & if you have nice large shells place one near the end of each end of long table. In the center of table, place an openended or round clear circular piece with column candle. Find small wooden woven baskets, 3 "s to 2' long & tall latched with tops in the center of tables, or just place one large, chest...or a covered cooler in an area away from the tables, the propped up paddles & even use colored or clear saved old or new (cheap at craft shop) filled with sand & shell on top, or layers..grouped in large areas. Groups of 3, 5, 7, etc in strategic spots to spread the theme. Crab pots & fisherman buoys a good choice & you can accent tables with bits of "fishing nettings" found in craft shops. You can also create "swags" of fish netting placing shells or buoys... Many places have many buoys painted...paint color of wedding or use a distressed look.Good luck & remember no one but you will notice anything not planned.
Read More Answers...
My son will be getting married in early May 2014. He lives on the coast of South Carolina and wants to have a BBQ meal. What type of decorations would be appropriate for a rustic marina type facility right on the water that would be informal yet still present that "wow" factor without breaking the budget?

By Carole
October 7, 2013
0

found this helpful
You can't go wrong with mason jars! Depending on what type of "mood" they're going for, try putting in some flowers or other types of filler to coordinate with their colors/theme.
October 7, 2013
0

found this helpful
Depending on where the dinner will be held, table centerpieces could be simple glass pillar style vases, fill half way with sand, add some shells and coral around the edges and a votive candle (the battery ones work very well). place these on top of a square of fabric in either the wedding colors or a color to co-ordinate with the venue (I love blue and white for nautical themes), sprinkle a little sand on top and add a few shells or starfish. Very inexpensive, easy to put together and looks elegant.
If you use wide pillar vases, fill them with bleached oyster shells (get them from a local restaurant), some water and a floating candle. If it's a more fun/casual atmosphere, exchange the glass pillars for toy sandbuckets and shovels, tilted on their sides with a little bit of sand they look festive and fun. It's also a great give-away for any children that might be there, and makes them feel special too.
Hope this is helpful, I co-ordinate and decorate for a lot of parties and nautical/beach themes are always one of the most popular. Here's an idea from pinterest as well, I love the wine cork sailboat.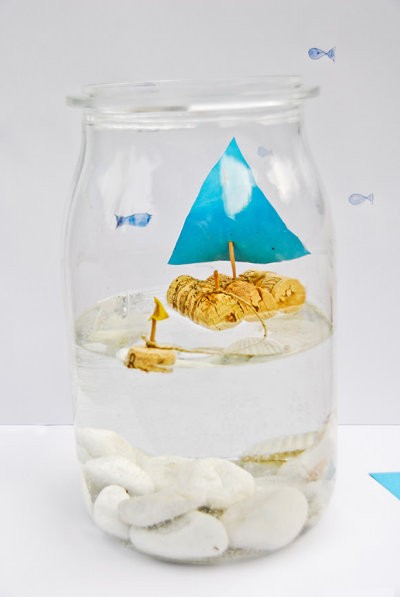 Instead of a rehearsal dinner I thought we could have all the family members and wedding party for the meal after the wedding rehearsal. Between the 2 families, if everyone came it would 80 people then add in the pastor, bridesmaids, groomsmen, and maybe dates if they have one.
I am looking for a catered meal for 80 to 100 people that will not cost me an arm and a leg. We were looking at BBQ thinking that would be the least expensive, but I am open to suggestions. The wedding is in July, but I like to plan ahead.
Thanks for your help.
By Ginnie C
January 27, 2012
0

found this helpful
The rehearsal dinners that I have heard of are strictly for close family members and participants in the wedding. No dates allowed. You could serve sloppy joes, and various salads. Or else make it pot luck with the closest family members bring dishes to pass.
January 29, 2012
0

found this helpful
As it's not a rehearsal dinner, but a dinner in general after the rehearsal, I would have the worlds largest salad bar! It's summer, no one wants anything hot or that might be messy to eat. You can rent inflatable salad bars that hold ice, and bring your own additions such as bowls, tubs, etc.
I saw this once in a wedding in Tucson, which was outdoors and it was a stunning success. Cold, crisp and easy to eat, everyone loved it.
http://www.amazon.com/Unknown-Inflatable-Salad-Bar/dp/B0017VKR7M
As a diabetic, and with people who have gluten problems, this might be the best "all around please everyone" thing.
I hope this helps.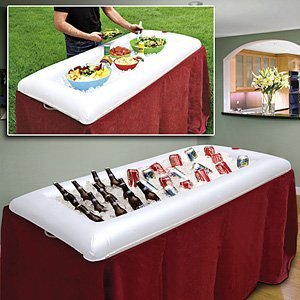 January 29, 2012
0

found this helpful
Get sliced deli meats, cheeses, and rolls. You can arrange them on dollar store trays, along with lettuce leaves, tomatoes, bowls of pickles, mayo, mustard, etc. Have someone make nice potato and macaroni salads, etc. If you want guests rather than immediate family and attendants, have them bring pot-luck dishes, bottles of pop, etc. Congratulations and good luck.
My wedding is in the spring and I have no idea what to do for my rehearsal dinner. I live in Maine so the springtime gets very muddy we are also on a very tight budget :/ Help please!
By Beth S.
November 3, 2011
0

found this helpful
Make the rehearsal dinner a pot luck. Have it at somebody's home, even if it is in a garage. Borrow folding tables and chairs or picnic tables. Also limit the people that will be attending. Just the attendents and the brides and grooms parents. I know some people that include spouses/significant others of the bridal party, kids, etc. With a pot luck you wouldn't really need any decorations and the cost would be minimal.
November 4, 2011
0

found this helpful
Reserve tables at a nice restaurant and invite the guests.
November 5, 2011
0

found this helpful
Hi Beth, I too live in Maine and hear what you are saying. My sister had a cook-out. Nothing fancy, hot dogs, hamburgs, potato salad etc. very casual. I actually toyed with the idea of having mine at a well known truck stop, the food is great and its very casual. Are there any smaller Mom & Pop restaurants that would work with you? Go to Sams club and buy lasagna, salad & rolls and have it at your house. Last suggestion: Pizza in or out! Best wishes to you & the groom.