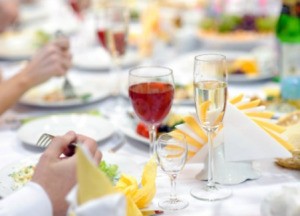 Planning a wedding rehearsal dinner can seem overwhelming in conjunction with everything else you are organizing. This is a guide about wedding rehearsal dinner ideas.
Ad
---
Solutions: Wedding Rehearsal Dinner Ideas
Read and rate the best solutions below by giving them a "thumbs up".
I recently attended the wedding rehearsal dinner of my niece that was so wonderful. They had put up a big-screen TV and played a musical show made with pictures of the couple's dating days. It was perfectly synchronized to music and because it was professionally made, the results were awesomely romantic and touching! They got the show custom-made for them by SmilingSnaps and I had never seen anything like that before.
By Rosy F. [1]
Give a "thumbs up" to the solution that worked the best! Do you have a better solution? Click here to share it!
Questions
Here are questions related to Wedding Rehearsal Dinner Ideas.
Any ideas for a rehearsal dinner for 50? The bride's parents are having a $20 a plate wedding for 300 people. I hate to look too cheap, but I am on a budget! (It is a summer wedding.)
By Jilly from WI
AnswerWas this interesting? Yes No
Ad
---
---
Most Recent Answer
By gem 154 261 11/04/20110 people found this helpful
We did mostly finger foods at my daughter's August wedding. We had a large (20.00) shrimp cocktail, ham and cheese rolls, turkey rolls, veggie platter, fruit platter, chips and dips and assorted canned drinks. Everyone found something they liked and it was inexpensive.
Good luck to you and the future "Mr".
---
My groom and I are paying for every aspect of out wedding. So we are a little strapped for cash when it comes to the rehearsal dinner. I was going to have sandwiches or something at the house.
But we live with members of his family in a cramped house and some of our friends and my family don't feel comfortable at the house. Does anyone have a good idea for what to do in my situation?
By Bridge from Bucks County, PA
AnswerWas this interesting? Yes No
Ad
---
---
Most Recent Answer
By TJ 03/12/20100 people found this helpful
Check with your parks and recreation department. Many parks have covered pavilians that you can get for free or little to nothing. Depending on the time you can get brisket for cheap and cook it and prepare it ahead. Take care w/sandwiches as cost can sometimes be much higher than chicken or brisket or ham. You could provide the meat and ask family to bring the sides desserts drinks, etc.

As far as the wedding goes, check thrift stores for wedding dresses. One near me must have had a bridal salon donate all of their inventory and there were bridesmaid dresses and wedding dresses all for less than $100. My oldest wanted a small wedding. She had her husband to be found a double decker party boat for a song. We had brisket, ham, salad bar w/pasta salad, slaw, 5 bean salad, etc. Beans and bread. The boat was limited to 70. I found small lanterns that held votives for the tables. People changed and swam in the lake for a lot of fun.

My youngest daughter we did a family meal in the back yard as his mother was from out of state. We booked and outdoor facility on a Sunday afternoon for the wedding. Cut the cost by almost 50%. Was cheaper to have them cater and get the facility than to rent the facility and cater myself.

For flowers we purchased the first wedding from Sam's club, the second wedding, our grocery store floral department gave us the best price on the flowers my daughter wanted.

Another way to cut cost is to ask friends if they have access to facilities at a low cost, ie neighborhood association community center, military chapel, pavilion. Also, ask friend about decorations they might have. I bought white tablecloth material on the bolt for $1/yard, white golf tees and used this for aisle runner for wedding. golf tees anchored it to the ground. Used for 2 weddings, then separated later (after washing) and hemmed and gave to daughters for wedding memento.

We also cut bamboo from neighbors yard (w/permission) and used for greenery. Anyway, did each wedding for $3,000 dresses included. People still come up and talk about how much fun they had and how nice the weddings were. If you want to use live flowers on cakes check out edible flowers to make sure what you want to use is not toxic.
---
Instead of a rehearsal dinner I thought we could have all the family members and wedding party for the meal after the wedding rehearsal. Between the 2 families, if everyone came it would 80 people then add in the pastor, bridesmaids, groomsmen, and maybe dates if they have one.
I am looking for a catered meal for 80 to 100 people that will not cost me an arm and a leg. We were looking at BBQ thinking that would be the least expensive, but I am open to suggestions. The wedding is in July, but I like to plan ahead.
Thanks for your help.
By Ginnie C
AnswerWas this interesting? Yes No
---
Most Recent Answer
By susan [8] 01/29/20120 people found this helpful
Get sliced deli meats, cheeses, and rolls. You can arrange them on dollar store trays, along with lettuce leaves, tomatoes, bowls of pickles, mayo, mustard, etc. Have someone make nice potato and macaroni salads, etc. If you want guests rather than immediate family and attendants, have them bring pot-luck dishes, bottles of pop, etc. Congratulations and good luck.
---
My wedding is in the spring and I have no idea what to do for my rehearsal dinner. I live in Maine so the springtime gets very muddy we are also on a very tight budget :/ Help please!
By Beth S.
AnswerWas this interesting? Yes No
---
Most Recent Answer
By glimmer62 [4] 11/05/20110 people found this helpful
Hi Beth, I too live in Maine and hear what you are saying. My sister had a cook-out. Nothing fancy, hot dogs, hamburgs, potato salad etc. very casual. I actually toyed with the idea of having mine at a well known truck stop, the food is great and its very casual. Are there any smaller Mom & Pop restaurants that would work with you? Go to Sams club and buy lasagna, salad & rolls and have it at your house. Last suggestion: Pizza in or out! Best wishes to you & the groom.
---
My son will be getting married in early May 2014. He lives on the coast of South Carolina and wants to have a BBQ meal. What type of decorations would be appropriate for a rustic marina type facility right on the water that would be informal yet still present that "wow" factor without breaking the budget?

By Carole
AnswerWas this interesting? Yes No
---
Most Recent Answer
By Patricia Nicholas [13] 10/07/20130 people found this helpful
Depending on where the dinner will be held, table centerpieces could be simple glass pillar style vases, fill half way with sand, add some shells and coral around the edges and a votive candle (the battery ones work very well). place these on top of a square of fabric in either the wedding colors or a color to co-ordinate with the venue (I love blue and white for nautical themes), sprinkle a little sand on top and add a few shells or starfish. Very inexpensive, easy to put together and looks elegant.

If you use wide pillar vases, fill them with bleached oyster shells (get them from a local restaurant), some water and a floating candle. If it's a more fun/casual atmosphere, exchange the glass pillars for toy sandbuckets and shovels, tilted on their sides with a little bit of sand they look festive and fun. It's also a great give-away for any children that might be there, and makes them feel special too.

Hope this is helpful, I co-ordinate and decorate for a lot of parties and nautical/beach themes are always one of the most popular. Here's an idea from pinterest as well, I love the wine cork sailboat.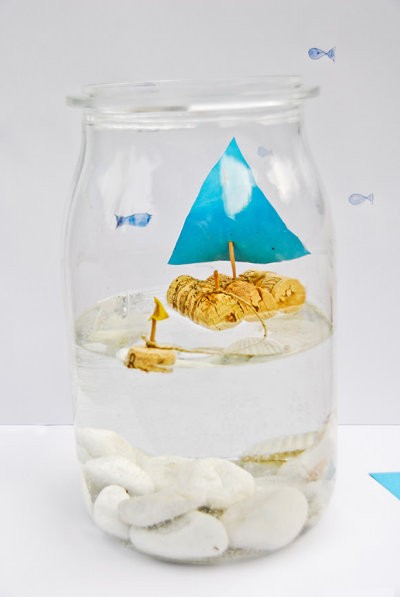 ---