What Breed is My Dog?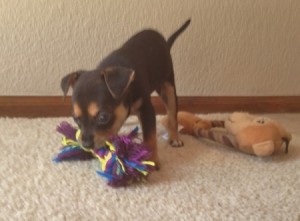 I know it's impossible to tell 100% what breed my mix puppy is just by looking at him, but I am very curious if there are any tell-tale signs to look for between a Miniature Pinscher and a Carlin Pinscher (which is a Min Pin and Pug mix.) We purchased our lil guy only two days ago, and he is 6 weeks old. We were told he his mother was a Chihuahua, and the father was a Min Pin or Carlin Pin. I am very curious if there is anything I can look for that would tell me a Pug is in the mix.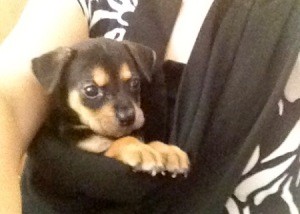 By Lisa
Answers: What Breed is My Dog?
Read answers for this question below.
This is a sweet baby but the person who bred him should know his mixed-breed. In any case he should not have left his Mother until eight weeks of age. Just love him for who he is.
"Very Cute" breed! I see MinPin... and if mixed with Chihuahua, then he'll be small, but such a cutie! Would like to see pics when he's about 6 months-a year!
What an adorable baby you have! He looks all Min Pin to me, but sometimes its hard to tell the difference in Chi and Min Pin when they are this age. I don't see any Pug at all. May you have many long and happy years together!

Answer This Question
Add your voice to the conversation. Click here to answer this question.