June 12, 2010
0

found this helpful
Hi, I think your first plant is Hoya carnosa (wax flower). I've had one here in UK for years but it has never flowered, tho it had beautiful, sweet smelling, clusters of white, waxy blossoms when I first acquired it.
The second one is Crassula ovata, the Money/Friendship plant, It comes in lots of varieties, large and small and is native to the hot hillsides of South Africa. They do flower, especially the bigger leaved ones. Mine has only plain green small leaves,and has never flowered, probably because it doesn't get enough sun here in rainy UK!
Hope this helps, Regards, Remel.
June 13, 2010
0

found this helpful
The first picture is a Hoya plant and the second looks to me like a Jade plant. Both are great plants that do not require much attention. The Hoya can also be potted into a hanging container, which should be deep enough to hold the root system. These plants also bloom with a very fragrant flower. Enjoy!
June 15, 2010
0

found this helpful
I'm positive that the first one is a Hoya. I have had that variety and have two other varieties right now. The flowers are very interesting and have a very distinctive smell. They remind me of chocolate.
The second one is a Jade plant/money tree. Both plants don't need a lot of water. The hoya needs bright indirect light and the jade does well with direct or indirect. They both root really easily, the jade will just root if a leaf falls on the potting soil. I pinch my jades back or they turn leggy.
June 16, 2010
0

found this helpful
The first one (the darker one) looks like a rubber tree plant, from what I could see. I'm attaching a pic of a rubber tree plant to show you what they look like. The second one looks like some kind of succulent. Maybe a jade.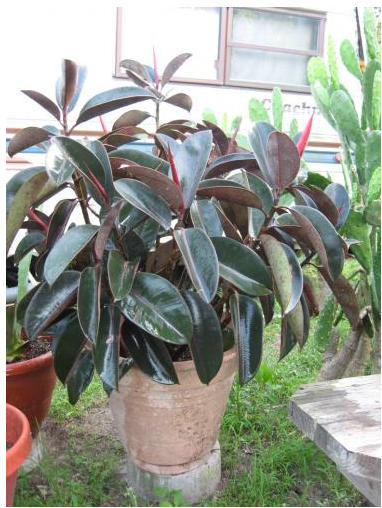 June 16, 2010
0

found this helpful
If the first one is slightly furry underneath, I still think it's Trandescantia! Open to correction though.
Marg from England.
June 17, 2010
0

found this helpful
Thank you all for the generous feedback. Looks like the verdict is in from you very smart plant lovers!