What is This Plant?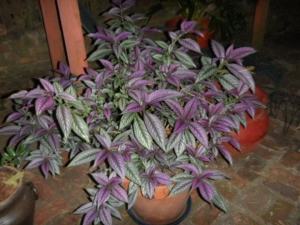 I know it's not a wandering Jew (more succulent). It seems to be some type of bush.
By Linda
Answers: What is This Plant?
Read answers for this question below.
I used to have a similar one that was a Purple Passion plant (gynura aurantiaca). It was also called Velvet Plant because the leaves had a kind of purple fuzz on them. The blooms did not smell very good.
Your plant is named Persian Shield. I was given some as a gift last year. It is absolutely beautiful. I planted it in the ground and then dug it up and potted it for the Winter. This is what I learned about it. It likes shade and water. Also, if you bring it in for the Winter, it continues to like shade and a light misting a few times a week. I hope this helps.
I was given a clip of something that looked like this. In Mississippi, it grows outdoors, but in my zone 5 garden, Its a houseplant. It gets little pink flowers. Does yours get flowers?
Answer This Question
Add your voice to the conversation. Click here to answer this question.