Answers: What is This Plant?
Read answers for this question below.
It's a dieffenbachia. There are differing varities, some are all green and others are verigated and some are of a miniature variety.
It is a prayer plant or some people call it John in the pulpit. It needs to be cut back so it can get thicker. They are hardy and will usually droop when they need water and when watered perk right back up. A little fertilizer would be a good help also. LOL
I inherited the same plant from my late mother. It appears to be one of the many varieties of spathiphyllum. The common Peace Lily is the most well known. This one differs in that the thick, segmented stems root very easily, and the white flower is smaller and less showy.

I have one exactly like it, and the blooms start out green and turn white. It is a peace lily. They are tropical - Hawaiian, I think. I have had mine many years and they root easily in dirt or in water, are easily cared for.
The leaves look like a peace lily but not sure about the segmented stems. Does it ever flower? Try looking at some orchids, they are the largest genus of flowers.
Not remembering what the correct name is, I have always been told its a closet plant and low light is wonderful for it. I have several and are easy to care for.

Pris
Thank you again jmm2858. I appreciate you answering again. The picture confirms for me. Now I can determine the proper care for the plant. Thank you again and have a wonderful day! :))
Hi...mine has segmented stems also. It was given to me as a Christmas gift and the tag in the pot said it was a Chinese Evergreen. Check out this pic
http://www.flowershopnetwork.com/blog/a-plant-named-aglaonema/ There seem to be many varieties from what I have found. On my plant, the segmented look seems to come from when older leaves die and peel off.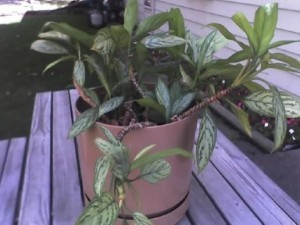 Thank you jmm2858 for your response. I have researched Chinese evergreen and unfortunately that is not what it is. Although the leaves are very similar, look at the stems. All of the pics I found for the Chinese evergreen were smooth - not segmented like the ones in my photos.
If anybody has any different suggestion, I would certainly appreciate your response very much.
Thank you,
Peggy
Answer This Question
Add your voice to the conversation. Click here to answer this question.