Wine Corks for Crafting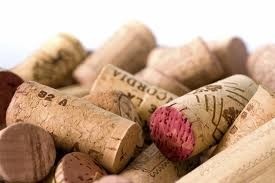 I'm saving wine corks to make a bulletin board. Some of the ones that have been given to me are obviously cork and some of them look more like rubber. Does anyone know what these are made of? Are they processed cork, rubber, or plastic?
By Jacquelyn from from Walker, LA
Answers: Wine Corks for Crafting
Read answers for this question below.
According to the site referenced below, Cork is basically a material that is a "prime-subset of bark tissue....from The Cork Oak" tree (also known as Quercus Suber)

(Interesting fact: "Once the trees are about 25 years old the cork is stripped from the trunks every ten years. The trees live for about 200 years. The first two harvests produce poorer quality cork.")

"As late as the mid-17th century, French vintners did not use cork stoppers, using oil-soaked rags stuffed into the necks of bottles instead.[7]
Wine corks can be made of either a single piece of cork, or composed of particles, as in champagne corks; corks made of granular particles are called "technical corks".

Natural cork closures are used for about 80% of the 20 billion bottles of wine produced each year. After a decline in use as wine-stoppers due to the increase in the use of cheaper synthetic alternatives, cork wine-stoppers are making a comeback and currently represent approximately 60% of wine-stoppers today."

Reference:
en.wikipedia.org/wiki/Cork_(material)
http://www.uncork.biz/tidbits3.htm

However, as far as synthetic corks are concerned, "Synthetic corks are made from plastic compounds designed to look and "pop" like natural cork, but without the risk of TCA contamination".

"Screw caps or "Stelvin caps" are closures made only from aluminium material that threads onto the bottleneck. They are the predominant closure used by New Zealand wineries."

" Vino-Seal, or Vino-Lok, is a plastic/glass closure released by Alcoa. Since its introduction into the European market in 2003, over 300 wineries have utilized Vino-Seal. Using a glass stopper with an inert o-ring, the Vino-Seal creates a hermetic seal that prevents oxidation and TCA contamination. A disadvantage with the Vino-Seal is the relatively high cost of each plug (70 cents each) and cost of manual bottling due to the lack of compatible bottling equipment outside of Europe."

Find out more information and where I got the above paragraph below!

Reference:
http://en.wikipedia.org/wiki/Alternative_wine_closure

Answer This Question
Add your voice to the conversation. Click here to answer this question.
Related Guides
Related Posts