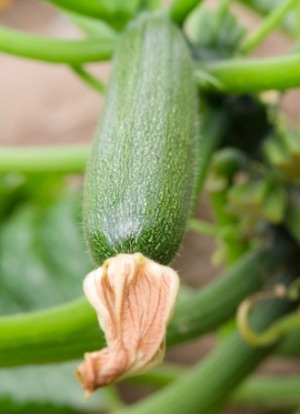 Poor pollination can keep your squash from producing. This guide is about zucchini rotting on vine.
Solutions
Share a solution for this guide today!
Questions
Here are questions related to Zucchini Rotting on the Vine.
Why do my Zucchini rot after the blossom drops off? They never get to picking size?
Hardiness Zone: 7b
By mablie
---
Most Recent Answer

By Marjorie C. Woodworth06/18/2009
http://www.gardeningknowhow.com/pro ... common-problems-growing-zucchini.htm


http://vegetablegardens.suite101.com/article.cfm/zucchini_blossom_end_rot
My zucchini has produced only one 6 in. zucchini in the last month. The plant seems to produce flowers and I have tried to pollinate them myself for lack of bees in our area. However, the fruit that comes onto the plant starts getting soft at the tip once they are about 2 in. long. I used to have good success with this plant. Please help.
Hardiness Zone: 9a
By Eddie from Redding, CA
Why are my fruit rotting when they get about 2 inches long and yes they are rotting from the flower. I can't understand it. In the past they have been fine. Any suggestions?
By Jack K
---
Most Recent Answer
By David M.08/08/2013
Sounds like Blossom End rot. Your soil is lacking calcium. The easiest way is to add crushed egg shells to your soil around your plants. I actually grind my eggs shells in a coffee grinder before adding to my plants. It takes a while to work, but it works wonders.
Archives
Thrifty Fun has been around so long that many of our pages have been reset several times. Archives are older versions of the page and the feedback that was provided then.
Q: Am I the only gardener in the US who doesn't have enough zucchini squash? I planted four zucchini plants in my raised-bed garden, thinking that they would produce plenty for my small family. The plants have grown well and are quite large, but have so far only produced about 10 squashes this whole summer (this is a total count, not 10 from each plant).
Most of the flowers seem to fall off before they get pollinated. Any suggestions? I live in Albuquerque, NM, so plants get plenty of sun, and I water them regularly.
Lynn
A: Lynn,
If flowers appear but you don't get much fruit, it's probably due to a lack of pollination. This sometimes happens if bee activity is low in your area or you've had a stretch of cooler weather. My suggestion would be to consider pollinating them by hand. The first flowers to bloom are usually the males and they do not form any fruit. The female flowers are identifiable by a swelling at the base of the flower. To pollinate by hand, you can cut off the male flowers, remove the petals, and rub the stamen of the male flowers against the stigmas (the sticky part at the ends of each pistil) on the female flowers. If you prefer, simply transfer the pollen from male flower to female flower with a small artists paint brush or Q-Tip. Keep track of which stems you have pollinated by tying a twist tie of piece of string around the stem. Also, make sure to harvest the squash when they are small (about 3-4 inches across and 4-6 inches long) to increase the plant's productivity.
Ellen Brown
More Answers:
RE: Problems Growing Zucchini
Zucchini often produces far more male flowers than female ones. The males are those on the long stems and the females are on short stems with a small bulb (the ovary) right under the flower. If you don't see many female blossoms, cut off the tip end of the vine. This reminds the plant of its main job - to make seeds to reproduce itself. (08/08/2005)
By Beth
RE: Problems Growing Zucchini
We live in Southern NV. We've not had a garden in several years, due to health problems, but when we did, we never had any problems growing zucchini. Actually we had so much and couldn't give it away. We'd water it in the early morn and at sundown. This was only with 6 plants! Hope this helps. Maybe someone is taking your blossoms to fry & eat? I hear fried squash blossums are quite tasty. (08/10/2005)
By badwater
RE: Problems Growing Zucchini
I have a different problem in Sterling Heights, MI (just North of Detroit). The Zucchini grow to about 3-4 inches long and about an inch thick. At that point the tips start turning yellow and then the fruit rapidly rots back all the way to the stem. It's been hot this summer so I've been watering every other day. The soil is a bed and is well drained. I only harvested about 12 fruit from 4 plants this year. (09/12/2005)
By David Osinski
Question:
My problem is with my zucchini, I grow it in containers on my sun deck where I have had great success with tomatoes in the past so I thought I would try some zucchini this year along with the tomatoes. To this date, they are doing great except that some of the fruit seems to be rotting on the vine. We have been having a lot of rain the past few days (approx. 4 inches). I thought about spraying with a mixture of antibacterial soap and peroxide. Any suggestions? Thanks for your sudden response.
Hardiness Zone: 6a
Ray from Pittsburgh, PA
Answer:
Ray,
Spraying an antibacterial soap isn't necessary until your seeing signs of disease. From what you wrote, it sounds like the leaves and vines on your zucchini are fine (no signs of disease or insect problems), and it's just the fruit rotting on the vine that is the problem. Since your getting fruits, you must be getting flowers. This tells me you're probably just having pollination problems. Is the zucchini rotting from the blossom ends? When young fruit on healthy plants begin to rot from the blossom end, they are usually not getting pollinated properly. This can be due to a lack of bees in the area, or in your case, as a result of adverse weather conditions that may be keeping the bees away.
To get a successful zucchini crop, you're going to have to pollinate the fruit yourself. Pull off the male flower and pull the petals back to expose the pollen-laden stamen. Then carefully rub the male flower on the center stigma of the female flower making sure that the pollen makes good contact. The female flowers have a distinct enlargement directly behind their petals (this is actually the immature zucchini), while the male flowers are often smaller and attached to the vine by just a long, slender stem.
Another method is to use a cotton swab to transfer the pollen between flowers. This way is more efficient because you can pollinate up to three female flowers with the pollen from one male. If the rot is starting on the underside of the fruit where it's coming into contact with wet soil, raise the zucchini off the ground with a sling made from pantyhose or prop them up using a tin can or small plastic container to keep them off the soil.
Good Luck!
Ellen
---
RE: Zucchini Rotting on the Vine
This is a common problem in climates where there are not enough bees to pollinate the plants. You may have the zucchini in an area where the bees don't bother with it. When the flowers are not cross-pollinated, the zucchini grows but rots at about 4-5 inches long. If you can, take a Q-tip and rub some pollen from one flower to the next when they first open up. Do this several times and the zucchini should then grow properly! (06/30/2006)
By jcs523
RE: Zucchini Rotting on the Vine
Maybe your plants don't have room to grow out like they would in a regular garden, or maybe you've got your soil too wet. We tried the gardening in a bucket a few years back, it was bad. We gave up on the whole idea. The desert winds burnt up our regular garden, this year. (07/02/2006)
By badwater
RE: Zucchini Rotting on the Vine
I am having the same problem and I live in Chester, WV which is not far from Pittsburgh. I want to agree with the weather issue because I have a good size garden and I am only having a problem with the zucchini. I had the same problem last year. I will try the pollination suggestion. If all else fails I pick the blossoms and dip them egg and seasoned flour and fry them or grill them. They are delicious! (07/08/2007)
By sandy
RE: Zucchini Rotting on the Vine
The flowers on the zucchini plant only open in the morning. So if you want to pollinate them yourself you have to do it first thing in the morning. (07/28/2008)
By Julie
I have had poor success with growing Zucchini plants that produce Zucchini. There are ants in blossoms and many stems that do not produce zucchini. Should these stems be removed after blossom falls off? What else needs to be done?
Hardiness Zone: 9a
Carol from Stockton, CA
---
RE: Problems Growing Zucchini
In Indianapolis last year vine borers killed all my squash type plants. This year I used Nematodes to prevent this again. So far I have harvested more than I did last year and I see no signs of any problems. Moles have also been digging for Japanese beetle grubs so I'm using a trap to catch the beetles. I haven't done anything to the soil about the grubs, yet. I do water every day and they seem to love me for it. (06/25/2007)
By Mark B
RE: Problems Growing Zucchini
I have found that too much water and poor drainage due to heavy clay-like soil can be a real problem for Zucchini plants. I always have good luck growing them except for last summer when we had a torrential rainfall that ruined my Zucchini garden. After the heavy rain, the stems and blossoms were rotting before any decent fruits could be produced. Squash plants in general like fluffy, sandy, moist, but well drained soil. They should be planted in a mound or raised bed so they wont be sitting in water after a heavy rain or watering. If the soil is heavy clay, (like ours is), try soil amendments that help loosen and promote drainage. I throw a bag of sand and a big cube of peat moss over my garden every year and till it right into the soil. This fluffs up the soil and also adds volume to it so adding additional soil for a raised bed is not necessary. Surround this with a wood frame to keep the soil from washing away and you have the perfect bed for Zucchini plants.
I used to plant 2-3 Zucchini seeds into each mound and thin the seedlings to 1 plant per mound, but recently, I've found that buying a partial flat of Zucchini plants from the local garden center is well worth the extra 2 or 3 bucks. You'll have a much earlier harvest, healthier plants, and longer growing season. Sprinkle a ring of slow release vegetable food around each plant when planting. Don't water everyday unless temps get above 90F. The large funnel shaped leaves of the Zucchini plant will channel any water that hits them directly to the base of the plant, and they also shield the soil from the sun, keeping it from drying out too quickly. Do this and you'll have more Zucchini than you'll know what to do with. Good Luck. Ed (07/29/2007)
By Ed
RE: Problems Growing Zucchini
Thank you for the tip on cutting the end of the vine to encourage female flower production. I was getting frustrated. I also saw on another site that rotting, mushy Zucchini can be from overuse of pesticides and mosquito spraying. I'm trying organic, but it has its own quirks, too. (04/27/2008)
By Mar Lynn
RE: Problems Growing Zucchini
Forgot to mention: The male blossoms are good eatin'. Put them to some use. Lots of recipes online. (04/27/2008)
By Mar Lynn
re: curling browning leaves
I have found in the past when leaves are curling and dying often stem borers are ruining the plant. Look for a sawdust like exudation at the base of the plant stems. That is an indication you are infested. (08/12/2008)
By Richard
RE: Problems Growing Zucchini
Why does my zucchini rot?
Blossom End Rot is a disease common to Zucchini, which causes the blossom end of the fruit to rot. Per Clemson University, "The main symptom is a dark-colored dry rot of the blossom end of the fruit. Blossom-end rot is caused by a lack of calcium in the developing fruit." So either the plant is not absorbing enough calcium from the soil or the soil doesn't have enough calcium in it to start with. The solution is to get a PH soil test kit and test your soil. If it is lacking calcium, the solution would be to add calcium to your soil. Dolomite lime supplies calcium (Ca) as well as Magnesium (Mg) to your soil. It also increases the microbial activity necessary to break down nitrogen into ammonium for absorption by your plant's roots.
If the test shows the soil is okay, then you can increase nutrient uptake to the roots of the plant by mulching and adding compost or other organic matter to your soil (sheep, poultry, cattle, or pork manure has the best carbon to nitrogen ratio), and by watering well.
What causes yellowing in zucchini?
Yellowing is usually caused by a lack of nitrogen, which can be helped by adding nitrogen-rich compost, or by adding lime, or by adding manure. Many agriculture experts have advised amending soil with lime for nitrogen deficiency. There is an issue with organic fertilizers needing to be broken down by microorganisms in the soil before the plant can absorb the nutrients properly. The nitrogen gets "tied up" in this process and does not get absorbed by your plant quickly enough, so it's often recommended to use an inorganic nitrogen application along with your organic fertilizer. Again, the best solution is to do a soil test so you'll be able to eliminate what it is "not".
If the carbon to nitrogen (C:N) ratio of the organic fertilizer is less than about 20:1, "then microorganisms will obtain adequate nitrogen for their needs and will convert the excess organic nitrogen to ammonium (NH4+). This conversion is called mineralization." Ammonium is a form of nitrogen plants can absorb. Carbon acts like a furnace or energy source to speed this conversion process. Sheep, beef, swine, or poultry manure supplies the necessary ratios; speeds up the microbial process; and gets the nutrients to your plants.
A common practice in vegetable gardening is to broadcast lime and other amendments onto the garden soil and mix it well into the dirt and let it rain on it a number of times before planting your plants. In the old days, people didn't test the soil. They always just added the lime as a rule of thumb (right along with the 10-10-10) and they usually had a gorgeous garden. But you can achieve the same proper soil balance without the chemical fertilizer by using organic fertilizers, such as liquid fish fertilizer, complemented by rich compost and organic matter to speed mineralization. (09/13/2008)
By Lee H
I would like to know why my zucchini plants look great with lots of flowers and fruit but when the zucchini get about 3-4 inches they start to rot or go soft?
My zucchini plant is rotting. As soon as I get a zucchini on the plant it rots on the vine. Any suggestions?