Solutions: Keeping Recipes Handy
Read and rate the best solutions below by giving them a "thumbs up".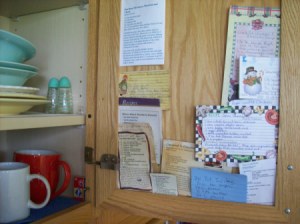 I keep my favorite, often-used recipes inside the cabinet doors above my kitchen counter. No more fumbling with pages in a cookbook with cookie dough on my fingers or books taking up space on my counter. Keeping recipes inside the cabinet door puts the recipe at eye level.
By Gloria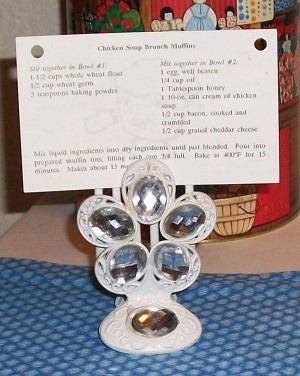 Since my hair is now short and likely to stay that way, I find uses for these wonderful clips all over the place. This one is for recipe cards. You can sit in on a shelf or microwave for "eye level" sight and cook away!
I have used them for receipts on the desk, place cards at a party (the ones with the flatter "bottom" work best for that), and for displaying photos at reunions. They are cheap to get to if you just don't have any around to use, at the Dollar Tree and thrift stores.
N-JOY!
Source: Always trying to repurpose.
By Sandi from Salem, OR
I seal cherished recipes in clear contact paper, and then scotch tape to the inside of my kitchen cabinate doors. They're preserved, and handy when I need to check an amount or a procedure. You can edge them with gaily colored contact paper for a nice country patchwork effect.

By Doggy
I don't like using my favorite cookbooks in the kitchen. They get messy and don't last as long. I also don't like having to look for them when I need them. To solve this problem, I made up a list of recipes that I make often, then I bought 2 of the wire-bound index card pads. I didn't put the entire recipe in the pad most of the time. I put in whatever I needed to be reminded of when I make the recipe, such as an ingredient list, oven temperatures, and cooking or baking times. This allowed me to keep each recipe confined to one card.

When I was done, I used one peel and stick magnet on the back cover of each pad (the kind that are used to make business cards into magnets, you can buy them at Wal-Mart). I put them on the front of my refrigerator. I also bought two clips with magnets on the backs that I put above the pads. They hold the pads open to whatever recipe I am making, so I can refer to it hands free and without taking up precious counter space.

I now have an easy to access "cheat sheet" for all my favorite recipes.

By Denise
To keep your recipe handy while cooking, put a fork, handle-side down, into a water glass. Then prop the recipe card in the tines of the fork. It will be held safe and sound, and easy to see!

By Becki in Indiana
You can use a CD case as a recipe holder. To display a recipe during a meal prep open the CD case and bend it back. Then place a recipe card (after cutting the card to fit, if necessary) in the opening.

By Janette from Parkersburg, WV
For an easy recipe card holder. I took a spring clothes pin apart, nailed one side to my kitchen cabinet at eye level, then put it back together. This is real handy for any recipe that I am using
By Nightsong from Yates Center, Kansas
Share Your Feedback:
Once you try any of the above solutions, be sure to come back and give a "thumbs up" to the solution that worked the best for you. Do you have a better solution? Click "Share a Solution" above!
Questions
Do you have a question related to this page?