Paint Color Advice for Open Kitchen, Family Room and Dining Room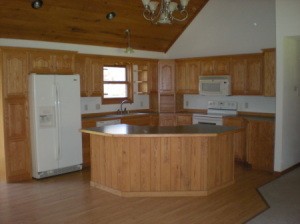 I have an open concept living area that includes family, kitchen, and dining. My cabinets are your typical oak with a counter top that is a laminate green color mix My high ceilings are all cedar wood almost the color of the golden oak cabinets. There are two hallways that come off of this area.
When we bought the house it had all off white walls. I would like to paint them, but have no idea where to start. My family room furniture is navy blue and I have window toppers that are currently a mix of navy, maroon, dark green, dark gold, cream, and tan. Any ideas that will tie them all together? I have thought of changing out the toppers so that's not a deciding factor.
By JanLRW
Answers: Paint Color Advice for Open Kitchen, Family Room and Dining Room
Read answers for this question below.
If you want to leave the cabinets and counter tops as is, I suggest going with a lighter shade of green or maybe a pale yellow. Go to the paint store and pick up a bunch of paint "chips" (sample cards). Take them home and tape them to the walls. Leave them there for a few days until you decide which one you like the best.
I would start with the cabinets either paint them a glossy white or a a type of "white" wash but in a light green as well as the front of the island.
Answer This Question
Add your voice to the conversation. Click here to answer this question.
Related Guides
Related Posts