Just when you think you have your frizzy hair under control, it rains! Using the right remedy for the right situation can work wonders and give you that sleek hair you've always wanted. This is a guide about remedies for frizzy hair.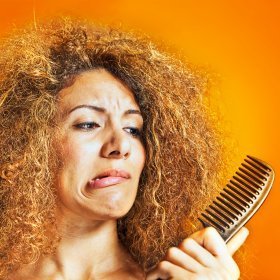 Filter

: All Articles
Sort

: Relevance
Frizzy hair is a challenge but shouldn't be the decision maker of what kind of day you are going to have. A good hair trim is where to start. Every 6 - 8 weeks the ends need to be trimmed. If you have one length all over, you may consider long, layers instead of just it all having same weight, as well as length.
Use shampoo and conditioner that doesn't have added toxins. Shampoo does not need sulfates in it. This just strips your hair of it natural oils and shine. Using a lighter weight conditioners are best. Just because it says for damaged hair, doesn't always means its better. Using less of a conditioner that you got on sale, is a great way to save money. After you shampoo, use a comb with conditioner on your hair to evenly distribute it throughout the hair.
Unless you are buying your product at the salon, they are basically all the same. Please keep this in mind when purchasing. It is true that the scent is different, how much water, or added coloring, etc. Just start by reading the ingredients.
Rinsing your hair in apple cider vinegar isn't a myth. It helps with build up of products, and helps leave hair shiny with added volume. So every 2-3 shampoos you may want to try this. If you can only have time on weekends then do it then.
Here comes my personal secret; I use the vitamin E capsules on my ends. What's left on my hands, I just rub throughout my hair. It's amazing, and you don't have to spend hardly any money. I can get 30 in a bottle at the Dollar Store. Read the bottle; if you take supplements you know there is are differences in the way vitamin E is made. In this case you are not ingesting it. You are taking a pin and squeezing it out of what may or may not be a soluble capsule. Vitamin E is so wonderful for your hair, and there is no need for those very expensive oils, that say it does the same thing.
I like to air dry my hair. Blow dryers just cause more damage. I do realize that sometimes this is not possible, but just try not over blow dry. Hot irons or straighteners damage the hair by the high amounts of heat. This causes breakage, and frizzy hair to become worse.
If you use hair spray, gels or whatever styling products, try to skip it all on days you are not going to work or staying at home. Put on a bandanna, and maybe some extra olive oil leave it in. Just let your hair be. An "off" day from all the heat, shampoos, and other products is very good for your hair. I also do the mayonaise or avocado treatments from time to time. Try them all and see which one works best for your hair.
I use organic everything which is what I recommend. I suggest you start by reading the labels, using the vitamin E, trying one of the hair treatments I suggested and letting your hair have some down time away from anything that destroys the hair shaft.
I will leave this with something you may laugh at but my brushes and combs are wrapped with a dryer sheet (unscented). It helps with static electricity and fly away frizzy hair.
Source: I was a model, so I got tips from people in the industry. It's a hit or miss kind of thing because everyone's hair reacts differently. The olive oil my mother had my sister and I do that every Sat. night. Vitamin E I did because it made sense to me. Then after all these years, I heard it on Dr. Oz.
By Luana M.
Comment
Was this helpful?
Helpful?
Yes
I have curly/wavy hair. How do I deal with the frizz without using gels?
By Julie from Miami Beach, FL
Answer
Was this helpful?
Helpful?
Yes
I use nutrient spray in my hair. it makes your hair lie down and shine. It also gives your hair nutrients, making healthier hair.
Reply
Was this helpful?
Helpful?
Yes
Read More Answers...
Yesterday I got a perm and it was really frizzy and didn't reflect the large rod patten. It was really out of control, with very tight curls. Today I gave it a 30 minute conditioning which helped and I took a curling iron to a lot of it. It looks so much better. Did I ruin this because of what I did?
I am not sure what this will look like when I actually shampoo it. Advice please.
By Lynn S
Answer
Was this helpful?
Helpful?
Yes
Do not use shampoo on your hair, just "wash" with conditioner only and you should soon get it under control.. Some people with very curly hair never use actual shampoo only conditioner to wash their hair. All perms take a while to "relax" or they don't last as long as you would hope. Good luck.
Reply
Was this helpful?
Helpful?
Yes
Read More Answers...
Get the frizz in the winter? Look like Buckwheat by the time you get to work? Me too. Here's a quick, economical way to reuse your dryer sheets. Put one in your bag and a brush. Rub the brush with the used dryer sheet and viola! No more Annie hair. Hope this helps you like it helps me. You can also use the dryer sheet to cut the static on your clothes when you get into the office out of the cold. Take care of yourself and those you love.

By Suzanne S.
My hair has become frizzy right at the roots not at the ends. It looks like I have a fine layer of frizz all over the top of my head. Its embarrassing and nothing I have tried for frizzy hair works. Not even the expensive products. I have long hair. It's blonde and fine. Please help me, I'm desperate!

Liz from Dallas, Texas
Answer
Was this helpful?
Helpful?
Yes
Trim your hair regularly. It sounds like you've got split ends from whatever hair treatment. Once a split end starts it is easier for it to "grow" up the hair shaft. Think about a crack in wood. It will keep cracking if not taken care of. Hair grows back so trim that hair!
If you can't live without blow drying, try blow drying from the roots to right above the start of the frizz. Add a treatment suitable for your hair type and leave the frizz alone. If you add the right product, it should dry straight enough to be manageable.
Hope this helps!
Reply
Was this helpful?
Helpful?
Yes
Read More Answers...
I have a problem, I was born with thick, frizzy hair and I hate it. I straighten it nearly everyday, but then it goes frizzy and my hair goes big after a week. If I wash it, it's horrible. Please can you help?
By Amy from Wolverhampton
Answer
Was this helpful?
Helpful?
Yes
I used to have super frizzy & course hair, it would get even worse on rainy days!!!! I was complaining to a friend, whose sister was a hair dresser, she told me her sister always recommends a loose curl body wave!!! I know it sounds crazy but it worked!!! She used next to the largest curling rod with the perm and I said goodbye to frizzy hair over 35 yrs. ago. It changed my hair structure just enough that I've never needed another one!!! My hair isn't stick straight either, it still has enough body to fix anyway I like, & I do like my hair..........Good Luck.......TGU
Reply
Was this helpful?
Helpful?
Yes
Read More Answers...
If my hair looks really dried out or frizzy on the ends, here is what I do. I take hand lotion and rub it on my hands, and then (picking up just small strips of hair) I rub it on. Don't use too much or you will look greasy. Also try not to wash your hair too much; only once every two to three days.
Once a week, I use an egg/olive oil/honey mask on my hair. Just blend it all together, and slap it on. I put a plastic (Walmart) bag over it, and twist it in the back and clip. Sometimes I then rap my head in a warm towel. Leave on anywhere from 15 minutes to a half an hour. Hair always looks better after.
By Mell from Traverse City, MI
Comment
Was this helpful?
Helpful?
Yes
I have really dry, frizzy hair from dying it too much. What do I do now?
By breebaby from Eureka, IL
Answer
Was this helpful?
Helpful?
Yes
Use the infuser attachment to your dryer! I had the same problem until I started using the infuser. Trust me. do it and start using some biosilk. Its a little expensive but you only use a dime sized amount so it lasts a while and it smells great! You can find it on ebay for like 5-10 dollars. Alot cheaper that in salons.
Reply
Was this helpful?
Helpful?
Yes
Read More Answers...
Many times frizzy hair is caused by your hair being too dry. Harsh shampoos and frequent washing can strip the natural oils from your hair, causing it to be dry. Switching to a moisturizing shampoo can help. You could also consider washing your hair every other day.
Comment
Was this helpful?
Helpful?
Yes
Here's a good trick from a professional salon for people who are plagued by frizzy hair, especially in humid weather or after damp drying it.

Take a small section at a time and twist it into a spiral, then blow-dry the sections one by one, keeping the dryer moving. You'll find that your hair will be more manageable and will fall into a more natural shape.

<p>By joesgirl

<P><font class="titleblue">Feedback:</font>

<h3>RE: Taming Frizzy Hair</h3>

Another quick on the run fix is to rub a dryer sheet on your brush before running it through your hair. It eliminates all the static. Just pop them both in your bag for quick fixes throughout the day from wind and weather changes. (02/10/2005)

<p> By <a href="http://www.thriftyfun.com//profile/index.lasso?profile=thr291575">Suzanne S.</a></p>

<h3>RE: Taming Frizzy Hair</h3>

There is a fantastic new product on the market that will take care of the frizzies for good. Chi products is a gift from above for anyone with curly or frizzy hair. Once you try it, you will not leave home without it. (02/15/2005)

<p> By <a href="http://www.thriftyfun.com/profile.l ... 25">tuey</a></p>
Comment
Was this helpful?
Helpful?
Yes
When I was younger my step-mother made me dry my hair everyday and where it would frizz I straightened it, too. Now today it's frizzier than ever, and so I still dry it and straighten it almost everyday.

If I'm not doing that I'm putting mousse and hair spray in my hair to tame the frizz. Even when I let it dry naturally now it frizzes just as much. My hair used to be super curly and not frizzy at all. What can I do to get back my natural non frizzy hair?

By Jasmine from Oak Hill, WV
Answers:
Dealing With Frizzy Hair
I have stick straight heavy, coarse frizzy hair that I color at home. I think, but am not sure, that you want a conditioner for your frizzy hair. A very simple, but effective homemade recipe is to put mayonnaise on your hair. Use the real kind, not the low fat or no fat type.
Spread it all over your hair, wrap your hair in plastic wrap and keep it on for 30 minutes. Or keep it on longer. Then rinse it out of your hair very well. Let your hair air dry. Wash your hair the next day.

I've used this recipe before, But I don't straighten my hair so I don't know what your results will be. But I do know that this is a great conditioner. You might have to use it once or more per week until you get your desired results. Good luck! (02/02/2010)

By metroplex
Dealing With Frizzy Hair
I bought an Instyler with the thought that if it didn't work I would return it. It works great. I love it. I paid $99 for it in a local store, but you can go online and get 2 for the price of one from the website http://www.getinstyler.com/?TrackId=11475739andCustom=andSource=andtrackingid=11475739 and try it for $14.99. They send you 2 to try. (02/05/2010)

By Lamico
Dealing With Frizzy Hair
Most curly, wavy, or frizzy hair gets more so as we age. It is just nature. I think professional advice is in order. (02/05/2010)

By Ann
Dealing With Frizzy Hair
I started using the SunSilk products for curly hair and love the results. No more frizz, great curls and at a price I can afford. Each bottle is about 3$ each at Wal Mart. You have to use the entire regimen to get the results (3 products), but it is worth it to me not to have frizzy hair. (02/05/2010)

By mary1day
Dealing With Frizzy Hair
Much of the problem is *created by* the artificial drying of your hair. Maybe the solution is that simple. If hair is still dry try rubbing a drop or two at a time of olive oil between your hands then rubbing it in starting at the ends. Just let it be and embrace it. A lifelong naturally curly/kinky haired person. (02/06/2010)

Dealing With Frizzy Hair
I put a couple of drops of my favorite essential oil scent in the palm of one hand, rub both palms together and carefully and evenly run my palms over and through my hair and that controls the frizz for me. (02/16/2010)

By Deeli
Dealing With Frizzy Hair
Mayonnaise works well with frizzy hair, and it is an amazing moisturizer. Otherwise you may try a leave in conditioner, or just leaving regular conditioner in you hair. In the meantime don't straighten it, if it gets "fluffy" use gel, that's what I do. (02/20/2010)

By BiancaLoves
Dealing With Frizzy Hair
Talk to Aveda about their natural products for frizzy hair. Frizz happens when there isn't enough moisture in your strands. I've been using their light shampoo and frizz conditioner for years and think they are great! They last a long time, too, so even though the price might seem like a lot, it isn't because it lasts so long. (03/01/2010)

By muddypaws
Comment
Was this helpful?
Helpful?
Yes
I'm really desperate for some hair tips. I feel like I've tried every product out there or natural solution for frizzy hair.
Comment
Was this helpful?
Helpful?
Yes
I have extremely dry and frizzy hair. The only way I can keep the "frizzies" away is by using gel or mousse on it, which makes my hair curly.
Comment
Was this helpful?
Helpful?
Yes