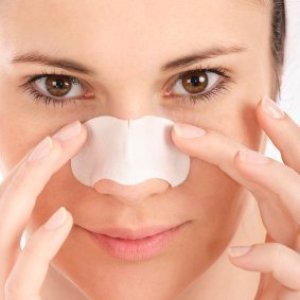 For many people, blackheads are part of life. They can be unsightly though and can lead to further skin issues. This page contains remedies for blackheads.
Ad
---
Solutions: Remedies for Blackheads
Read and rate the best solutions below by giving them a "thumbs up".
Here is a simple way to make your own blackhead removing strips. I used to spend $10 per box (which lasted me 2 weeks) for many, many years.
Materials
1 tsp. unflavored gelatin powder
1.5 tsp. any type of milk
Instructions:
Mix together gelatin and milk in a small bowl then microwave it for 10-15 seconds. Make sure it's not scalding, then apply a thin coat on to your nose or your T-zone with your fingers. Wait 10 minutes until the mixture dries completely. The gelatin is opaque when wet, and will be translucent when dry. Carefully peel the gelatin strip off your nose. Blackheads and dirt will stick to the gelatin, clearing your pores!
Note: if you don't like the smell of warm milk, try adding a drop of essential oil!
By attosa from Los Angeles, CA
Remove blackheads easily with plain old white glue. Yes, not only is it fun to peel dried glue, it works great on areas such as the nose, chin, and forehead to remove blackheads and is much more effective than the usual peel off mask and it's less expensive. Happy peeling!
Source: Beauty secrets from Hollywood as shared on some talk show last year.
By liknmylife from Shelbyville, KY
Give a "thumbs up" to the solution that worked the best! Do you have a better solution? Click here to share it!
Questions
Here are questions related to Remedies for Blackheads.
I am suffering from black heads. Can someone give me advise to avoid getting them?

Shaik
Ad
---
---
Most Recent Answer

By Pat02/26/2009
1 Tablespoon Knox gelatin
1 1/2 Tablespoon milk

Mix, heat in microwave about 12 seconds. If it is not dissolved heat for a few seconds more. Apply to face when it is slightly warm and let it dry. Peel off and rinse face with cool water. Make sure your hair is pulled back and do not get it on your eyebrows, eyelids or under your eyes. To open pores before you start apply warm water to your face and dry with towel.

What is the easiest way to get rid of black heads?

By Cheyenne from Canton, GA
Ad
---
---
Most Recent Answer

By sarah [23]05/13/2011
I use the end of a bobby pin point pressed into the blackhead until it is gone. It works for me.
I am suffering from skin problems. My nose is surrounded by black marks. Whenever I pinch them, white colored small material comes from it. What kind of treatment should I use or which kind of doctor should I consult?

By johnsonmoon
---
Most Recent Answer

By Louise B. [5]02/28/2015
There are many over the counter remedies that work quite well for some skin problems. You can consult a pharmacist first, and she could help you select a product to try. If such products do not help, you can consult your family doctor, who likely has a lot of experience with such a common ailment. A dermatologist is a doctor who specializes in skin disorders, and you could go directly to one if you feel your skin condition is quite serious.
I have blackheads mainly on my nose. What can I do to get rid of them?
By Anon
---
Most Recent Answer

By jciciarelli04/01/2014
Biore strips, which are overpriced, will do the trick, but so will duct tape. With your skin clean, just press it on, leave for about a minute, and peel off. Use an astringent to shrink the pores afterward because oil clogs the pores and builds up to form blackheads.
How do you get rid of blackheads on your face?
By Teresa from Davison, MI
---
Most Recent Answer

By Beth [25]08/05/2011
Apply a paste of baking soda and water. Let sit a few minutes then rinse off with hot water, following up with cold. It's natural and not damaging to your skin.
How do you get rid of blackheads?
By Shilpi M.
---
Most Recent Answer

By Alicia [6]08/12/2011
Smear Elmer"s glue on your face with your fingers. Let it dry completely, and then peel it off. Or you can buy little blackhead tools at any beauty supply store that will help remove them.
Archives
Thrifty Fun has been around so long that many of our pages have been reset several times. Archives are older versions of the page and the feedback that was provided then.
Does anyone have a home remedy for getting rid of blackheads?
By Sherry Evans from Deming, NM
---
RE: Home Remedy for Blackheads
My daughter has recently been prescribed BenzaClin (Clindamycin-benzoyl peroxide gel) and it's working great. Maybe plain old benzoyl peroxide would work? (03/28/2009)
By JoBear
RE: Home Remedy for Blackheads
The only remedy I know of for blackheads that works is a prescription called Retin A. It's a creme. Its inexpensive and generics are available. I wouldn't waste time and money on things that don't work. You don't want scarring. (03/29/2009)
By Carol in PA
Does anyone know an easy and quick blackhead remover? I get them pretty badly, and I need some way to get rid of them. Please, and thanks so much.