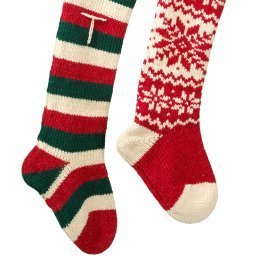 A crocheted stocking is a great holiday craft. You can easily personalize them for friends and family too. This is a guide about crocheting a stocking.
Solutions
Share a solution for this guide today!
Questions
Here are questions related to Crocheting a Stocking.
Does anyone know where I might find this crocheted Christmas stocking pattern? I think it was published in a magazine, not a book. It has pretty proportions and looks easy to make. Unfortunately, I don't have any other information. I will pay reasonable cost for pattern and postage.
By Rondi from Spring, TX
By
---
Most Recent Answer

By 1burrell11/11/2010
I've seen the pattern before but don't remember where. I believe it's a free pattern, but not totally sure. Try these sites to see if it is listed under Christmas or Holidays crochet:

http://www.crochetpatterncentral.com
http://www.redheart.com
http://www.caron.com
http://www.lionbrand.com

Also, just type into your search bar: free crochet Christmas stockings - hopefully you'll come
across it in your searches.