Christmas ornaments can not only be precious but fragile as well. Keep you ornaments looking great and in one piece by storing them properly. This is a guide about storing Christmas ornaments.
Ad
---
Solutions: Storing Christmas Ornaments
Read and rate the best solutions below by giving them a "thumbs up".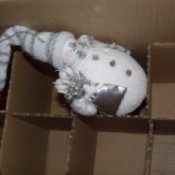 Do you have several "stray" ornaments that you want to store safely but don't want to spend a lot of money on storage units? Use a box that you may have around that house that had drinking glasses in it. As you can see in the photo, they hold the ornaments nicely.
I bought a set of glasses several months before Christmas and kept it in case it could be reused. As I was putting ornaments away, I needed a box for something else when I remembered this one. I opened it up and low and behold! Ornament sections! The lower level of the box holds the taller ornaments (or double up the smaller ones) and the top shelf is great for the round smaller ones.
By Michele from Marysville, OH
I recycle everything I can. Tonight, I was thinking about my ornaments that I had unearthed after ten years and what I would put them away in. As I was washing out a veggie can, it hit me. I can keep them for the ornaments and they won't have to be wrapped and will be much safer.
Then, I got to thinking that this would work if someone is moving across town or across country. Small things like jewelry, office supplies, ornamental collections (my snails for instance), craft supplies that can't be bagged and tossed into a box, and much more.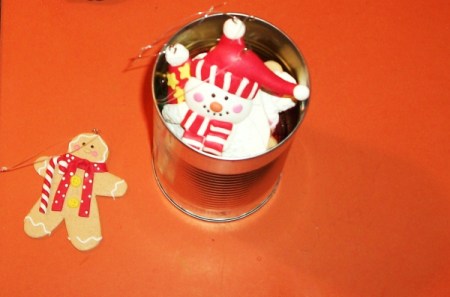 To show how they can fit into a small box, I added a shot of four in a box. Because they are 3 inches wide, you can fit four perfectly in a 6 inch square box. Most boxes are even numbers of 3, so a box 12x12 inches that is also 12 inches tall could fit two layers of 16 cans.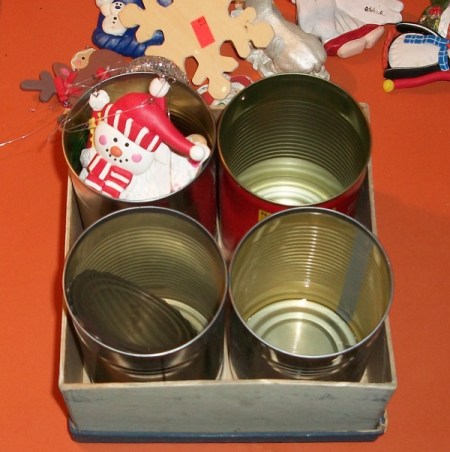 Spaghetti sauce cans are bigger and could hold more, and the juice cans would be even bigger. If you know someone in the restaurant biz, you can even get the #10 cans for larger things, which can hold stacks of saucers with cardboard between them and nothing slides around.
The cans might rattle around some during shipping, but no one is going to be in the moving van to hear it. Besides, if you know your valuables are safe, a bit of rattling is worth it. I am excited to share this with you. I might be stationary for a bit, but everyone moves around so much these days, why not make it easier on you! Once you are home, you can either recycle them, cover them with fabric or contact paper to make shelving out of, plant seed starts in them, or give them to someone else who is moving.
By Sandi from Salem, OR
I collect a lot of tin cans with Christmas and winter scenes and sit them throughout the house. Well guess what? A light bulb came on and, this year, I stored ornaments in them and packed them in a tote labeled "tree". I store all my Christmas stuff in storage totes and label them: Village, Tree, Outside Decorations and Inside House Decorations. My Mom taught me this.

By Angie from WI
Take the cardboard egg crate and use it to store ornaments from the tree before you place them into a box. It separates them from banging into each other and protects them from being crushed. You can also take large zip lock bags and place your lights into to keep them from getting tangled, then place each bag into a plastic tub and label them Christmas Lights and ornaments. They will stack and be wonderful to see in the next holiday.

Source: Years of trying to keep Christmas items ready to use for the next year. Age old idea to be shared with new generations. Enjoy.

By Cecilia from Wilmington, DE
Give a "thumbs up" to the solution that worked the best! Do you have a better solution? Click here to share it!
Questions
Here are questions related to Storing Christmas Ornaments.
I am getting ready to put up the Christmas wreaths, ornaments, etc. Does anyone have a good way to organize the stuff in the bins before they go up in the attic?
By Fun Nay Nay from Austin, TX
AnswerWas this interesting? Yes No
Ad
---
---
Most Recent Answer
By Lelia Jo Cordell [51] 01/04/20110 people found this helpful
This is a tip I was planning to enter for contest, but I'll tell you first: save egg cartons for ornament storage. The breakable ones should be considered first for this type of storage, of course, with other ornaments and items that would fit in the egg-sized compartments next. The filled egg cartons should stack well in the storage bins, and should protect your treasures.
---
Archives
Thrifty Fun has been around so long that many of our pages have been reset several times. Archives are older versions of the page and the comments that were provided then.
***
*** Tips an ideas for storing Christmas ornaments and all the other decorations that you won't need for a year. Post your ideas.
Use Divided Liquor Store Boxes
Now that the holidays are winding down and it is now time to put away the decorations, I find the inserts in boxes from the liquor store are perfect to store your ornaments. Simply, wrap the ornaments in tissue paper and place in each section.
By Laura from Chicago, Illinois
Can't afford those snazzy red and green boxes to pack your ornaments in? You have everything you need to pack them free. First, wrap them in used wrapping paper. Do not use newspaper, it can discolor some ornaments. Stop by the local liquor store and pick up wine boxes, the ones with the dividers for all the bottles. Store owners will let you have as many as you want free. You're able to slide the ornaments in the slots (They also work well for crystal, too.) Wrapped ornaments can be stacked on top of one another. Heaviest goes on the bottom, of course. Tiny or miniature ornaments can be stored in egg cartons. If you plan to store boxes in the attic, put in a moth ball and secure with tape. This keeps the varmints out. Label boxes with large print so you can see them far away. This will keep you from working too hard to find them next year.
By Carole from Clay City, IN
If you are near a liquor store, ask them for their boxes. They all have neat dividers in them that are perfect for storing breakables.
By wallflower
Don't Use Newspaper
Do not store Christmas ornaments in newspaper. The ink may come off on the ornaments while in storage.
By Linda
Plastic Storage Boxes
Use Rubbermaid type storage boxes so they will not crush and break your fragile ornaments!
By homeschoolin_mum
Label Boxes As Indoor And Outdoor
These are more "Wish I had done" ideas: Something I haven't done but wished I had done when I hauled out ornaments this year is to label my boxes as outdoor and indoor decorations. Then I would know which box to grab when I am ready to do the outdoors (usually before I am ready to tackle the inside and/or when the weather is better).
I use 3 huge Rubbermaid-type containers for all of my decorations and ornaments. They stack well, and can be shuffled to the back of the storage area during the off season. I hope when I put everything away this year I can take the time to organize things better: Christmas village, breakables, or other ornaments of a single theme all stored together. Oh, and put the Christmas cards where they are easy to get to early in the season so I can send them out earlier.
Use A Garland To Protect Glass
I have always struggled with the glass bulbs. I don't want to keep the bulky boxes they come in, but what to do? This year I stumbled on an idea I think may work. I used old garland (the tinsel type). It was all I had on hand, but it was easier than paper of any kind - and looked pretty!
By whach4him
Packing Christmas Ornaments
When shopping yesterday I noticed in the aisle of the store a cardboard box with dividers in it and many, many single sheets of bubble wrap. I asked an employee if they would be tossing the box and wrap out. They said "yes". I asked if I might have it. All I had to do was go to customer service to verify that it was ok (which it was) and now when I take my decorations off of the tree I will have a great place to store some of them. I plan on keeping my eyes open to accumulate more. It really pays to keep your eyes open and it proves that sometimes things are yours for the asking.
By joesgirl
Divided Boxes For Glasses
i use boxes that individual glasses come in. i work for a restaurant and have asked owners for the boxes when they order new glasses
By jo.
---
RE: Tips for Storing Christmas Ornaments and Other Decorations
I help my Christmas-loving neighbors put up and take down their decorations. They use big cardboard apple boxes that have lids that completely cover the sides of the box bottoms. They number each box, label it for each room, and write the contents of each box in a spiral notebook each year. Each item goes into a labeled plastic bag and/or tissue paper. They take "before" and "after" photos of almost everything so we know what goes where again in January. (01/12/2007)
By Jantoo
RE: Tips for your light strands
For many years, my husband and I have made stringing the lights on the tree a much easier process! We roll each strand of lights into balls, similar to winding a ball of yarn. Begin the winding so the plug is the very last part to wind. That way we can check your lights before the next unwinding! We hang our lights on the tree each year by simply walking around and unrolling the ball as we tuck the strands into the branches of our tree, keeping an eye on any that are burned out and need replaced. We can replace them as we go! This idea sure has made storage easier, too! (01/04/2008)
By Beth