Homemade Outdoor Christmas Decorations
Outdoor Christmas decorations can be quite expensive. Making your own decorations can be fun and save you money. This is a guide about homemade outdoor Christmas decorations.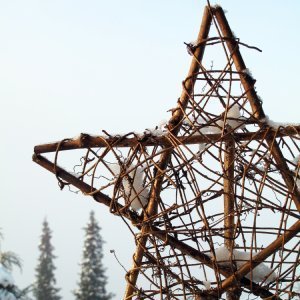 Filter

: All Articles
Sort

: Relevance
Our do-it-yourself outdoor Christmas decorations began as a way to recycle things that our college age children had left at home. With three teenagers away at college, you can imagine all of the items that I had been stuck with. The do-it-yourself projects began as a way for me to actually use some of the items they had "forgotten" for years. As a seasoned parent, I knew that some things could not be donated to the Goodwill store, for fear they would be a treasured part of their childhood and want back some day. Yet, it was very tempting to give the twelve foot poster of Boys2Men away.

Each of our three daughters had left their exercise balls in their rooms. They are the three foot high air filled balls, that they were going to die if they didn't have. I am pretty sure, two have never been used. Covering each ball in paper mache, spray painting them white, and hot gluing them together became the first step in our nine foot tall snowman. A top hat from the magic faze in 1994, with a matching scarf and mitten set from the Hello Kitty era, glued on red covered rock buttons from the 90s, and our snowman was dressed. His face was made of various felt scraps found in the scrapbook box. Yes, the same scrapbook box that they just had to have, and I have yet to see a single scrapbook page. Our snowman sits under the four oak trees in our front yard. He looks welcoming and festive.

Our next project came from the thirty four pairs of drum sticks that we found in a closet. How did she ever get on the honor roll, if she went to that many concerts in high school? Okay, she played the drums, but does she really need that many? Phil Collins probably doesn't have that many sets. Taking the drumsticks and spray painting them green was the first step to the recycling project. Hot gluing three together in the center to make a snowflake design was the largest use of hot glue I have ever seen. Each drumstick snowflake was then wrapped in small white twinkle outdoor Christmas lights.

The snowflakes are suspended from our four oak trees by fishing line we had in the garage. My mate went deep sea fishing once in the 80s, and we still have the line. No, I don't know why we still have it. Nor, do I know why we still have napkins from our wedding stored in a box. The extension cords are all black, and not seen at night, that are attached to each snowflake. The eleven twinkling snowflakes have such a beautiful effect in the trees, falling down on our snowman. It looked so awesome that we ended up making twenty more out of dowel rods.

This year we added five dancing children around the snowman. Holding hands with their faces towards the snowman makes for a winter wonderland atmosphere. The children are just stuffed clothing left by the girls. Unless high waist jeans make a comeback, I am safe on this one. Sweatshirts with Mickey Mouse, dance troupe member 1995, Aspen 1997, Where's the beef?, and the Backstreet boys keep our outdoor children warm. Matching gloves, hats, and scarves hide their lack of facial features. Shoes that the girls have not worn in a decade, make the playing children complete. Dowels rods have been used to secure them in the ground. It doesn't sound politically correct, but I stapled their gloves to each other so the appear to be hand in hand as they dance around the snowman.

The candle collection of one our children, has been used to light the luminaries that line our driveway for Christmas. When ask if she wanted the candle collection for her apartment, she laughed and ask if they had me on medication. I took that to mean, I was free to use them as I saw fit. So, each evening during the twelve days of Christmas I place rainbows, frogs, and cheerleader candles into the paper sacks that line our drive.

Do it yourself outdoor Christmas decorations can be a useful way to recycle and a wonderful way to use your own unique flair. If anyone has a suggestion on how to decorate for Valentine's day with 217 sports trophies, please let me know. Merry Christmas.

By Crystal from Branson, MO
The lighted Christmas decorations for your yard can be pretty expensive but here is a way to decorate with little money. Take your tomato cages from your garden, clean with the hose and then tie the tops together with electrical tape. Get yourself one 50 light set and run it up and down around your cone. Attach with baggie ties. Clustered together these look beautiful and simple. When Christmas is over you can disassemble and use your tomato cages over again. Or since this is the end of the gardening season you might find some on Clearance that you can set aside for just this use.

By Debra in CO
When I originally made these about 20 years ago, I used clear plastic food containers which I can no longer can find. It also works over small clear plastic bowls stapling 2 together. You will need small water bottles, colored cellophane, twist ties, and a string of white mini lights or rope light.
Carefully cut the cap end off of the water bottle, a little tiny bit larger then the plug on the lights and do the same in center of the bottom. Stretch your lights out, now thread the bottles on the lights to the middle from either end. Cut your cellophane just a little bit larger than the bottle is round and 3 or 4 inches longer on either end, with a very small piece of tape, tape cellophane to bottle and use twist ties to secure it to the lights. Leaving 1 light expose between candy pieces or leave approximately 3 in. between cellophane tips, repeat alternating colors of cellophane.
Because the bottles are of various sizes I cannot give you exact measurements for the cellophane or the amount of bottles you'll need to cover a strand of lights. I always try to put the connection an extra cord inside of a bottle when connecting strands together. These can be stretched between candy canes or bushes; these are cute indoors or out
By Babbie from Lemon Grove, CA
I always set up a fall display, which also included an old rocker. I thought what a waste of pumpkins and hay after Thanksgiving. So after that holiday, I removed the leaves and fall flowers. My pumpkins were of different sizes...
Here are a couple pictures of the yard art that my husband and I make. They are hand cut from birch plywood and handpainted. The figures in the Charlie Brown Christmas display are about 24 inches tall, and the Grinch who stole Christmas is 48 inches tall.
By Harlean from Arkansas from Hot Springs, Arkansas
http://yardartplus.ecrafter.com/YardArtPlus/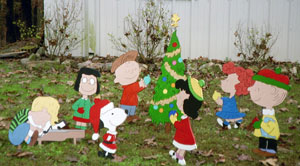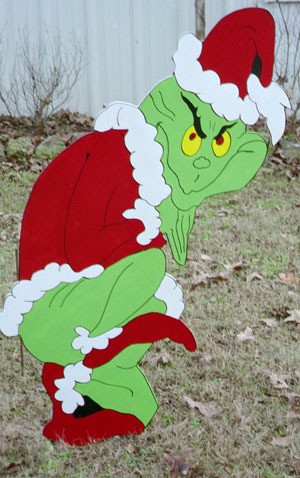 Rather than pack up our birdbath and planter this year, I decided to add some evergreens, holly branches, pinecones, and berries that I had on my property and around in my woods!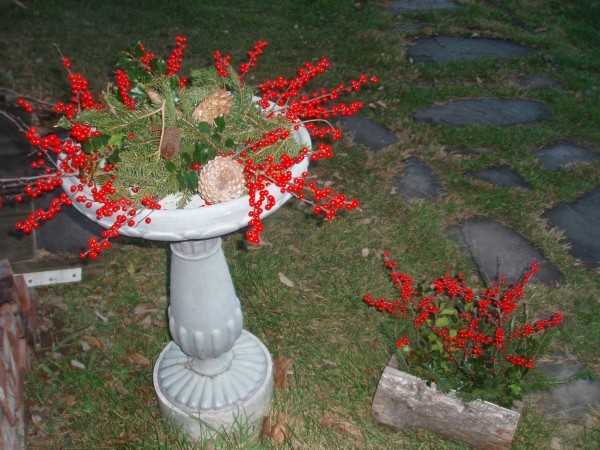 This may look like a star with white lights, it's actually, 2 open old crab cages. I saw these at a resale shop, not thinking of using them for crabbing, but immediately saw that these old cages when open formed a perfect star. So, with them tied together, and a few white lights, voila, an inexpensive Christmas Star to delight. Merry Crabmas to all.
By Sandra from Montvale, NJ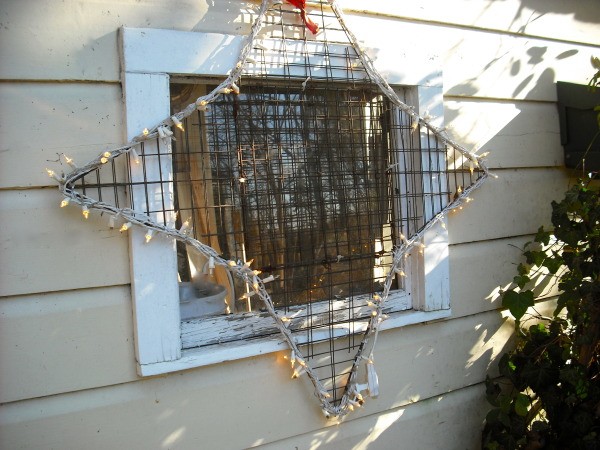 You might consider it a decoration idea. My husband and I make and sell yard art. We also give yard art to our friends as Christmas gifts. This picture is one of my friend's snowman after a rare snowfall here in central Arkansas. By Harlean from AR
Christine Weber
0

found this helpful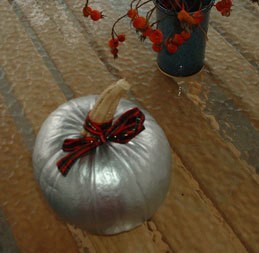 Sounds crazy, but it looks great! Use your uncarved pumpkins from Halloween and spray paint them silver or gold. Add a plaid Christmas ribbon and voila, a masterpiece! People always stop and ask about mine.
Materials and Equipment:
several sheets of newspaper
one or more pumpkins, any size
silver or gold spray paint
ribbon (I like to use a plaid ribbon as it offsets the metallic color nicely)
masking tape
Instructions:
Create this craft outside or in a well-ventilated garage. Clean and dry the pumpkin before starting. Clear a table or place on the ground and cover it with newspaper to avoid getting paint on the area.
Wrap masking tape around the stem of the pumpkin to prevent it from being painted.
Holding the pumpkin by the stem, spray the entire pumpkin with gold or silver spray paint. One coat should be enough. Just make sure the entire surface of the pumpkin is covered and no orange is showing through under the paint layer.
Set on the newspaper to dry overnight in a place that is protected from the rain.
Repeat steps two through four for each pumpkin you have.
Once your pumpkin is completely dry, remove the masking tape covering the stem. Wrap a ribbon around the stem several times and tie it in a bow.
Place in full view and enjoy the curious glances from passers by! Be sure to keep your pumpkin out of the rain.
Holiday Decorations - Water Feature. My water feature holiday decorations. I placed 3 lighted Christmas gifts in front of the pond; I put silk poinsettas on the water fall and a Santa in the center...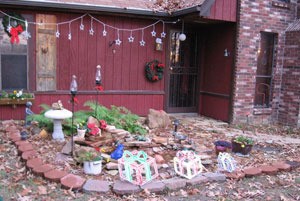 I am looking for some "natural" decorating ideas for the Christmas Holiday. I plan on using Magnolia leaves, pine bows and pine cones as interior decorations. What I would really like is some outside ideas that I can use. Particularly for my front door and back door as well as my mailbox.

I want to use elements that I can pick up from outside that don't cost anything. I have lots of ribbons and gold and silver spray paints so I can add color to my decorations.

Tia!
Cookiepom from Owensboro, KY
By guest (Guest Post)
Flag
November 30, 2005
0

found this helpful
If you have access to a forested area you are sure to find some ground pine (easily looked up if you're not sure what it looks like). It's a vine that grows on the bottom floor of the woods that, as the name suggests, looks like pine. It is an evergreen and the vine is easy to pull up. Wrap it around poles, mailboxes, etc. It's a beautiful, natural garland. Make sure to take plenty of trashbags on your outing, as you'll probably need to pick up plenty.
Christine Weber
0

found this helpful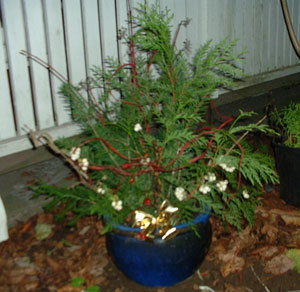 In a terracotta pot ringed in ribbon, "plant" an attractive array of evergreens and berries found on a walk through the woods (or at your local florist) for a festive, frugal outdoor decoration to greet Christmas visitors at the door!
Materials and Equipment:
a large plastic bag or several sheets of newspaper
one terracotta plant pot*, size of your choice, with a drainage hole
several handfuls of gravel
potting soil, enough to fill the pot
ten or more evergreen branches such as cedar, pine, etc.
four or five branches with winter berries such as holly, rosehips, snowberries, etc.
several yards of dried raffia (available at most craft centers)
two to three yards of festive ribbon (ribbon should be 2-3 inches wide and long enough to tie around your planter and form a bow)
ornaments (optional)
* If you live in an area with frequent winter frosts, choose a "faux" terracotta pot. These plastic pots are cleverly designed to look like terracotta and, because they are synthetic, they will not crack due to frost. They are very convincing frauds and are available at most garden centers.
Instructions:
Create this project outdoors or clear a table and cover it with newspaper or a large garbage bag.
Be sure your terracotta pot is clean and dry before starting. Place a layer of gravel on the bottom of the pot, covering the bottom until you can no longer see it (about a one inch layer). This helps facilitate drainage in case you want to plant flowers in the pot next spring.
Fill the pot with soil. Stop when there is still an inch left between the soil and the top lip of the pot.
Remove a few inches of greenery from the lowest part of each evergreen and berry-laden branch. This part will be stuck into the soil and should be bare of all leaves.
Stick evergreen branches into the soil to a depth that allows them to stand upright unassisted.
Stick berry-laden branches into the soil in the same fashion, placing them between the evergreens.
Wrap ribbon around the top lip of the top lip of the pot and tie it into a bow. Ribbon with wire in it works very nicely to create a three-dimensional bow.
Weave raffia in and out of the branches.
If you like, add a few ornaments to the branches. Make sure to place your planter in a sheltered location. Do not water your planter, as it will only cause the stems of the greenery to rot.
Place the planter by your front door to greet your guests, or on a patio where you can see it.
Have the kids or grandkids make you a chain of silver for the tree. Mine made me enough to decorate my dwarf peach tree when they were in grade school. Now they are grown and it is still used. They made a "paper chain" using foil.
Related