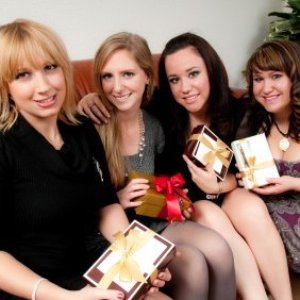 Christmas gift exchanges are a fun activity enjoyed in many workplaces as well as school. Coming up with ideas that suit a variety of people can be difficult. This page contains Christmas gift exchange ideas.
Ad
---
Solutions: Christmas Gift Exchange Ideas
Read and rate the best solutions below by giving them a "thumbs up".
The soon-to-be here Christmas holiday often has people wondering how to do a gift exchange. Here's a fun way that's good for parties, group gatherings, teens and adults: Have everyone bring a gift ($10 or less) and sit in a big circle holding their gift. Then, read this story out loud and every time they hear "left" they pass the gift they are holding left. Every time they hear "right" they pass the gift they are holding right. At the end of the story whatever gift they have in their hands is theirs to keep. Here's the story:
Christmas was almost here, and Mother (RIGHT) was finishing the Christmas baking.
Father (RIGHT), Sue (RIGHT), and Billy (RIGHT) returned from their last-minute Christmas errands.
"There's not much (LEFT) to be done," said Father (RIGHT) as he came into the kitchen.
"Did you leave the basket of food at church?" asked Mother (RIGHT).
"I (LEFT) it (RIGHT) where you told me to," said Father (RIGHT).
"I'm glad my shopping is done," said Billy (RIGHT). "I don't have any money (LEFT)."
The hall telephone rang, and Susan (RIGHT) (LEFT) to answer it.
She rushed back and told the family "Aunt Tillie (RIGHT) (LEFT) a package for us (RIGHT) on Grandma (RIGHT)'s porch.
I'll go over there (RIGHT) now and get it." she said as she (LEFT) in a rush.
Father (RIGHT) (LEFT) the kitchen and brought in the Christmas tree.
By the time Susan (RIGHT) returned, Mother (RIGHT), Father (RIGHT), and Billy (RIGHT) had begun trimming the tree.
The entire (RIGHT) family sang carols as they finished the decorating.
Then they (LEFT) all the presents arranged under the tree and went to bed, hoping they had selected the (RIGHT) gifts for their family.
Now I hope you have the (RIGHT) present for yourself, because that's all that's (LEFT) of our story.
Except to wish you a Merry Christmas. Isn't that (RIGHT)?
By iluv2craft from Rochester, NY
If you get together with extended family over the holidays, gift giving can get really expensive (especially if you get everyone an individual gift). To cut down on costs we have instituted a "Dirty Santa" or "Yankee Swap" gift exchange for the adults. Each person brings just one useful/practical gift and the price is usually set for around $25 or so. So no matter how many people you have in your family, nobody will spend more than $25 ($50 a couple) on gifts.
By Chris from Blacksburg, VA
Family Gift Exchanges. My brother, sister and I (and families) exchange at Christmas. We set a dollar amount per family. Every year, we know which sibling's family we will have (I have my brother one year, my sister the next and then back to my brother).
Gather neighbors and friends and exchange gift certificates for jobs and tasks that others can do to help each other for no charge. For example: haircuts, babysitting, baking, raking, etc.

By Anne from NV
When I was young, we each had our Christmas at our own home Christmas morning and then rushed to Nanny's house where Great Aunts and Uncles and everyone showed up for a gathering. We used to each bring a gift. Each year it changed. One year it was adults bring an adult gift, children for children. Then one year it was men and women and boys and girls. If you didn't bring a gift, Nanny usually had extra's to pitch in for ya!
Each gift was given a # and then a piece of paper with that same # was put into a bowl. One at a time we each drew our # and received a gift. It was so enjoyable!
Because all of our family lives in different states, this year we finally got our siblings to agree to only exchange one family gift instead of buying for each person in our sibling's household. I was surprised when it came time to Christmas shop, that I had little to do!
Tawnda
Give a "thumbs up" to the solution that worked the best! Do you have a better solution? Click here to share it!
Questions
Here are questions related to Christmas Gift Exchange Ideas.
My place of employment is having a Christmas party where you buy or make a gift for about $20. We all pick numbers. We get to pick a present as our number comes up. The person next can take your gift or anyone else's, etc. Any good ideas on a general gift? Last year I did a movie package with Blockbuster rental with popcorn and candy for a movie night. Any ideas of any kind are welcome. We have some pretty crazy people there.
AnswerWas this interesting? Yes No
Ad
---
---
Most Recent Answer
By Veronica LoveJoy (Guest Post) 12/24/20080 people found this helpful
The gift I brought was stolen until frozen (that's how this game was played) it was so popular. 20$ of lotto scratch off tickets. I stole the four $5.gift certs to kfc, jamba, starbucks & in & out till frozen. Another good gift is a money jar that counts your change or $20 gift cert to target or walmart.
---
Our extended family started to give "White Elephant Gifts" (gag gifts) at Christmas. We are all big Bears football fans so one year we wrapped up a Green Bay t-shirt (big rival). It was a big hit and truly a White Elephant. I know it is not about money but cleverness and we do not have the money to spend, but I still need a White Elephant gift and I am coming up dry.
Any ideas?
By Beth P.
AnswerWas this interesting? Yes No
Ad
---
---
Most Recent Answer
By Caseye 34 205 12/02/20110 people found this helpful
I'm thinking a big piece of cheese wrapped real well (Green Bay's specialty!), or make a hat in a cheese-slice style. Google Green Bay's website to get some ideas.

OR, you can make all sorts of things with bear motiffs: ornament covered with bear pictures, a "letter to Santa" asking for a Super Bowl for the Bears this year (include players' names, stats, etc.), inexpensive mugs filled with chocolate bears, candy bars wrapped with paper covered with football/Bears sayings - have the wrapping say (unwrap in "emergency" only - if Bears are behind!), etc.
Have fun!
---